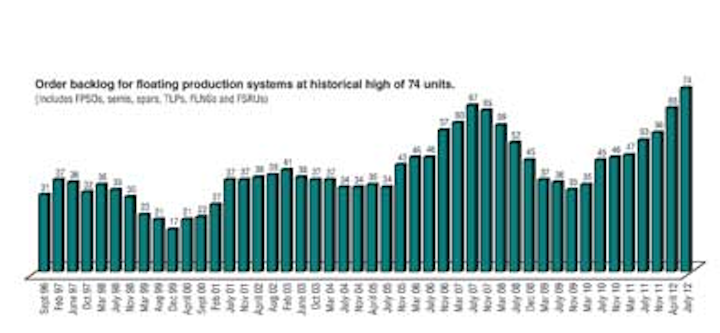 Bruce Beaubouef • Houston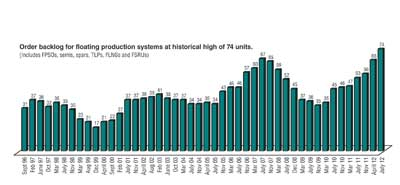 The order backlog for floating production vessels is at an all-time high, says International Maritime Associates Inc. The new market study counts 74 floaters on order.
Of that total, the company says 49 are FPSOs, six are production semisubmersibles, three are TLPs, four are spars, three are FLNG vessels, and nine are floating storage and regasification units.
Further, the report says there are 233 projects in planning that might be able to use some form of floating production system. However, some of them will use alternative approaches such as tiebacks.
A shortage of deepwater drilling rigs has slowed drilling, but that will pass, said Jim McCaul, head of IMA. The inventory of available deepwater rigs has grown significantly over the past 12 months – and the 52 drillships and 17 drill semis now on order will add 18% to deepwater drill capability over the next two years, McCaul noted.
Helix contracts Skandi Constructor for well intervention work
Helix Well Ops UK has agreed to charter for three years theSkandi Constructor from DOF Subsea. The mono-hull well intervention vessel will go to Helix in spring of 2013.
Well Ops plans to build and test for use on the vessel a specially designed subsea intervention lubricator. The lubricator will be a single-trip system that provides access while maintaining containment of a "live" well. It will be configured to work through various types of christmas trees.
TheSkandi Constructor is 120 m (393 ft) long Ulstein SX121 DP-3 X-bow vessel of 8,500 metric tons (9,370 tons). It can work in depths to 3,000 m (9,842 ft).
Diamond to rebuild cold-stacked rig for deepwater drilling
Jurong Shipyard has secured a $370-million contract from Diamond Offshore to build a moored semisubmersible drilling rig for delivery in 2Q 2014. TheOcean Apex will be designed for 6,000 ft (1,829 m) water depths, with a maximum hook load of 2 million pounds, 15,000 psi five-ram BOP, and crew capacity of 140.
"We will construct theOcean Apex utilizing an existing hull from a Diamond Offshore cold-stacked unit," said Larry Dickerson, president and CEO of Diamond Offshore. "Upon delivery, we will have a rig that exceeds the specifications of a fourth-generation newbuild unit; however, it will have been constructed in approximately half the time and for a significantly lower cost."
Topaz wins Qatar, Caspian vessel charters
Topaz Energy and Marine has won two long-term charters for 100-ton DP-2 anchor handling tug supply (AHTS) vessels in the Middle East and Caspian region. The total value of the contracts exceeds $65 million.
Topaz Rayyan will be deployed offshore Qatar on a seven-year charter for an unnamed international oil company (IOC). The vessel was built in 2006 and was formerly owned by Sanko Steamship Co. in Japan.
Caspian Reliance will serve in the Caspian Sea. This is a new vessel previously owned by Boluda. Both vessels will undergo a $2-million upgrade to meet client specific requirements. Advanced DP-2 is increasingly required by IOCs to allow vessels to remain accurately in position for long durations, Topaz points out.
Earlier this year, Saudi Aramco awarded Topaz Marine Saudi Arabia, a joint venture with GENTAS, a three-year, $88-million charter for six AHTS vessels. Topaz is also completing delivery of two AHTS vessels,Topaz Dignity for BP Azerbaijan and Topaz Triumph for West African clients. Both are set to be deployed on long-term contracts.
More rigs needed for Caspian development
Dragon Oil says it is adding intervals on the Dzheitune (Lam) 13/171 well in the Turkmen sector of the Caspian Sea, and expects to complete the Dzheitune (Lam) C/175 development well in the next few weeks.
After the leased platform-based rig undergoes planned maintenance, it should spud the next well on the Dzheitune (Lam) 28 platform. Toward year-end the company expects to take delivery of its newbuildCaspian Driller jackup, and it should be ready for drilling in 1Q 2013.
Dragon is tendering for another jackup and for two land rigs for deployment on the new Dzhygalybeg (Zhdanov) A and B platforms.
Last year, the company completed a preliminary water injection study using a dynamic simulation model for the Dzheitune (Lam) 75 area. Based on the simulation results, an injectivity test was conducted in June 2011. Dragon is performing a workover on one of the wells in the target area to convert it into an injector-type well.
Technip charters newbuild construction vessel
Technip has entered a long-term charter with North Sea Shipping for a newbuild offshore construction vessel. The vessel is design and equipped specifically for use offshore Norway.
This advanced subsea construction vessel has a length of 142 m and width of 27 m, and is equipped with a 400-ton crane and a 2,000-ton carousel for storage of flexible pipe below deck. The vessel will be built at Bergen Group BMV AS in Bergen, Norway, and delivered in 2014.
The charter is for five or seven years plus a five-year extension option and an option to purchase the vessel.