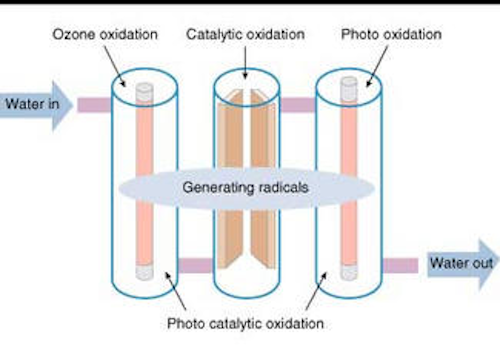 A water purification process has been introduced that removes all organic pollutants without the use of chemical additives. Developed by BenRad of Stockholm and supplied under license by BenRad Marine Technology for marine applications, the system uses a process that generates large amounts of hydroxyl radicals that convert pollutants into carbon dioxide and water.
The BenRad process can destroy even the most dangerous and persistent viruses and bacteria in a continuous low-cost operation. The manufacturer believes it could significantly reduce the need for fresh drinking water supplies on offshore platforms and ships. Provided that excess turbidity and sediments are removed by techniques such as filtration or flocculation, the BenRad process can be used to purify even the most heavily polluted waste water and is even capable of killing Cryptosporidium, one of the most dangerous parasites normally encountered. After treatment with the BenRad technology, the water is claimed to possess higher standards of purity than commercial bottled drinking water and can even be used for kidney dialysis machines.
The BenRad product line consists of three models capable of handling water flow rates up to 300 liters a minute. This flow rate can, however be easily up-scaled to meet any demand. The units are built entirely from titanium as this acts as a catalyst for the oxidation process - it is also the only metal suitable for withstanding the effects of the process.
Continuous process
The purification unit functions in a three-stage, continuous process that can treat the water as it passes through in the course of conventional pumping operations. The patented process uses the properties of radicals that are very aggressive and live only for a few nanoseconds. In this time they react with microorganisms or other contaminants by stealing electrons from them, and consequently cease to be radicals.
During the first stage of the process the polluted water passes over a UV-lamp which produces free radical molecules that initiate ozone oxidation in the water by means of a photo catalytic process. The water then continues to the second stage in which it is passed over an oxide ceramic-based catalyst that furthers the oxidation process. A third stage involves photo oxidation, again initiated by ultraviolet light. This also produces hydroxyl radicals (OH) with the outcome that all organic materials in the water are themselves converted into water and into CO2.
The process ensures removal of all organic pollutants, viruses and bacteria, but has no effect on the chemical constitution of the water itself, leaving it pure and palatable. In situations where inorganic pollutants may be present in the water, the process is also likely to change their chemical composition so that they can be filtered or separated more easily. The actual result will depend on the nature and chemical composition of the pollution but, in most offshore and marine applications, if they are present at all, inorganic pollutants are considered to present less of an immediate health hazard than that arising from organic material.
The system has already proved successful in a variety of applications on land. These include purifying the water used in cooling towers at a Unilever food manufacturing plant in Helsingborg and at Volvo in Skövde. It is also being used to purify seawater supplied to fish farms and for water in a rehabilitation swimming pool in Vallentuna, Sweden.
Wallenius Lines, one of the world's leading Ro/Ro shipping lines, is the largest shareholder of BenRad AB and owner of BenRad Marine Technology. On Wallenius Line ships the process is used for production of drinking water, and T/T Line has also installed systems on its ferries for the same purpose. Another system is being employed on the cruise ship m/s Splendour of the Seas to purify water used in decorative fountains. Growth in this sector is considered to have many parallels with the offshore industry and installations are now imminent aboard a number of vessels that will use the BenRad system to purify gray water from laundries, and also black water from on-board sanitation systems.
Total recycling
Use of the technology should significantly reduce drinking water requirements onboard a ship, while also reducing pollution risk and sludge disposal costs. The process can be a significantly cheaper method of obtaining drinking water than reverse osmosis desalination plants and BenRad Marine Technology President Patrick Dahl maintains that in principle 100% of wastewater can be recycled. "We realize, of course, that some users may encounter a psychological problem with passengers and crew members if people become aware that black water is being recycled for drinking," he said. "This can persist even though black water recycled through the BenRad process will be more pure than the fresh drinking water taken on in many parts of the world."
Simplicity and low running costs are other important features. Total energy consumption is limited to just 74W for 18 cu m/hr capacity, and maintenance is confined normally to wiping the light tubes with a cloth every couple of months and replacing them annually. According to BenRad, a plumber and an electrician can easily perform installation and the nature of the process makes it possible to design the system to fit the space available.
The design parameters require 2 to 2.5 meters of titanium tubing for every 18 cu m of capacity required. The tubing needs to have an 80-90 mm inner diameter to achieve a proper flow, but beyond that its configuration potential is almost unlimited. If space necessitates, it can be manufactured as a single continuous tube or it can be made to turn corners as long as the lamp tubes remain straight.
Injection water treatment
Use of the BenRad process is expected to increase significantly in the marine and offshore sectors. Future applications now being developed include the use of the process for killing marine organisms in ships' ballast tanks. Looking further ahead, the company envisages the development of a process that might also be used to avoid the risk of injecting organic substances into oil wells.
For more information contact Patrick Dahl, BenRad Marine Technology. Tel: +46 8 772 05 88, Fax: +46 8 772 07 88, Email: patrick.dahl@benradmarine.com, www.benrad.se.