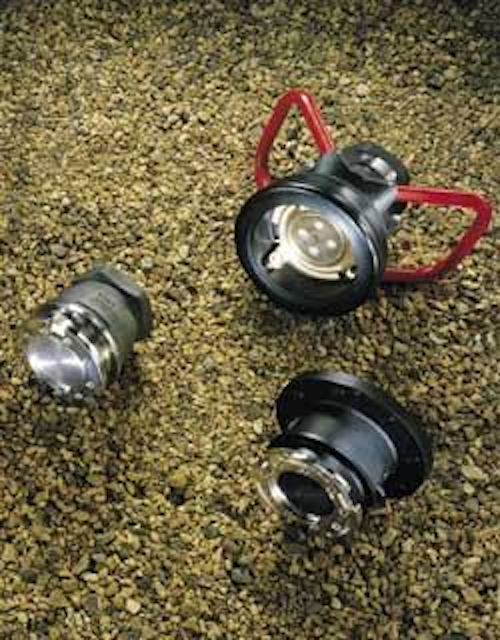 The oil and chemical industry moves enor-mous quantities of both liquid and gase-ous fluids every day. At each transport and transfer point, the potential exists to drop or spill fluids that can catch fire, harm personnel, or spoil the wider environment. To control these fluids and contain them at connect and disconnect requires special coup-lings that minimize the possibility of spillage, especially when the fluids are under pres-sure.
Todo is a specialist in valves and couplings for the oil and chemical industries. It had its beginning 30 years ago with ball valves for the tank truck industry, but demand developed for spill-free handling of fuels. This opened a market for new couplings that would minimize the release of environmentally harmful chemicals beyond petroleum fuels. Beginning with a 4-in. aluminum valve the company has designed a wide range of couplings for transferring hazardous chemicals for both onshore and offshore operations.
Liquid handling
Offshore operations require frequent resupply from shore facilities. Supply vessels deliver many liquids in bulk, including diesel fuel, drilling mud, and even acids for downhole treatments. The vessels must connect and disconnect, transferring their loads from the sea surface to the platform's storage systems without spilling or releasing significant quantities of fluids that might harm the crew, vessel, or sea life.
In addition to delivering supplies, the vessels often return with spent fluids and waste that must also be handled properly. Zero-discharge policies in many offshore theaters place even more importance on proper fluid transfer. Todo provides a wide variety of couplings to service the needs of the offshore industry for vessels, rigs, and platforms.
The proper coupling depends on the fluid to be transferred, the operation pressures requ-ired, and the secondary stresses to be encountered by the connector. For most transfer operations offshore, 4-in. (164 mm) aluminum couplings are sufficient and preferred because of their lighter weight. For fluid transfer on offshore platforms, 2-in. stainless steel couplers are preferred for chemicals handling. Recently, 6-in. couplings have become more common for quick transfer of fluids between platforms and supply vessels.
For special situations or corrosive fluids, brass, stainless steel, Hastalloy, or titanium couplings are available. Todo's couplings come in sizes ranging from 1-in. (56 mm) up to 6-in. (235 mm) and feature the Dry-Break system, which limits any released fluid to extremely small amounts.
Pressure-sealing materials within the coupling are also important. They must be able to withstand the connection pressure and the fluid transfer pressure. They must also resist any action by the fluid being moved and cuts or abrasions caused by any coarse material entrained in the fluids. Because of these requirements, Todo uses a true dynamic seal instead of a PTFE material like Teflon. The company uses fluoroelastomer materials such as PFPM and FKM for their advanced mechanical properties.
Failsafe connecting and disconnecting
The Dry-Break coupling system is comprised of a male and female connector set. The male component contains a spring-backed piston whose face mates flush with the piston within the female connector. One quick 15° clockwise turn presses the two pistons securely together. A further 90° clockwise turn forces the two pistons together while compressing the spring in the male connector. This opens the seals and allows fluid to flow through the coupling.
This operation offers many advantages:
Simple and quick connections minimize personnel training
No isolation valve is needed for differential pressure situations
High flow rates with low-pressure drops lead to quick, high-volume fluid transfer
Sequential interlock valve design will not disconnect until both valves are closed, preventing accidental spills.
Disconnection is just as simple. A 90° counterclockwise turn releases the spring pressure and seals the coupling, stopping fluid flow. An additional 15° counterclockwise turn releases the coupling. The only fluid released is that adhered to the face of the pistons – a dry break.
A common 4-in. coupling may spill 1 to 3 liters of fluid during connect and disconnect, while a Todo 4-in. coupling will release only 2.76 cm3 of fluid. A Todo 2-in. coupling will only release 0.35 cm3 of fluid under full pressure. This fluid is only that adhering to the two faces of the coupling valves.
Expanding product line
The company continues to innovate and has developed three new products: a safety breakaway coupling, a gas coupling, and a coupling for aggressive chemicals. The safety breakaway couplings come in 2-in. and 3-in. sizes, while a 4-in. size is under development for the offshore market and should be available soon.
The Todo-Gas coupling is designed for transferring LPG in both liquid and gaseous phases. It is available in stainless steel or brass/gunmetal. It also employs the Dry-Break system.
For more aggressive chemicals, Todo has developed its "4-wheel drive" 2-in. couplings. The 2-in. size is most commonly used in the chemical industry for high-pressure applications. These can also be used for natural gas.
This new system has been in development since 1998 to handle greater pressures. It uses a cam and follower principle with higher angles and bearings for reduced friction. The coupling uses a patented valve, which allows a connection or disconnection under maximum pressure of up to 25 bar (363 psi). Advanced sealing and coating technologies are used in the device.
For more information, contact Elinor Fallander, Todo. Tel: +46 50 61 21 20, fax: +46 50 61 26 36, email: todo@todo.se.