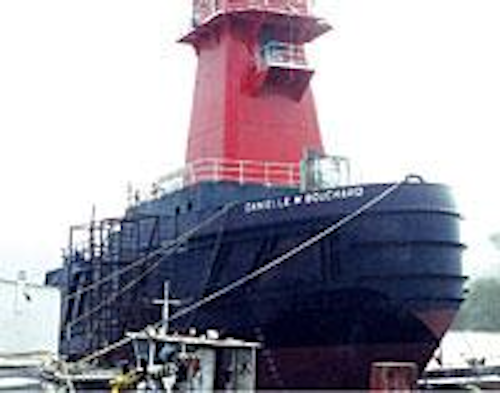 By Veronica Murillo
Business Editor

An entire fleet of shuttle tankers must be built to serve floating production, storage, and offloading (FPSO) vessels in the Gulf of Mexico. These new tankers will have to comply with the US Jones Act, according to vessel operators serving the Gulf. Two companies have developed new designs to address this future need.
Last January the US Minerals Management Service (MMS) approved use of FPSOs in the Central and Western GoM. That meant a new market for shuttle tankers to transport oil and gas from vessel to port, port to port, and port to vessel. A key requirement for these tankers operating in the US GoM is that they comply with the Jones Act. The Jones Act requires all vessels traveling from port to port in the United States be built by US companies, and flagged and manned by a US crew. Prior to the FPSO approval, there hadn't been a need for these types of vessel in the Gulf. The new market has led to new designs.
"I don't think there are any radically new things about it, but it's consistently thought about in the industry," said Peter Lovie, Vice President, Business Development for American Shuttle Tankers LLC, referring to the new design.
Shuttle tankers
Navion and Skaugen PetroTrans created American Shuttle Tankers last year to build shuttle tankers specifically for FPSO projects in the GoM. The company's new shuttle tanker design will closely resemble Navion's Navion Clipper.
"We have to be able to get into ports around the Gulf coast, and some of these ship channels will not be deepened. That's going to be a factor, but that's not going to change the way the ship looks," Lovie said.
Conditions and vessel designs in the North Sea were a major driver of the US Coast Guard (USCG) and MMS's decision to allow FPSO operations in the Gulf. Some of the shuttle tanker requirements that will be seen in the GoM are already used in North Sea designs, including:
•Bow loading about 1% of the capital cost
•A DP-2 standard dynamic positioning system
•Ability to travel in ship channels with 45-ft water depths or less.

The bow loading system has to work with the FPSO, and the interfaces need to agree in the industry, Lovie said. Loading capacity for shuttle tankers will be about 500,000 bbl, according to regulations.
"We've designed and built a whole lot of these things in the North Sea, so all we're doing is taking that experience and adapting it here (in the GoM)," he said.
The design the company is considering has a transponder on the shuttle tanker, so that if the shuttle tanker gets too close to the FPSO, the offloading hose connection will close and disconnect. If it moves too far away while in dynamic positioning, the connection will also close and disconnect. This can happen in cases where there is no hawser connecting the two vessels. The dynamic positioning maintains station and is monitored carefully to ensure no oil is spilled.
"In the course of preparing the environmental impact statement for FPSOs in the GoM, historical data was obtained from lightering operations and shuttle tanker operations in the North Sea, so we're pretty confident that it will work and there aren't going to be any ugly surprises," Lovie said.
It would cost twice as much to build a shuttle tanker in the United States as it would in the Far East, Lovie said, because of the Jones Act regulations. However, once this system is in place, the operators will be able to avoid the trunkline system in the Gulf and negotiate prices for their production directly with refineries. Companies operating shuttle tankers in the North Sea carry cargo for up to $2/bbl more because they control where it is delivered.
There is also less risk in using a shuttle tanker as an early production solution. This way, if a field produces faster than expected and plays out early, the operator doesn't have to keep paying for a pipeline serving the field. It can take its tankers and FPSO and move on to the next project.
"There's a lot of flexibility that exists with a shuttle tanker that didn't exist before, and there is an upside on revenue that oil companies never had," Lovie said.
Articulated tug/boats
Another option for exporting production from an FPSO is the articulated tugboat (AT/B). Ocean Tug & Barge Engineering Corp. (OTB) has designed and model-tested two AT/B sizes for operators. With an AT/B, the tug fits into a notch at the stern of the barge and locks into or connects to the barge through an articulated connecting system. In a typical system, there is at least one degree of freedom between the tug and the companion barge, but the two units remain separate. AT/Bs differ from integrated tug/barges, where the tug and barge lock together in a rigid configuration and become a single unit.
OTB President Robert P. Hill said using AT/Bs have five major benefits:
Construction costs are lower than they would be for a ship, because tug/barge units follow different regulatory and manning restrictions than conventional tankers
They can be built in smaller, specialized shipyards that are generally more economical than larger shipyards, and tug yards can focus on the tug while barge yards focus on the barge
A tug/barge unit built under the Jones Act generally carries a smaller crew, but can carry a larger crew, if needed
AT/Bs are slower than shuttle tankers, but distances between ports are not long enough to make speed a negative factor
Larger units would reduce the number of vessels required, which, in turn, reduces the number of connections and disconnections.
Another benefit of an AT/B in everyday service over a short trade route is the ability to "drop and swap," or drop off an empty unit and pick up a full one, avoiding the cycle time of offloading. This system can work with one tug handling three barges. One loads, one discharges, and one is in transit. The third tug is a spare to prevent downtime. Normally, this type of transaction can only take place near shore, but the company is working on a design that will do this on a shore-side facility while the tug stays connected to the barge offshore. Hill said one disadvantage for shuttle service is that the tug would need to stay with the barge because of a need for dynamic positioning in a combined tug and barge unit. As a result, leaving the barge offshore to load without a tug is still a debatable issue. A system to connect or allow relative draft changes offshore between the tug and the barge is an option, but this has not been tested.
Vessel Management Services, a Crowley Maritime Corp. subsidiary, christened the first of four AT/B tank vessels, the Sea Reliance, in April. Halter Marine built the vessel, which will be chartered by Intrepid Ship Management, a subsidiary of Marine Transport Lines. The company has not confirmed whether it will be used as a lightering vessel, but said it plans to use the Sea Reliance in the Gulf coast.
Future in lightering vessels
The US Coast Guard said FPSOs will likely be used in the GoM by 2005. A plan for associated gas in remote areas is one of the major issues operators will have to face. Some suggestions have been to transport it in shuttle tankers in compressed form where cryogenic systems and materials are not required. American Shuttle Tankers recognizes two options, one shuttle tanker for gas and one for oil. Both OTB and American Shuttle Tankers are leaning toward the compressed natural gas method.