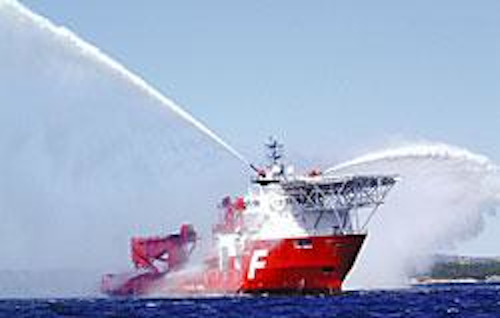 Nick Terdre
Contributing Editor
Far Saga, a platform supply vessel owned by Farstad Shipping ASA and operating under charter to Norsk Hydro in the North Sea, has been converted to a multipurpose role. In addition to its conventional supply function, it can operate as an ROV support vessel, standby vessel, and fire-fighting and oil-spill response vessel.
A contract for Far Saga to operate as a subsea support vessel was agreed shortly after it entered service for Hydro in late 2001 as a supply vessel. The contract forms part of Hydro's frame agreement with Stolt Offshore, which provides the subsea services. Farstad is also a party to the contract.
A comprehensive conversion program was carried out at the Cityvarvet yard in Gothenburg, and in June Far Saga returned to Hydro's service where it is working as an ROV support vessel.
Far Saga underwent extensive rebuilding to equip it for its new roles, according to Farstad's technical manager Arild Egeness. For ROV support, it was fitted with a moonpool; the craneage was upgraded with the addition of 50/100-ton and 20-ton cranes; the superstructure was lengthened to accommodate an ROV hangar, mechanical workshop, and survey control room, and a helideck was built on.
Far Saga now complies with Norwegian stand- by vessel rules, and can accommodate up to 350 survivors. Fire-fighting equipment was added to enable it to comply with DNV's FiFi I and II classes. For oil spill response duties, it has also been equipped with an oil skimmer and oil boom and other systems in compliance with the Norwegian oil recovery class.
The vessel has the DNV class notations CLEAN for its facilities for reducing emissions to the sea and air, and COMFORT, for its compliance with rules for minimizing noise and vibration in the living quarters.
Far Saga was built to the Ulstein UT 745L design as a large supply vessel, with main dimensions of length 96.8 m, beam 18.8 m and draft 6.2 m. In the course of the conversion, the deck area available for transporting goods was reduced from about 1,000 sq m to around 750.
The charter to Hydro is for five years, with a number of extension options. For Hydro, the multi-purpose vessel provides a flexibility that is expected to translate into savings. According to an official in its marine operations department, the vessel "can be quickly taken out of the supply service and used as a support vessel for subsea operations. This way we can avoid long waits for dedicated special vessels to become available."