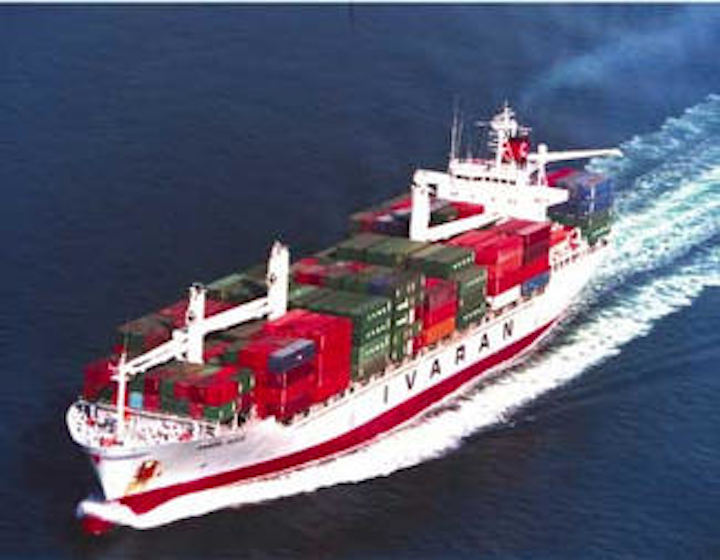 Keeping track of cargo, whether bulk or containerized shipments, is a critical part of any shipping operation. It is also important that vessel service life be protected by proper care, when handling cargo during loading and unloading. LoadMaster International has developed a suite of computer software designed to plan and optimize cargo forces and stresses on hulls regardless of the cargo type.
Another major goal when loading or unloading a vessel is to avoid overstressing any part of the vessel's structural design. Three critical factors that must be considered when loading a vessel are stability, stress, and trim.
Stability: Stability is the way the vessel floats after loading and is related to the aggregate stress distribution on the hull. It answers the question: Where is the load relative to the vessel's center of gravity and are the forces balanced?
Stress: Stress is the bending moment on each steel plate and bulkhead caused by the cargo placed in the vessel's hold. Bulkhead failures are the major reason for loading failures. Failures damage the vessel and create unscheduled repair expenses for vessel owners. They also result in unknown delays for vessel operators.
Trim and heel: These factors have to do with vessel tilt. These should be a close to neutral as possible. The object of any loading procedure is to fill the vessel in such a way that all the forces acting on the individual steel plates, hull bulkhead dividers, and overall hull integrity are balanced and within the vessel's design limits.
Offshore decision tool
The goals of proper stress balancing and monitoring are:
Safety - to stay within the tolerance margins set by the design of the vessel and the operator
Economy - saving time and money so a vessel is used in an economically efficient manner
Simulation - planning and modifying the load sequence to balance the stresses on a vessel's hull before loading begins.
SeaMax is software designed for any offshore structure. For decision support, SeaMax provides a comprehensive ballast advisor tool based on user-selected criteria or targets. The software can also provide damage stability calculations, for example, for compartment breaches. The software then uses the current load condition to recalculate the remaining stability.
The software is configurable for dual-mode operation. In monitoring mode, it tracks the real-time situation and makes use of automatic input from tank level gauging and other load measurement systems. When switched to simulation mode, the operator can perform planning. The monitoring mode continues to run in the background to provide warnings about the real-time situation of the vessel. These capabilities are especially important when adjusting anchoring limits, either with or without risers (for drilling vessels).
CargoMax can be used as a general cargo platform or can be purchased with feature modules designed for specific ship types: tankers, roll-on/roll-off ships, bulk carriers, or container vessels. This tool allows the master and officers to track with all cargo data, cargo planning, ship data, and ship stability calculations. Multiple reports on ship conditions and cargo operations are possible.
Loading by geometry
The software calculates load factors according to a ship's specific geometrical formula. The instant calculations give the cargo officer precise and reliable information on the ship's stability, stress, draft, and others. CargoMax can also work out the load/discharge sequence in advance. This minimizes port time to maximize vessel usage. It also assures that the vessel is stable at all times.
PlanMax is a shoreside stow planning tool for use at the cargo booking and pre-planning stage. It allows for maximum cargo bookings and vessel utilization. The software features a fully graphical interface in which the user can drag cargo parcels from a booking list and 'drop' them into any selected vessel hold.
"Smart" stowage methodology positions the cargo within the selected hold, relieving the planner from manipulating individual cargo boundaries. This allows the planner to optimize stowage and allows last minute changes to be made. Hold capacity, vessel trim, ship stability, and strength are constantly updated. Cargo information can be exchanged by Baplie format as well as other standard formats.
A ship's crew needs to have a working knowledge about the vessel's stability, stress, and software applications. To help operators prepare their crews, LoadMaster International has developed a shipboard computer-based training module that is economical and effective. It combines the experience of naval architects and sea masters for continual and onboard training of seafarers. The Shipboard CBT package includes the following modules:
Purpose of a loading program
Basic principals of stability and stress
Principles of righting arms and free surface
CargoMax tutorial
Quizzes and exam.
LoadMaster software has been used on over 9,000 ships and offshore installations over the past 50 years. The heart of the software is based on proven calculation engines and methodologies that form the core of both CargoMax and Herbert Engineering's HECSALV design and salvage program.
For more information, contact Ingemar Sekund, Load Master International. Tel: +46 (0)40 93 66 00, Fax: +46 (0) 40 93 08 60, E-mail: i.sekund@loadmasterint.com.