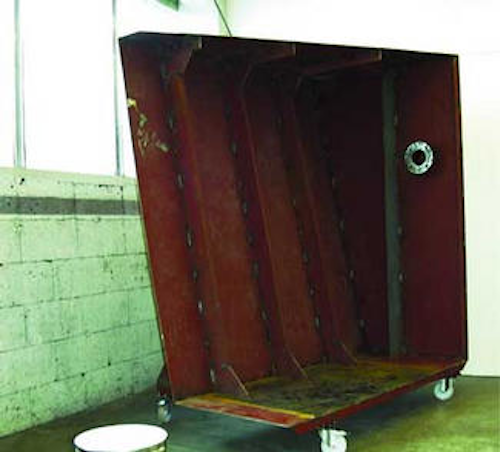 All manned offshore facilities need ample supplies of potable water. That water must be kept in tanks and stored with a high standard of sanitation. At any stage of its transfer or storage, the water can be contaminated, without proper tanks to hold the water. Most tanks in use have painted interior surfaces to protect the potable water from rust, scale, and salt water, preserving sanitation and preventing adulteration. These tanks must be routinely inspected and repainted to preserve their integrity at a significant cost.
Now there is a better way to preserve potable water's purity - by lining holding tanks with durable plastic liners made from swimming pool materials. ECT Offshore Services, in association with Tank Sealing International, is offering tank lining for potable water systems both for supply vessels and for tanks on offshore related facilities. By using the lining, painting is eliminated. The lining material is guaranteed for 10 years, but can last as long as 30 years with reasonable care. The polyolefin material:
Can be applied in any temperature
Is unaffected by chlorine
Provides corrosion protection.
The lining can be shaped to fit any tank configuration. All edges are heat sealed, melted together forming a solid barrier between the water and the steel tank container. Sealing at the top of the tank is effected by welding small metal pins to the sheet so that a plastic disk can be attached to provide the top seal.
Internal steel frames and steel ribs are easily covered by clamping the lining to the frame and heat-sealing over the frame members. Interior ports and pipes are also wrapped and sealed with the material to protect potable water. This provides many advantages:
Minimal maintenance
Fully lined tanks
Smooth interior surface
No curing time
Contaminant-free water
The time involved in applying the lining is similar to that required for epoxy painting, but the tank is ready for use once the lining is installed. The work can be done onsite.
For more information, contact Yvonne Putzig, E.C.T. Offshore Service, Tel: +46 31 53 00 40, Fax: +46 31 53 00 45, E-mail: info@ectoffshore.se .