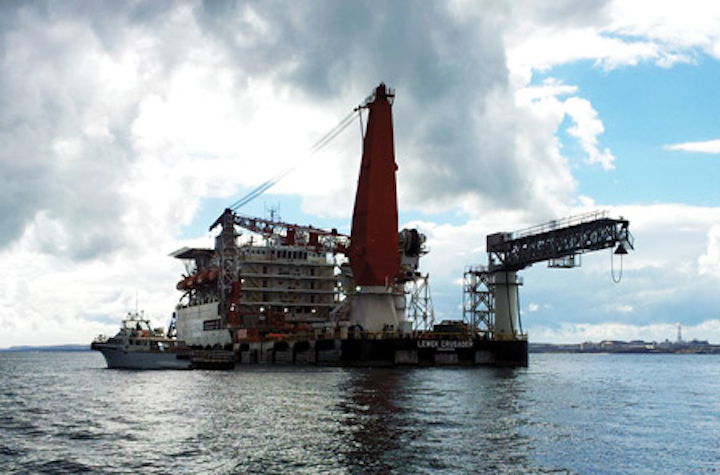 Jeff Miller
Special Correspondent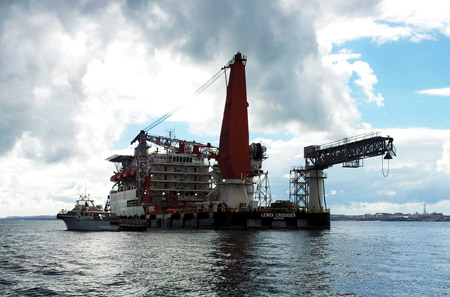 EMAS AMC'sLewek Crusader multi-purpose construction vessel has a DP-3 dynamic positioning system and can perform multiple deepwater construction activities. (Photo courtesy EMAS AMC)
With oil prices still hovering between low and critical levels, increasing production from both new and mature offshore fields is vital to maintaining profitability.
Companies banking on the fact that prices will rebound as they have done in the past are continuing to look for new opportunities offshore. Additionally, there is also a focus on many of the new technologies designed to get more oil out of existing subsea fields; reduce maintenance and intervention costs; increase a project's net present value; and extend the life of current fields.
Extending the life of a subsea field, as well as increasing recovery, is essential in today's volatile oil price-based economy. Companies have reconsidered and revitalized their offshore plans due to the large number of newbuild and refurbished offshore vessels available. Many of these have been designed not only for well intervention, but also subsea umbilicals, risers, and flowlines (SURF) installation; inspection, repair, and maintenance activities; and P&A work. These also include construction vessels along with legacy equipment like ROVs and saturation diving systems.
From some of the oldest vessels, like Ranger Offshore's 180-ft (54-m) longHammerhead, built in 1972 and still in continuous use, to McDermott's yet-to-be-named Derrick Lay Vessel 2000, which will be launched next year at a staggering length of 604 ft (184 m) and capable of holding more than 400 personnel, companies are making the most of their resources during a time of uncertainty.
Some companies at the forefront of this technological renaissance are tackling subsea well intervention in a way that not only saves operators time and money, but also increases well output and reduces downtime. Riserless well intervention is making its way to the deeper waters of the Gulf of Mexico after years of successful operation in the North Sea. Completed from a dynamically positioned vessel rather than a rig, riserless well intervention can perform multi-well diagnostics including PLT; water shutoff; sand and scale clean-out; shifting sleeves; and milling nipples. It can also be used for gas lift valve change-out; setting and pulling plugs; perforating; and 4D seismic in some cases.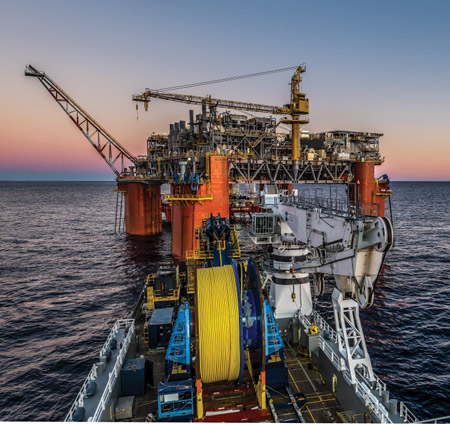 Boa Marine Services'Olympic Boa was launched in 2014 to carry out dive support work in the Gulf of Mexico. The versatile vessel is also ice-classed by DNV GL. (Photo courtesy Boa Marine Services)
In addition, because the work is done on a vessel rather than a rig, response time tends to be quicker, which in turn reduces non-productive down time and can keep operational time at or more than 98%.
But one of the most beneficial byproducts of this technology is the increase in oil recovery. This affects the bottom line of any company, no matter the barrel price of oil, since lifting costs are dramatically decreased while output is increased.
As evidenced in this year's Subsea Construction Vessels poster, many of the units in use today serve multiple purposes where previously vessels were primarily built with one purpose only, such as intervention. In this case, other vessels were brought in for dive support, well repair, maintenance, P&A, SURF work, and even seismic.
But now, companies have found that specifying and outfitting (or in some cases retrofitting) vessels in advance saves money and time, while at the same time reducing the number of crew required to complete a job.
For example: Boa Marine Services'Olympic Boa, launched in 2014, is being used not only as a dive support vessel in the Gulf of Mexico, it is also certified for inspection, repair, maintenance jobs and even carries an ICE-C rating from DNV GL for use in frozen water conditions.
And DOF Subsea USA has theChloe Candies, based in Port Fourchon, Louisiana. Officially classified by DNV GL as a multi-service vessel, the Chloe is suited for a large range of inspection, maintenance, repair, and light construction services. The ABS-registered ship is capable of working at water depths of up to 10,000 ft (3,048 m).
EMAS AMC'sLewek Crusader, based in Singapore, has done everything from SURF construction jobs to saturation diving, pipelay, and ROV support, proving that the future of vessels such as this is to be multi-functional.
With more than 20 vessels either being built now, or having been put into service within the last two years, the future for multi-functional vessels worldwide looks stronger than ever. •