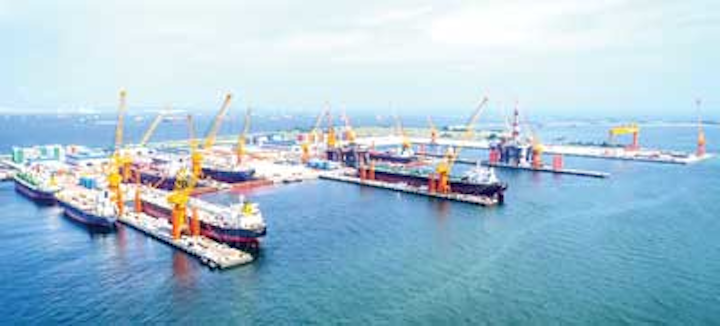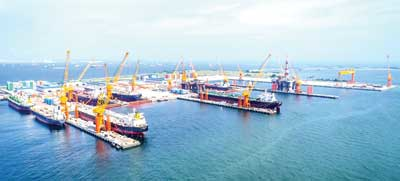 The Sembmarine Integrated Yard @ Tuas will eventually cover more than 200 hectares. By 2024, Sembcorp plans to consolidate its five Singapore shipyards at the site.
Government support helps local industry maintain competitive edge
Gurdip Singh
Contributing Editor
Sembcorp Marine has set up a mega-shipyard inSingapore to service the global oil and gas and marine sectors, and to maintain a competitive edge in the construction of exploration rig and production platforms, ship conversion, repairs, and maintenance.
Prime Minister Lee Hsien Loong opened the first phase ofSembmarine Integrated Yard @ Tuas on Nov. 6, 2013, 50 years after the industry began in 1963 as part of Singapore's industrialization program to support its then fledgling economy.
Lee applauded the shipyard-based marine and offshore industries survival through the vagaries of economic cycles, but warned of ever-increasing competition from China and South Korea.
Jurong Shipyard, now one of several facilities owned by Sembcorp, launched the national industry with a joint venture between Singapore's state-owned Economic Development Board (EDB) and Ishikawajima-Harima Heavy Industries (IHI) of Japan in 1963. As Singapore's first commercial shipyard offering ship repair services, Jurong Shipyard was part of the government's effort to develop the marine and offshore industry as one of the key elements of industrialization. It officially opened in March 1972, and incorporated a fishing islet of Samulun with a wooden pontoon bridge over a short water rivulet.
Sembawang Shipyard, the second of the Sembcorp Marine's yards, was started when the British pulled out of the city state and the Far East, leaving behind a vast, unused naval base. Sembawang started operations from the Royal Navy Dockyard in late 1968 under the management of Swan Hunter Group, the biggest and most famous ship repair group at the time.
Today, Sembcorp Marine and Keppel Marine & Offshore, the second shipyard-based group, have thriving operations in major markets across the globe.
"These industries have come through the difficult times of the 1970s and severe recessions of the 1980s," Lee pointed out.
He also recalled how many had doubted the industry's long-term viability in those challenging years.
"Our marine and offshore industry has established a leading position in the world, even though Singapore does not have enough land and indigenousoil and gas production," Lee noted.
"Two of the world's top companies in this industry are from Singapore - Sembcorp Marine and Keppel Offshore & Marine. And both are thriving today, starting from humble beginnings," he said.
Lee assured more government support for the industry, having reclaimed the Tuas site on the west coast of Singapore for Sembcorp yards, and pledged support for infrastructure to keep the industry vibrant.
"We've got to keep upgrading ourselves," he said.
He noted a goal of Sembcorp's former president, K.K. Tan, to consolidate the group's yards at one site for overall efficiency. Lee pointed out that it took over a decade to achieve that goal. Tan has retired after more than 50 years in the industry and now is an adviser to Sembcorp.
Government support
The prime minister said the government would support the industry with manpower training and continue to work on talent and skills development for the marine and offshore sector.
Elaborating on Lee's comments, Singapore Minister of Trade and Industry Lim Hng Kiang stressed the need for the industry to continue its progress.
"Notwithstanding the current global leadership position, the industry needs to continue to innovate and to transform itself to stay ahead of the competition," said Lim. "This is especially important as land and manpower become increasingly valuable in our resource-scarce Singapore."
Lim highlighted Sembcorp's investment in the integrated yard at Tuas and the company's collaboration with Palfinger Systems to jointly develop the hull treatment system.
"This fully automated (hull treatment) system integrates the washing, blasting, and coating processes. Apart from cost, material, and manpower savings, this system will also result in the reduction of dust emissions," noted Lim.
Lim said the government would partner with and support the marine and offshore industry in its transformation efforts.
"First, we will help companies to increase their design and engineering capabilities through the public research infrastructure such as the Singapore Maritime Institute and ocean basin test facility," he said.
"Second, we will work with companies to look for ways to improve overall productivity through new production technologies, training, equipment, and machinery.
"Third, we will help the industry attract and develop talent by partnering the relevant educational institutes to introduce programs focused on offshore engineering, petroleum engineering, naval architecture, and marine engineering."
Lim continued: "While we look forward to a bright future for the marine and offshore industry in Singapore, industry leaders such as Sembcorp Marine need to continue to forge ahead to develop innovative solutions for the needs of tomorrow."
At the same time, Lim noted that "the supporting ecosystem of industry partners, suppliers, and sub-contractors also needs to continually transform and upgrade so as to keep pace with the changing needs of the world."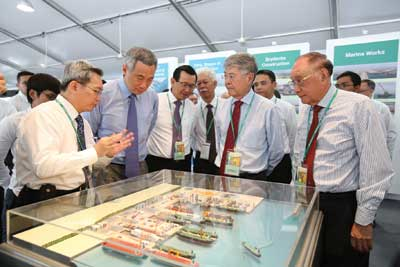 Singapore's Prime Minister Lee Hsien Loong, second from left, views a model of the new consolidated shipyard.
Integrated yard
Sembcorp's Singapore shipyards - Jurong Shipyard, Sembawang Shipyard, Sembawang Marine and Offshore Engineering (SMOE), rig builder PPL Shipyard, and vessel repair company Jurong SML - will be consolidated at the new Sembmarine Integrated Yard @ Tuas by 2024. The 73.3-hectare Phase 1 began operations on Aug. 5, 2013, while yard development work continues on the other two phases at the 206-hectare site.
Phase 1 of the new yard has four very large crude carrier (VLCC) drydocks with a total dock capacity of 1.55 million deadweight metric tons, as well as finger piers and basin lengths totaling 3.9 km (2.4 mi).
The facilities include a drydock, YST D2, measuring 360 m (1,181 ft) in length by 89 m (292 ft) in width, with a draft of 8.5 m (28 ft). Billed as the widest drydock in Singapore, it is designed to accommodate jackup and semisubmersible rigs. Another drydock, YST D3, measures 412 m (1,352 ft) long by 66 m (217 ft) wide, with a draft of 11 m (36 ft), making it what Sembcorp claims is the longest and deepest ship repair drydock in Asia. It is equipped with an innovative intermediate dock gate system and is capable of docking containerships of up to 18,000 TEU (one TEU is equivalent to the measurements of a standard container used on ships). The design provides the flexibility to configure the dock to allow smaller ships to dock in front while other works are carried out at the rear. There is also a special reinforced load-out area for offshore platforms of up to 20,000 metric tons (22,046 tons). The natural deepwaters at the new yard also enable the installation of thrusters for semisubmersibles without towing the rig to sea, providing significant savings for customers.
To maximize the waterfront coverage in land-scarce Singapore, the yard is configured with three finger piers and a basin ranging from 201 to 400 m (659 to 1,312 ft) with maximum draft of 9-15 m (30-49 ft), allowing for ultra-deepwater semisubmersible rigs and passenger vessels to be berthed without restrictions in the new yard.
The 34.5-hectare Phase 2 yard is expected to begin operations in the next three to four years. The site is located adjacent to and north of the Phase 1 development. The yard features the latest in production technologies, processes, and equipment, and represents a major step forward in the marine and offshore industry's efforts to transform itself for sustainable long-term growth. It will enhance the Singapore industry's competitiveness and productivity, and reaffirm Singapore's position as a global offshore and marine hub, Sembcorp said.
"We are confident that it will contribute to the further success of Sembcorp Marine in Singapore," said company chairman Goh Geok Ling. "The new yard is an apt symbol of our growth and expansion. This next-generation yard is a testament of the efforts and strategic investments of our pioneers and leaders who have paved the way to our success today."