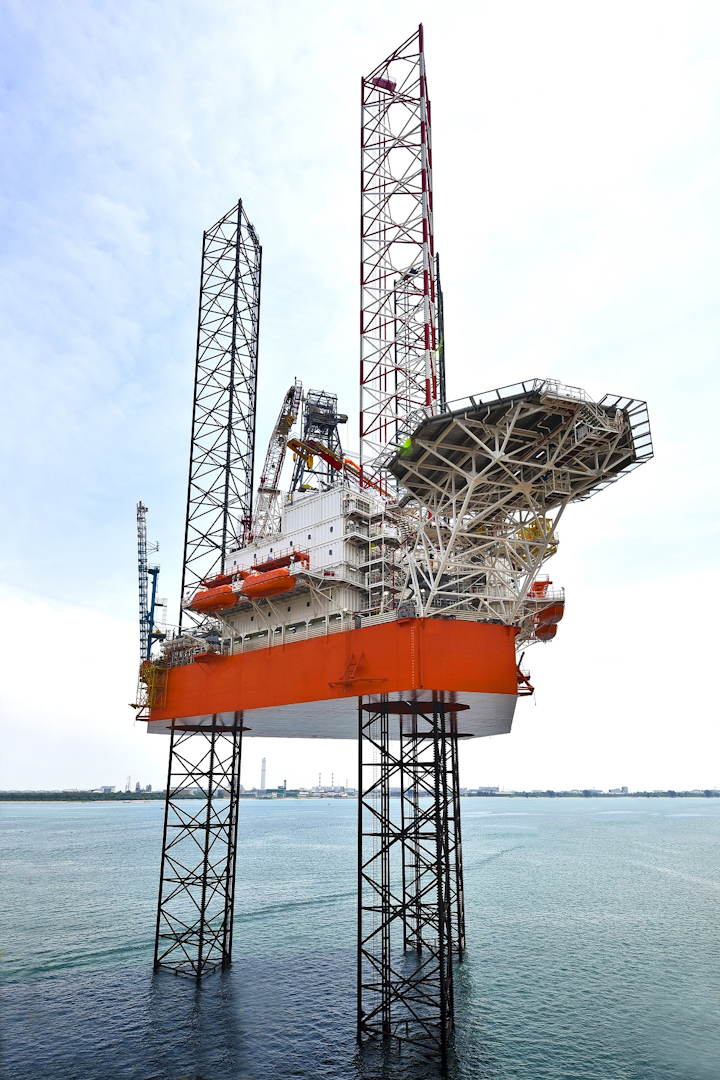 (Courtesy Keppel Corp.)
Offshore staff
SINGAPORE – Keppel FELS has delivered the new jackup Heimdal to Borr Drilling.
This is fifth of 11 jackups built to Keppel's proprietary KFELS B Class design that the contractor has ordered.
Tan Leong Peng, executive director (Newbuilds) at Keppel Offshore & Marine, said: "Jackup utilization has been increasing and there is a strong market preference for high spec rigs as older rigs are being retired."
The KFELS B Class design includes numerous features that reduce emissions and discharges. The rig can operate in 400 ft (122 m) water depth and drill to 30,000 ft (9,144 m), and is equipped with a 15,000-psi (1,034-bar) BOP system and accommodation for up to 150 personnel.
In a separate development, Lloyd's Register (LR) has awarded Keppel Offshore & Marine, in partnership with Nanyang Technological University, Singapore (NTU Singapore) and the A*STAR (Agency for Science, Technology and Research) Singapore Institute of Manufacturing Technology (SIMTech) certification for the Laser Aided Additive Manufacturing (LAAM) system to produce offshore grade steel.
This certification conforms to American Society of Testing and Materials (ASTM) A131 requirements and follows an audit and successful mechanical testing.
Aziz Merchant, Executive Director, Keppel Marine & Deepwater Technology, said: "This certification is the first step for us to produce high-value components essential to the offshore and marine structures.
"Additive manufacturing (AM) or 3D printing as it is more commonly known will speed up production times which in turn can help bring projects to completion much quicker…
"The LR certification shows that the components we produce using this method are safe and fit for purpose…"
Aside from cutting project lead times, 3D printing is said to reduce the carbon footprint associated with manufacturing and provide long-term cost savings.
NTU researchers tested more than 50 specimens of 3D-printed offshore grade steel, checking their material yield, tensile, elongation, fatigue and toughness properties.
The results, combined with an optimized 3D printing process, suggested material properties of a standard exceeding the ASTM requirements.
01/15/2020