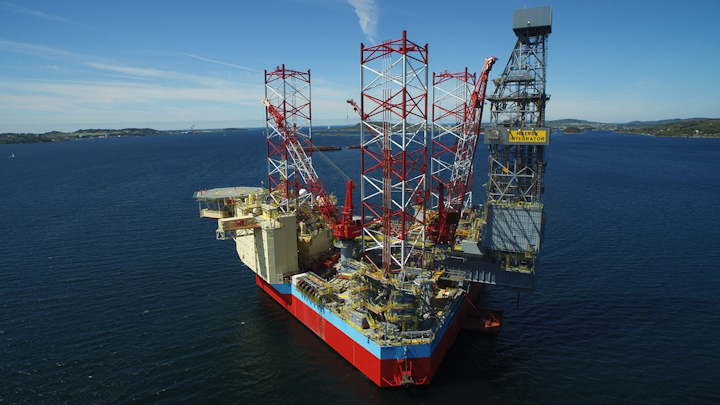 (Courtesy Maersk Drilling)
Offshore staff
COPENHAGEN, Denmark – Aker BP has awarded Maersk Drilling an extension to the current contract for the CJ70 XLE harsh environment jackup Maersk Integrator.
Starting next September, the rig is now due to spud a well at Aker BP's Tambar field in the southern Norwegian North Sea, with the program expected to last around 40 days.
Value of the extension is $10.9 million, excluding a potential performance bonus. The rig is contracted under the terms of the incentivized alliance agreement that Maersk Drilling entered into with Aker BP and Halliburton in 2017.
Prior to starting work on Tambar, the Maersk Integrator will undergo upgrades to turn it into a hybrid, low-emission rig, similar to the work in progress on the jackup Maersk Intrepid.
This involves running the rig on hybrid power with low levels of NOx (nitrogen-oxide) emissions, and adding data intelligence to further limit energy consumption and CO2 (carbon-dioxide) emissions.
As with the Maersk Intrepid, the project has financial support from the Norwegian NOx Fund and a separate compensation scheme agreed with Aker BP.
Morten Kelstrup, COO of Maersk Drilling, said: "The great collaborative efforts in the alliance are producing high efficiency, leading to wells drilled much faster than planned and mutual benefit for all parties involved.
"Higher efficiency in itself reduces the CO2 emissions associated with a drilling campaign, and this aspect is now further strengthened by adding hybrid, low-emission technology."
The Maersk Integrator, designed for year-round operations in the North Sea, was delivered in 2015 and is currently operating for Aker BP on the Ula field in the southern North Sea with the work scope set to finish in July 2020.
The rig will likely then undergo a scheduled Special Periodic Survey in August before starting work at Tambar.
Aker BP has also received permission from Norway's Petroleum Safety Authority to drill exploration well 6506/5-1 S on the Nidhogg prospect in the Norwegian Sea, using the semisub Deepsea Nordkapp.
The location is in license 1008 in 442 m (1,450 ft) water depth, 47 km (29 mi) north of the Åsgard B platform and 52 km (32 mi) southwest of Aker BP's Skarv field. Drilling should start this month or in December and last for 27 days.
11/07/2019