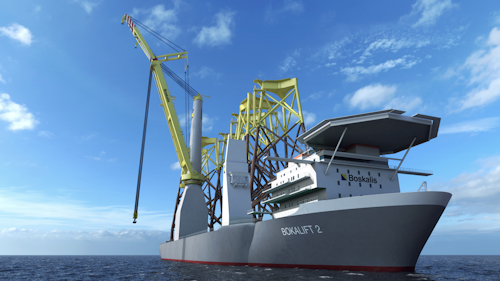 (Courtesy Boskalis)
Offshore staff
SCHIEDAM, the Netherlands – Royal Boskalis Westminster N.V. has commissioned Huisman to deliver a 4,000-metric ton offshore mast crane for its vessel Bokalift 2.
With a lifting capacity of 4,000 metric tons at 100 m (328 ft) above deck, this crane is said to be able to lift jackets for wind turbines off the deck of the vessel. A fly jib allows lifting of smaller components up to a height of 125 m (410 ft) above deck.
According to the company, the configuration of the hoisting tackles is such that the crane can lift large jackets and upend long (mono)piles from a horizontal to vertical position.
In 2017, Huisman supplied a 3,000-metric ton offshore mast crane to the Bokalift 1.
11/04/2019