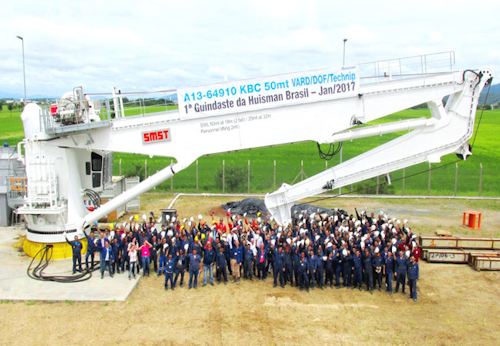 Offshore staff
SCHIEDAM, the Netherlands – Huisman is preparing to deliver the first offshore crane built and tested at its production facility in Navegantes, Santa Catarina state in southern Brazil.
The 50-metric ton (55-ton) knuckle boom crane is the first of two ordered for the decks of DOF/Technip'sSkandi Olinda and Skandi Recife construction vessels, both being built at Brazilian shipyard VARD Promar.
In addition to the SMST-design cranes, the yard will supply two 50-metric ton subsea knuckle boom cranes and two 2,500-metric ton (2,756-ton) flex-pipe storage baskets for the same DOF/Technip vessels, with Huisman in the Netherlands providing two 340-metric ton (375-ton) VLS pipelay systems.
Huisman Brazil, which opened in April 2015, is the company's fourth production facility and is dedicated to the manufacture of offshore equipment for the Brazilian market.
Its location along the Itajai-Açu river is said to enable fast installation of Huisman equipment onboard sea going vessels.
Last month,Oceana Shipyard (part of the CBO group) commissioned the yard to supply two anchor handling and towing winch packages for two new Havyard 843 AHTS vessels.
These are additional to the order CBO placed forfour anchor handling and towing winch packages in 2015, the first set of which Huisman Brazil delivered last November.
02/08/2017