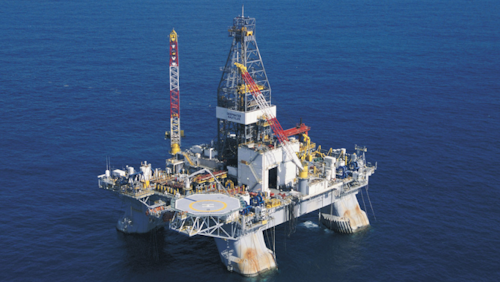 (Courtesy Transocean)
Offshore staff
STEINHAUSEN, Switzerland – Transocean Ltd. has issued an update on its offshore drilling rig fleet.
In the UK North Sea, Hurricane Energy awarded the harsh environment semisubmersible Paul B. Loyd, Jr. a 255-day contract, which is expected to run from February 2020 to September 2020. From February to April the day rate is $160,000. From April to September it is $205,000.
Offshore Brunei, Shell has awarded the ultra-deepwater semisubmersible Deepwater Nautilus a 45-day contract, which is expected to run from January to February 2020 at a day rate of $175,000. The semi is currently under contract to Shell off Malaysia.
Offshore Egypt, Burullus has exercised a one-well option for the ultra-deepwater drillship Discoverer India. The day rate is $170,000. The contract is expected to end in April 2020.
The ultra-deepwater drillship Deepwater Orion (formerly known as Ocean Rig Poseidon) was listed as idle.
10/17/2019