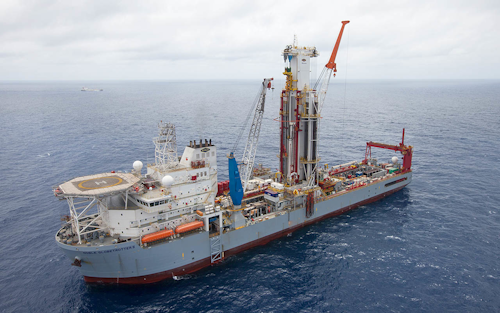 (Courtesy Noble Corp.)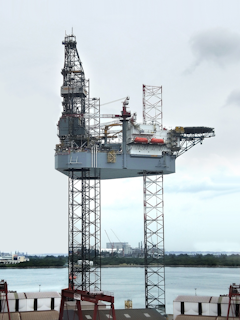 Keppel FELS has delivered the jackup ENSCO 123 to Ensco Rowan plc, a harsh environment rig that will work initially in the UK North Sea.(Courtesy Keppel FELS)Revival of the offshore drilling market continues, albeit slowly, according to Rystad Energy. In a recent report, the consulting firm noted that prospects are improving for ultra-deepwater, harsh environment rigs.
Rystad says that it expects the floater segment to experience the steepest growth driven by a new round of greenfield development projects in deeper waters and in harsh environment regions. The consulting firm sees activity picking up significantly through 2021, with demand for 172 rigs for these types of projects.
Floater demand growth will be driven by projects in the Norwegian and UK North Sea, the US Gulf of Mexico, West Africa, and Brazil.
The harsh environment Norwegian sector is lifting demand short term, as drilling is ramping up at Johan Sverdrup Phase 2, Johan Castberg, and 10 other subsea tieback projects.
An FPSO boom may be around the corner in the ultra-deepwaters of Brazil, with the Petrobras-operated Mero project in the presalt Santos basin generating the highest rig demand.
Various sixth and seventh generation drillships have secured long-term contracts since 3Q 2018, and Rystad expects rigs in this category to be fully booked in the coming years.
Rig designers and builders are working to meet these demands. Awilco Drilling PLC has exercised an option for a second mid-water harsh environment semisubmersible from Keppel FELS Ltd. As with the first $425-million order, the rig will be built to Moss Maritime's CS60 ECO MW design. Delivery is scheduled for 1Q 2022.
Like the first rig, it is specially designed, configured, and outfitted for mid-water operations in water depths up to 4,921 ft (1,500 m). The drilling rig will be able to operate in harsh environments, including the Norwegian continental shelf, the UK continental shelf, and the Barents Sea.
Equipped with a hydraulic hoisting system capable of two million pounds of lifting capacity, it also features an optimized 12-point thruster-assisted mooring system for vessel station keeping, complete with hybrid power supply and energy saving features.
As part of that transaction, Awilco has independent options to order up to another two similar rigs to be exercised in 2020 and 2021, respectively.
Tan Leong Peng, Executive Director (Offshore) of Keppel O&M, said: "Work on the first rig is progressing well and we will be able to benefit from economies of scale and cost efficiencies from undertaking a repeat project. For this second rig, we will be able to leverage the engineering and construction process of the first rig to further improve productivity."
Keppel FELS also reports that it has delivered the jackup ENSCO 123 to Ensco Rowan plc. The KFELS Super A Class design harsh environment rig will work initially in the UK North Sea. The rig is Keppel's fourth enhanced KFELS Super A Class rig for EnscoRowan. All are designed to operate in a variety of environments in water depths up to 400 ft (122 m), and to drill to TDs of 40,000 ft (12,192 m).
Applications include large multi-well platform drilling programs, ultra-deep gas drilling and ultra-long reach wells. Among the features of the design are a 2.5-MMlb quad derrick, automated, hands-free offline pipe handling, high capacity jacking and fixation systems, and accommodation for 145 personnel.
Suppliers and OEMs are also working to produce equipment that can withstand these harsh environments. Keppel FELS says it has contracted Akastor subsidiary MHWirth to supply a drilling equipment package for a new mid-water harsh-environment semisubmersible drilling rig ordered by Awilco Drilling. This is the first of three options issued when Keppel FELS and MHWirth signed a contract last April 2018 for a similar drilling equipment package.
The rig will be built in Singapore and is expected to be delivered in 1Q 2022. Value of the contract to MH Wirth, including mid-water riser equipment, is around $100 million.
Auto tripping
Elsewhere, Noble Corp. and Huisman have completed testing of a new designed automatic tripping system (autotripping) onboard the drillship Noble Globetrotter II.
According to Huisman, the system enhances the efficiency and safety of the vessel's drilling process. During the tests, the system's performance was proven by tripping 30,000 ft (9,144 m) of drill pipe, and operations were possible even with wave heights of up to 19.7 ft (6 m).
Autotripping allows for fully automated tripping in and out cycles including all related equipment, with pipe rackers, setback drums and drawworks controlled in parallel, leading to a 24% increase in operational efficiency.
During tripping, Huisman added, the driller can focus entirely on the drilling process and can choose which steps are confirmed before tripping continues.
Huisman says that it is also possible to halt the system quickly and safely via a single touch of the joystick, while pipe detection sensors can be used to further improve the speed, reliability, and safety of the operation.
No personnel are needed during autotripping operation, leading to improved safety on the rig floor. The Huisman-developed automatic pipe tally system defines the order of drill pipe to be run in or out of the hole.
It tracks the position of all pipes in the drill system and shows data of the tripping process. This, the company claims, results in a 100% accurate drillstring tally in real time at multiple locations on the rig.
BOP systems
With the push to develop HP/HT reservoirs, suppliers and OEMs are looking to develop new BOP systems. National Oilwell Varco Inc. (NOV) says that it has recently sold two 20,000-psi (20K) BOP stacks to Transocean. According to NOV, the deal makes it the first oilfield equipment manufacturer to successfully design, engineer, and sell such a package. The company said the 20K BOP stack is designed to optimize uptime and reduce unplanned stack pulls. It is also designed for use with extremely high-pressure reservoirs and can be used in ultra-deepwater. The initial deployment is expected in 2021 on a 20K well in the Gulf of Mexico.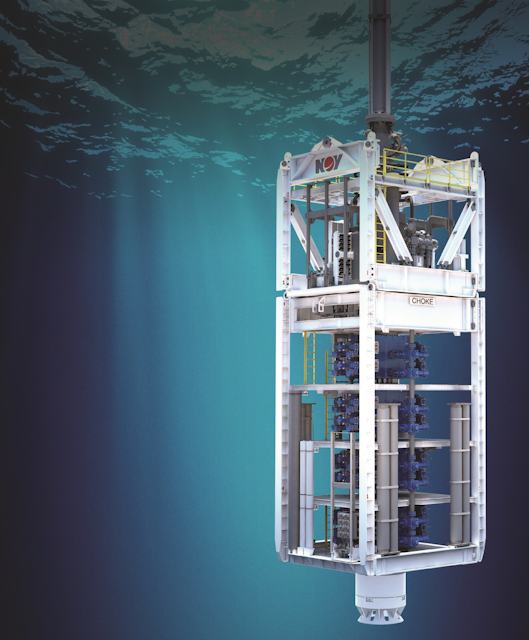 Rendering of NOV's 20K BOP stack.(Courtesy NOV)

Safety and efficiency
Offshore drilling rig technologies are continuing to develop and evolve in response to increased industry demand for safer and more efficient systems.
The offshore industry – operators, contractors, and OEMS – has collectively realized that their marketplace needs to be transformed in order to compete effectively with shale, improve drilling efficiency, and accelerate first oil.
These themes were underscored by Transocean CEO and President Jeremy Thigpen at the Offshore Technology Conference in May. Thigpen's presentation, entitled "Rig technologies of the future," described eight drilling technologies that Transocean has or expects to deploy on its rigs in the foreseeable future.
These included:
• Well control package – this involves an enhanced kick detection device that is being developed by Enhanced Drilling Co. of Norway. "This is the key," Thigpen said. He also noted that this system is "less invasive" than a managed pressure drilling system, but added that it did not take the place of an MPD system, which could also be added on the rig.
• aShear – this is a new blowout technology being developed by Kinetic Pressure Control, which is producing a technology called "aShear" – "which can shear anything," Thigpen noted. This new shear ram, he added, "is a blowout stopper," and can be retrofitted to any depth.
• Automated drilling control – This involves use of a wired drill pipe developed by IntelliServ, a joint NOV/Schlumberger venture, which provides real-time downhole data that can be used to make adjustments during drilling. The technology has been deployed by Equinor off Norway for the past year on six Transocean rigs. Thigpen noted that Equinor has been "very pleased with the results." He added that Transocean was sharing the costs of this new technology with Equinor.
• Human machine engineering – this involves sensor technologies and cameras which are placed on worker vests, as a safeguard against injury during drilling operations. The technology includes a warning system which alerts workers to proximity to dangerous equipment; and even shuts down the equipment, as an additional safeguard, if the worker gets too close to it.
• Hybrid power packages – this technology enables the drilling rig operator to manage the rig's power more efficiently, reduce fuel consumption, and produce a lower carbon footprint. Thigpen noted that this technology has been deployed on the semisubmersible rig Transocean Spitsbergen.
• 20k drillship package – This technology, which has been in development by the industry for the past 15 years, will soon be ready to deploy. It will have a 20,000 psi well control system, a three-million-pound net hookload, and a 10,000-psi mud system. Thigpen noted that Transocean has been working with Chevron on this front. In December, it was announced that Chevron would deploy a newbuild Transocean drillship equipped with these capabilities in the Gulf of Mexico, in the second half of 2021.
• Remote monitoring and prognosticating – these technologies remove people from the rig, thereby improving safety and lowering costs; they will also include remote dynamic positioning capabilities.
• Data and health prognosticating – this technology will enable drilling rig operators to monitor and analyze critical systems so that they can plan maintenance activities, and thereby prevent or reduce downtime. •