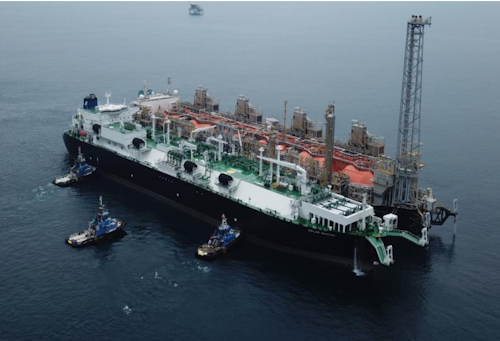 (Courtesy Golar LNG)
Offshore staff
HAMILTON, Bermuda – Golar has entered an agreement with the Noble Energy-led partners in the deepwater Leviathan gas field in the eastern Mediterranean Sea offshore Israel.
The contractor will assess the viability of a Golar FLNG solution to support future development phases.
Initially, the 620-bcm field will supply Middle East markets via existing pipeline infrastructure. The FLNG could be used to monetize subsequent expansion phases via the export of LNG to global markets.
Golar, using design basis input from the field partners, will examine the compatibility of its existing FLNG front-end engineering and design study for an FLNG vessel of up to 5 MMt/yr.
The company thinks its generic mark III newbuild solution might be suitable both for Leviathan and other potential projects under discussion.
In addition, Golar is in negotiations with various oil and gas companies assessing other opportunities globally for deployment of its generic FLNG vessels, with a final investment decision possible during 2020.
However, the company has decided against jointly developing the FLNG vessel for the US Gulf Coast Delfin LNG project.
08/29/2019