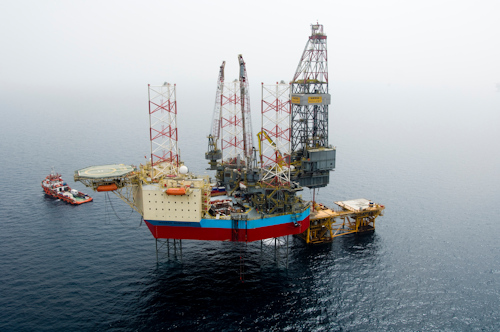 (Courtesy Maersk Drilling)
Offshore staff
COPENHAGEN, Denmark – Maersk Drilling sees mixed signs in the markets for its offshore rigs, according to the company's latest results statement.
The steady recovery of the jackup market continued during 2Q, the company said, with the number of contracted units rising, and take-up of the globally marketed fleet reaching 80%, its highest level since late 2015.
Day rates too continued to rise.
Take-up of available harsh environment jackups capable of working in the most challenging environments in the North Sea is currently above 90%, and demand for jackup rigs looks set to continue climbing.
In the North Sea, the company sees various short-term and longer-term duration opportunities for harsh environment jackups from late 2019 into the first half of 2020. 
The pace of recovery in the floating rig market, however, has been slower over the past two years, although the proportion of contracted floaters in the global fleet reached 80% in 2Q, again the highest level since late 2015.
Day rates too have risen over the past year. However, forward coverage remains relatively low, Maersk cautioned, with many rigs coming off contract and becoming available.
But with more widespread cash flow generation among oil companies, and more financially robust projects supporting sanctioning of new projects, the company expects demand for offshore rigs to continue rising, with consequent improvements in utilization and day rates over the longer term.
Among the company's most recent awards was a 137-day contract from Repsol for the drillship Maersk Valiant offshore Mexico.
08/23/2019