Rystad Energy ServiceDemandCube, May 2019
Offshore staff
OSLO, Norway – Revival of the offshore drilling market continues, albeit slowly, according to consultant Rystad Energy.
After a successful year in 2018 for the E&P majors, these companies look set to increase their spending on mobile offshore drilling rig operations.
Rystad expects the floater segment to experience the steepest growth driven by a new round of greenfield development projects in deeper waters and in harsh environment regions.
The consultant sees activity picking up significantly through 2021, with demand for 172 rigs for these types of projects.
Floater demand growth will be driven by projects in the Norwegian and UK North Sea, the US Gulf of Mexico, West Africa and Brazil.
The harsh environment Norwegian sector is lifting demand short term, with ramping up in drilling at Johan Sverdrup (Phase 2), Johan Castberg, and 10 other subsea tieback projects.
An FPSO boom may be around the corner in the ultra-deepwaters of Brazil, with the Petrobras-operated Mero project in the presalt Santos basin generating the highest rig demand.
However, the smaller subsea tieback and phased development projects also mean shorter contracts for drillers. Operators have to pay more to secure longer-term contracts as drilling contractors do not want to be locked in such contracts at low rates should market rates rise again.
Various sixth and seventh generation drillships have secured long-term contracts since 3Q 2018 and Rystad expects rigs in this category to be fully booked in the coming years.
06/27/2019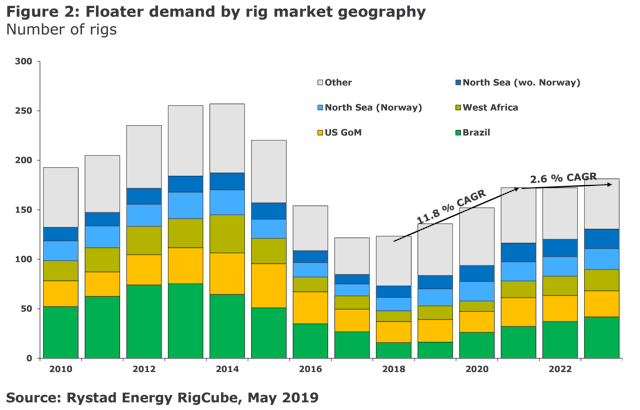 Rystad Energy RigCube, May 2019