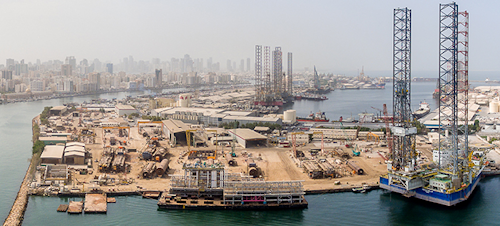 Lamprell
Offshore staff
SHARJAH, UAE – Lamprell is working through a solid backlog of rig refurbishments at its yards in the UAE.
During the first half of this year, the company completed nine refurbishments and received eight rigs for other works.
It also secured two new contracts, with the rigs set to reach the yards later this year.
Currently 12 rigs are undergoing stacking in Sharjah and Hamriyah: most are warm stacked with a gradual increase in the scope of work performed.    
Construction continues at the Lamprell's joint venture International Maritime Industries yard in Saudi Arabia. Dredging and ground improvements have finished, and the site has been transferred to EPC contractors for construction works.
All four of the fabrication zones should be commissioned for operation in late 2022. The company is working with the client on the specifics of two newbuild jackups.
In addition, Lamprell has received indications from its Middle East customer base in jackups.
08/02/2019