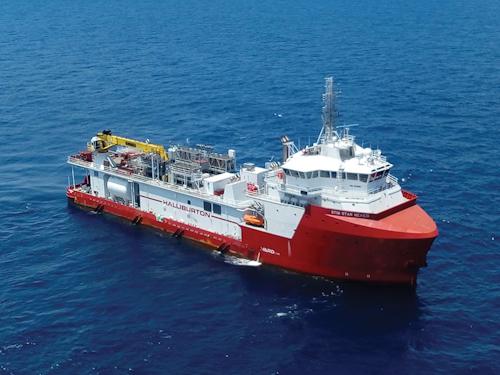 Staff Report
Offshore's 2019 World Survey of Stimulation Vessels reflects a market that continues to change, with a number of notable additions and subtractions to the global stimulation vessel fleet.
With 10 vessels in its fleet, Halliburton maintains the world's largest number of well stimulation vessels. The company is gearing up for the offshore Mexico market, with the addition of two new vessels. The company reports that it has added the Stim Star Mexico well stimulation vessel, built in 2018; and the Stim Star Campeche, a DP-2 well stimulation vessel that was also built in 2018. Both vessels have a total length of 280 ft; total beam of 60 ft; main engine horsepower of 9,789; and a cruising speed of up to 12 knots.
Halliburton's Stim Star IV remains one of the largest stimulation vessels in the world, measuring 312 ft long and 66 ft wide, with a carrying capacity of 13,440,000 lbs and 21,500 hydraulic horsepower permanently installed. The vessel was designed specifically for Lower Tertiary reservoirs in the deepwater Gulf of Mexico, which require enormous amounts of fluid and proppant to effectively fracture and stimulate. The company also retains the Stim Star, Stim Star II, and Stim Star III vessels that were introduced in the early 2000s.
Schlumberger retains the industry's second-largest fleet with eight stim vessels. Over the past year, the company removed the DeepStim Mexico and the DeepStim Brazil vessels from its fleet, leaving it with three other DeepSTIM stimulation vessels – the DeepSTIM Norway I, DeepSTIM Norway II, and the DeepSTIM II. Schlumberger says that each of its DeepSTIM stimulation vessels provide a wide range of services including matrix acidizing, acid fracturing, proppant fracturing, sand control, and scale control.
With seven vessels in its fleet, BHGE has the world's third-largest fleet of stimulation vessels. The Blue Tarpon and the Blue Orca have been the mainstays of BHGE's stim vessel fleet for years. The company says that the Blue Tarpon's ability to perform multiple well completions on a single voyage significantly enhances it efficiency; while the Blue Orca's advanced stimulation technologies and treatment capabilities can help reduce risk, rig time, and nonproductive time (NPT). BHGE says the while the Blue Tarpon has been designed to operate in multiple-zone deployments, such as in the Gulf of Mexico, the Blue Orca has been engineered for North Sea conditions, and can minimize NPT by performing a series of well stimulations and sand-control operations without the need to return to port and resupply. •