Vessels, Rigs & Surface Systems
Jul 1st, 2019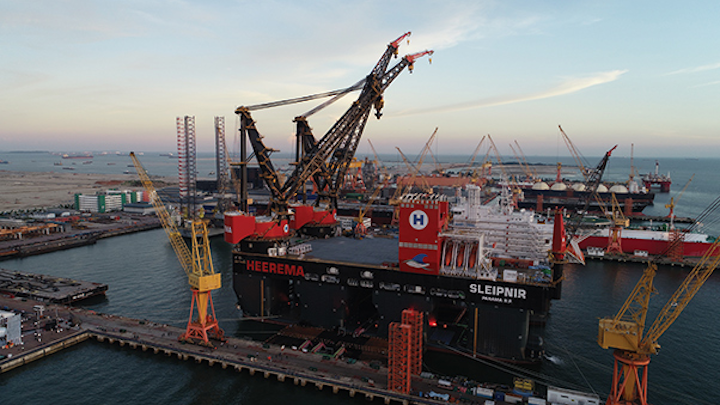 World's largest semisub crane vessel nearing delivery
Sembcorp Marine has completed the semisubmersible crane vessel Sleipnir for Heerema Marine Contractors (HMC). Named after the Norse God Odin's eight-legged stallion, in late May the vessel was christened by Maha Hatfield at Sembcorp Marine's Tuas Boulevard Yard in Singapore.
The SSCV Sleipnir has a 220-m (722-ft) by 102-m (335-ft) reinforced deck area, making it the largest crane vessel to be built, according to Sembcorp Marine. It also has two 10,000-metric ton revolving cranes which can lift loads of up to 20,000 metric tons in tandem. The cranes are capable of a 129-m (423-ft) lifting height.
It is also said to be the world's first crane vessel with dual-fuel engines running on marine gas oil and liquefied natural gas. Coupled with an IMO- and US Coast Guard-approved ballast water management system, the Sleipnir is expected to operate sustainably across all environmental jurisdictions.
At its peak, the construction of the Sleipnir involved up to 3,700 workers in a single shift. The project has a current lost time injury rate of 0.35 per million-man hours worked, according to Sembcorp Marine.
Sea trials are expected to begin soon, and the vessel is scheduled for delivery to HMC soon afterward.
The vessel can accommodate 400 persons and will be deployed globally for installing and removing jackets, topsides, deepwater foundations, moorings, wind turbines, and other offshore structures.
HMC has secured contracts to deploy the vessel in various offshore energy developments, including: Leviathan topsides installation in the Mediterranean Sea; Tyra jackets and topsides installation and removal in the Danish North Sea; Brae B jackets and topsides removal in the UK North Sea; and transportation and installation of the Hollandse Kust Zuid Alpha HVAC platform offshore the Netherlands.
Offshore rig market set for gradual recovery
Take-up for offshore drilling rigs remains well below the 2010-14 average of around 76%, according to a new white paper released by Westwood Global Energy Group.
There have been improvements over the past 18 months, according to Westwood's Matt Adam, senior analyst, Rigs & Wells, with 460 mobile offshore drilling units (MODUs) working globally in May, the highest level of activity since May 2016, when 466 rigs were in service.
Over the same period, supply has decreased due to 207 MODUs being withdrawn from the fleet, although 101 newbuilds have also been delivered.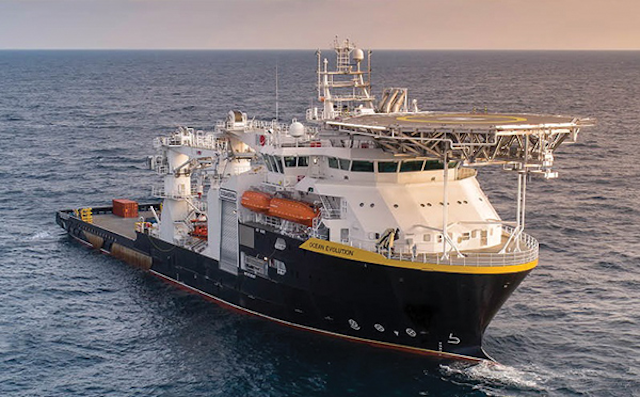 The Ocean Evolution's design and construction were done with well stimulation and light well intervention in mind as a key capability. (Courtesy Oceaneering)
Global use of the MODU fleet is now at 59%, 12 percentage points higher than the low point of February 2017, and day rates for new contract awards are rising, notably in niche markets such as the Norwegian North Sea.
The rig market as a whole appears to have emerged from one of its worst ever downturns and Adams expects demand to continue to increase as operators work through a backlog of delayed projects, while at the same time more aging, under-spec rigs are retired.
So, there is room for cautious optimism, although the offshore rig market seems unlikely to return to the heights of the previous up-cycle, Adams concluded.
Oceaneering increases multi-service vessel fleet
Oceaneering International Inc. has taken delivery of the subsea construction support vessel Ocean Evolution. Measuring 108 m (353 ft) long, 22 m (72 ft) wide and weighing 6,900 tons, the Ocean Evolution is an ABS class DP-2 subsea multi-service vessel built in the US under Jones Act requirements for coast-wise trade of personnel and equipment. The vessel has accommodations for 110 persons, a helideck, and a working moonpool measuring 7 m x 7 m (23 ft x 23 ft).
The vessel's 12,595-sq ft (1,170-sq m) steel-constructed deck is designed to carry heavy loads and equipment. The deck is rated to support 10 metric tons/sq m with a total cargo carrying capacity of 1,900 metric tons. It is equipped with a 250-metric ton active heave compensated main crane with a 4,000 m (13,000 ft) working depth capacity.

SBM to deliver second Fast4Ward FPSO for Liza
Esso Exploration and Production Guyana has awarded contracts for the Liza Phase 2 development in the Stabroek block. Under the contracts, SBM Offshore will construct, install, and subsequently lease and operate the FPSO Liza Unity for up to two years.
The FPSO design is based on SBM Offshore's Fast4Ward program in which a newbuild, multi-purpose hull is combined with various standardized topsides modules. Production capacity will be 220,000 b/d of oil, with associated gas treatment capacity of 400 MMcf/d and water injection capacity of 250,000 b/d. It will be spread moored in around 1,600 m (5,249 ft) and will have storage capacity for around 2 MMbbl of crude oil. •