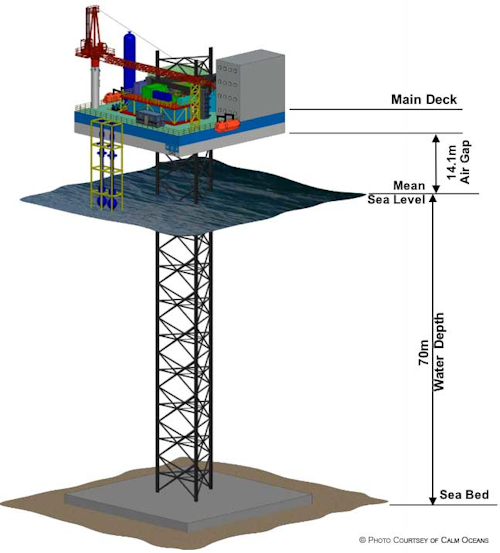 Calm Oceans
Offshore staff
SINGAPORE – ABS will class a new self-elevating platform from Calm Oceans with a reportedly unique triangular mono-column design.
The Mono-Column Platform-Lite (MCP-Lite) is designed for operations in water depths of up to 70 m (229 ft). It is a self-installing, mat-supported jackup, comprising a square hull and trussed column with living quarters and man-riding cranes, and equipped with a water injection module.
The main foreseen market is servicing facilities operating on oil fields offshore Malaysia.
Unlike traditional jackups, the MCP-Lite does not require pre-loading, which is said to result in more efficient operation and reduced risk during installation and jacking operations.
It is also optimized to operate on the soft seabed prevalent in the region as the large mat is said to provide secure foundation support and mitigates the risk of punch-through.
The open deck area is also said to be larger than conventional three- or four-legged jackups of the same size.
ABS will provide classification services for the water injection module and the platform, which it expects to achieve the ✠ A1, Self-Elevating Unit notation.
According to Brian Chang, Calm Oceans' chairman and CEO, "The design, engineering, procurement, and fabrication undertaken by Calm Oceans makes it possible to fasttrack the delivery of the project in 10 months."
07/17/2019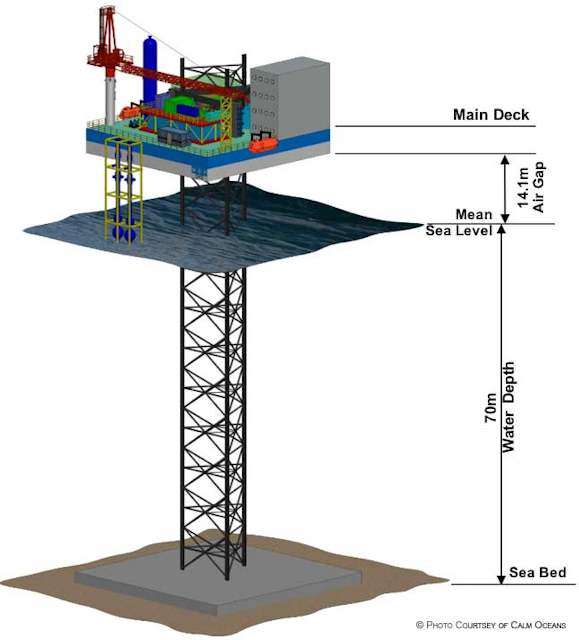 The Mono-Column Platform-Lite is designed for operations in water depths of up to 70 m (229 ft).Calm Oceans