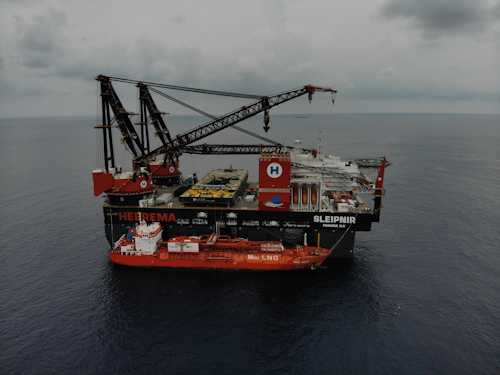 Heerema Marine Contractors
Offshore staff
LEIDEN, the Netherlands – The semisubmersible crane vessel Sleipnir will begin its maiden voyage from Southeast Asia to Spain this week, according to owner Heerema Marine Contractors (HMC).
The trip, which will round South Africa's Cape of Good Hope, is expected to take about 45 days.
The Sleipnir is the world's first crane vessel with dual-fuel engines running on MGO and LNG.
Titan LNG has completed what it claims is the largest LNG bunkering, 12 mi (19 km) offshore Indonesia. The company charted the LNG carrier Coral Fraseri and supplied more than 3,000 metric tons of the chilled fuel to the Sleipnir.
The Coral Fraseri, which is commercially managed by Anthony Veder, was loaded in Singapore at the SLNG terminal where Titan LNG sourced the fuel from Pavilion Gas.
In the Mediterranean, Titan LNG will use the Coral Fraseri again to supply the Sleipnir.
HMC has secured contracts to deploy the vessel in various offshore energy developments, including: Leviathan topsides installation in the Mediterranean Sea; Tyra jackets and topsides installation and removal in the Danish North Sea; Brae B jackets and topsides removal in the UK North Sea; and transportation and installation of the Hollandse Kust Zuid Alpha HVAC platform offshore the Netherlands.
Sembcorp Marine in Singapore built the 722-ft (220-m) long, eight-legged semisub crane vessel.
07/10/2019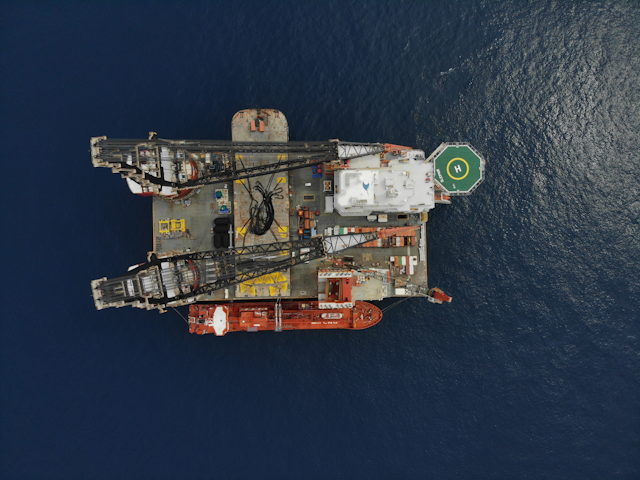 Aerial view of what is said to be the largest LNG bunkering.Heerema Marine Contractors