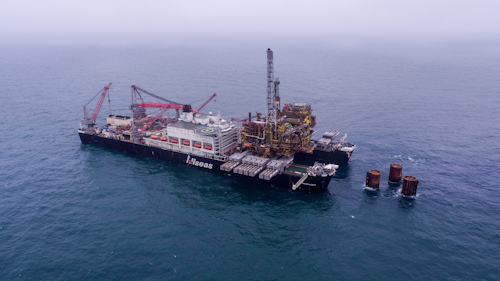 Allseas
Offshore staff
DELFT, the Netherlands – Allseas' Pioneering Spirit has completed its second platform topsides removal in the North Sea within the past week.
Early this morning, the motion-compensated vessel lifted the 25,000-ton topsides from Shell's Brent Bravo platform in the UK northern North Sea.
In total the operation lasted around 4 hours, from positioning the vessel around the platform to the actual 'fast lift' of the topsides, which took only nine seconds.
Last Thursday the vessel removed the 3,800-ton topsides from the decommissioned QP accommodation platform at Aker BP's Valhall complex in the southern Norwegian North Sea.
Today's job was Allseas' second major lift at Brent, following the single lift of the Brent Delta topsides in 2017.
It concludes two years of planning and offshore engineering.
Brent B is 186 km (115 mi) off the northeast coast of the Shetland Islands, in 140 m (459 ft) of water. The 125-m (410-ft) tall, 70-m (229-ft) wide topsides were supported by three 12-m (39-ft) diameter steel-reinforced concrete legs.
Allseas performed cuts between the topsides and supporting legs during the final months of platform preparations. Until the lift took place, the structure was held in place by shear restraints that prevented lateral movement.
The concrete legs will remain in situ, capped with concrete covers fitted by one of the vessel's cranes. In addition, a solar-powered navigational aid has been installed on top of one of the capped legs.
Allseas has already sea-fastened the topsides and the Pioneering Spirit will transport its load to the Able UK decommissioning yard in Teesside, northeast England.
At a nearshore location close to Hartlepool, the topsides will be transferred to the company's cargo barge Iron Lady for the final part of the journey, involving a tow up the Seaton Channel and load-in to the quay at Able's yard for dismantling.
Earlier this year Pioneering Spirit established set a new world record for a single lift at sea, the 26,000-ton topsides for the Johan Sverdrup processing platform in the North Sea.
06/18/2019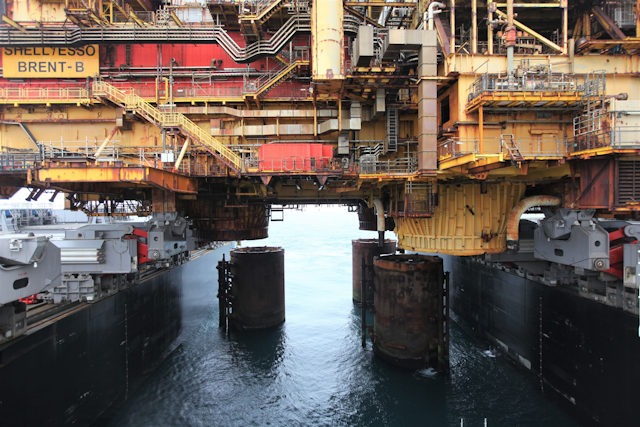 The Pioneering Spirit moving the Brent Bravo topsides away from the three 12-m (39-ft) diameter steel-reinforced concrete legs.Allseas