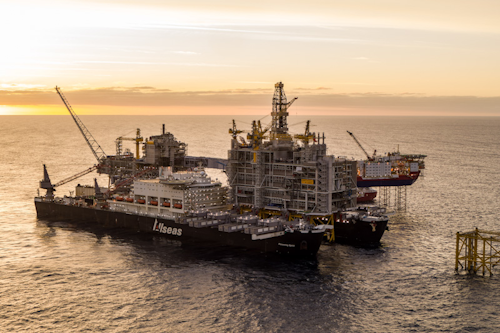 Offshore staff
STAVANGER, Norway – Allseas'Pioneering Spirit has lifted into place the two final platform topsides at the Johan Sverdrup Phase 1 field center in the Norwegian North Sea.
The topsides lift for the processing platform, at close to 26,000 metric tons (28,660 tons), was the heaviest lift ever performed offshore, according to field operator Equinor.
Final preparations can now get under way to ensure start-up of Phase 1 in November.
The operation was performed on Tuesday morning this week over a four-hour period, with a clearance of just 25 m (82 ft) from the rest of the field center.
Lifting of theutility and living quarter (ULQ) topsides, weighing 18,000 metric tons (19,842 tons), was completed early today in 3.5 hours. So, the total time taken for connecting the two giant structures to their pre-installed jackets was less than 72 hours.
During the same period, Heerema Marine Contractors'Thialf installed the final flare stack and the bridge that links the processing platform to the drilling platform.
One final bridge is due to be installed during the next weather window which will connect the ULQ topsides to the rest of the field center.
Ståle Hanssen, responsible for engineering, installation and commissioning for theJohan Sverdrup project, said this week's achievements were made possible by in-depth planning and precise execution in collaboration with suppliers and the field partners.
The first structure to be set down, in August 2017, was the jacket for the riser platform. This was followed by installation of the other threePhase 1 jackets, four topsides, two bridges, two flare stacks, 200 km (124 mi) of power cables, and more than 400 km (248 mi) of subsea pipelines.
All the various installation and marine activities required more than 2,000 vessel days.
In the run-up to first production, the focus now will be on hook-up, testing and commissioning of the two final topsides, followed by testing to ensure that all four platforms – and the field center as a whole – function as a single unit.
The other outstanding task is completion of the tieback of the field's eight pre-drilled production wells to the drilling platform.
03/22/2019