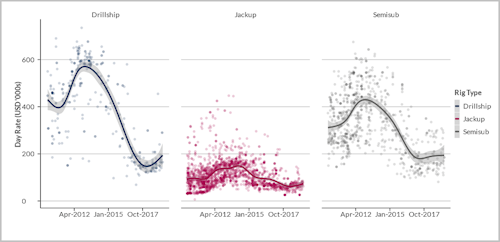 RigLogix / RigOutlook
Offshore staff
LONDON – Take-up for offshore drilling rigs remains well below the 2010-14 average of around 76%, according to a new white paper released by Westwood Global Energy Group.
There have been improvements over the past 18 months, according to Westwood's Matt Adam, with 460 mobile offshore drilling units (MODUs) working globally last month, the highest level of activity since May 2016, when 466 rigs were in service.
Over the same period, supply has decreased due to 207 MODUs being withdrawn from the fleet, although 101 newbuilds have also been delivered.
Global use of the MODU fleet is now at 59%, 12 percentage points higher than the low point of February 2017, and day rates for new contract awards are rising, notably in niche markets such as the Norwegian North Sea.
The rig market as a whole appears to have emerged from one of its worst ever downturns and Adams expects demand to continue to increase as operators work through a backlog of delayed projects, while at the same time more aging, under-spec rigs are retired.
So, there is room for cautious optimism, although the offshore rig market seems unlikely to return to the heights of the previous up-cycle, Adams concluded.
06/17/2019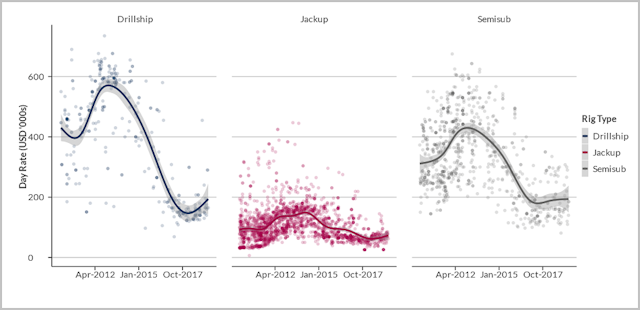 Historic leading day rates by rig type and date of award, Jan. 1, 2010- June 1, 2019. Line is Generated using GAM Smoothing.RigLogix / RigOutlook