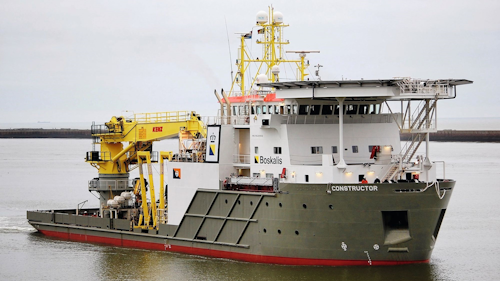 Boskalis
Offshore staff
ABERDEEN, UK – Boskalis Subsea Services has won contracts with a total value of more than £100 million ($126 million) in the North Sea over the past six months.
These include work for Total's Tyra redevelopment in the Danish sector, an inspection, repair and maintenance (IRM) campaign for Repsol Sinopec, a decommissioning contract with Spirit Energy, and a scale squeeze program for Premier Oil on the Huntington field in the UK central North Sea.
As a result, the company has booked 750 vessel days for the DSVs BOKA Atlantis, BOKA DaVinci and BOKA Constructor in 2019, and a further 1,000 days for 2020 and beyond.
More than 600 days relate to an IRM project in the Middle East.
Stuart Cameron, managing director of Boskalis Subsea Services, said: "We are able to work flexibly to provide solutions for our customers and challenge the norm for subsea EPIC and IRM delivery.
"We are continually developing fit-for-purpose, cost-effective, and safe ways of tackling underwater construction, inspection, and repair."
In addition to these awards, the company claims to have secured master service agreements with most of the operators in the North Sea.
05/31/2019