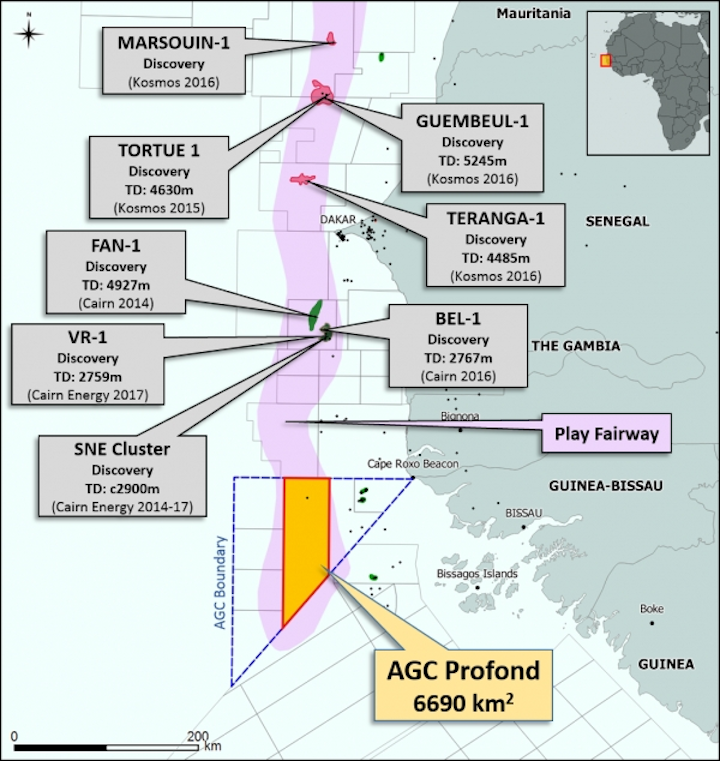 Offshore staff
LONDON – Impact Oil and Gas has agreed to farm out a 65% interest to CNOOC UK in a PSC and joint operating agreement for the AGC Profond block in the offshore joint development zone between Senegal and Guinea-Bissau.
The concession spans 6,700 sq km (2,587 sq mi) in water depths ranging from 1,400-3,700 m (4,593-12,139 ft). Its location is west of the Dome Flore and Dome Gea oil accumulations, and south of the Fan-1 andSNE-1 and 2 oil discoveries offshore Senegal.
Offshore Namibia, PGS has completed the "IOBNAM16" 3D seismic survey for Impact over block 2913b, acquiring 1,880 sq km (726 sq mi) of 3D Geostreamer broadband seismic.
PGS has started processing the data, with a special focus on detailed imaging of the Aptian fan plays observed within the block.
Impact says the area covered is far above the minimum work program commitments for the block. It hopes mapping of the Aptian reservoir sands in detail will assist identification of the most prospective location for drilling.
04/03/2017