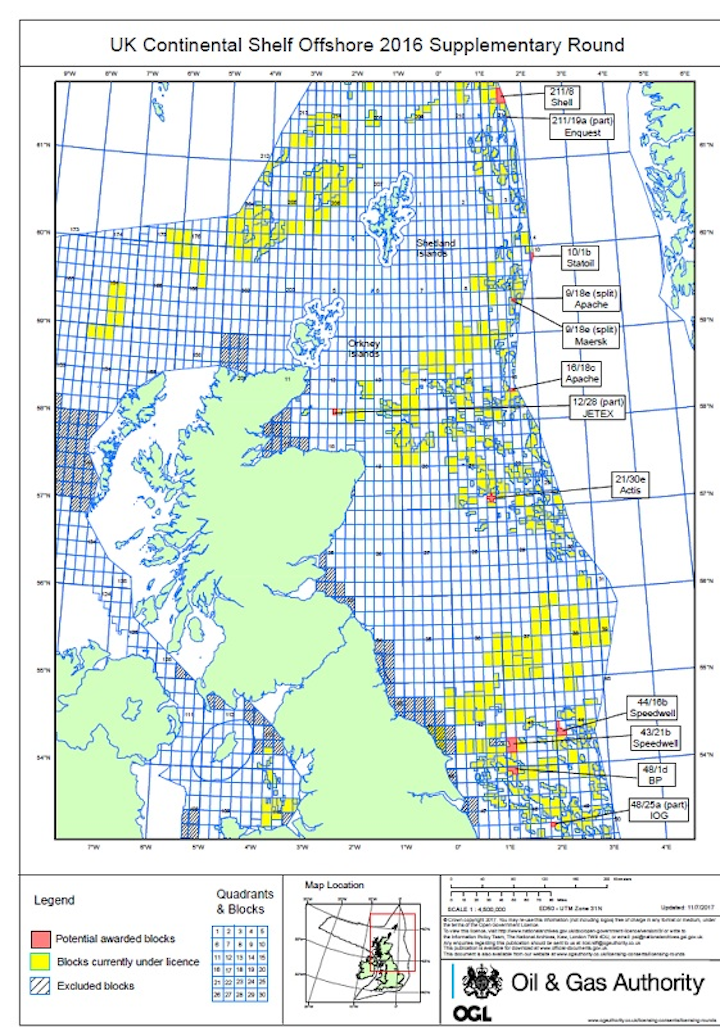 Offshore staff
LONDON – Britain's Oil & Gas Authority (OGA) has awarded 12 licenses covering 11 blocks to 11 companies under the 2016 Supplementary Offshore Licensing Round.
Fourteen blocks had been offered in response to industry nominations of areas outside those covered by last year'sfrontier 29th Licensing Round.
Locations ranged from the southern North Sea to East of Shetland. The round offered blocks under flexible terms that allowed applicants to define their license's duration and phasing in order to execute the optimal work program.
Five of the awards are for work programs that will proceed straight to Second Term, and concern either potential developments or re-developments of fields where production had ceased and the acreage had been relinquished.
The remainder of the licenses will enter the Initial Term (exploration stage).
Andy Samuel, OGA's chief executive, said: "We're listening to industry and are pleased to make available a number of additional, nominated areas.
"The strong interest in this round bodes well for the forthcoming30th round, demonstrating the renewed attractiveness of the UK continental shelf and the opportunity for operators to rebuild their portfolios with a mixture of exploration, development, and re-development activity."
07/13/2017