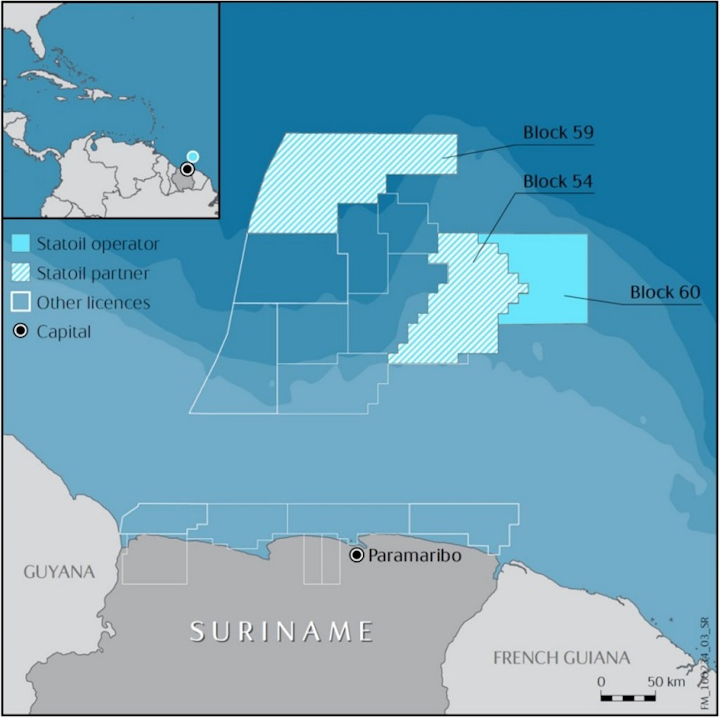 Offshore staff
STAVANGER, Norway and IRVING, Texas– ExxonMobil Exploration and Production Suriname B.V., along with co-venturers Hess and Statoil, have signed a production-sharing contract with Staatsolie Maatschappij Suriname N.V. for block 59 in the Guyana basin.
Block 59 is 2.8 million acres (4,430 sq mi) in water depths of 2,000-3,600 m (6,562-11,811 ft), about 305 km (190 mi) offshore. The block shares a maritime border withGuyana.
ExxonMobil will operate with 33.34% interest along with consortium partners Statoil (33.33%) and Hess (33.33%).
In block 60, Statoil was awarded 100% equity interest and operatorship. Block 60 is 6,200 sq km (2,394 sq mi) in water depths of 800-1,900 m (2,625-6,234 ft), about 250 km (155 mi) offshore.
Block 60 is adjacent toTullow Oil-operated block 54, where Statoil is a partner. Tullow is preparing to drill the Araku-1 wildcat exploration well later this year. 
In both licenses, the first exploration phase includes commitment to acquiring 2D seismic data and conducting technical studies.
07/14/2017