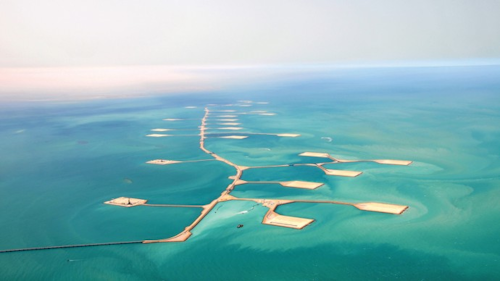 Offshore staff
DHAHRAN, Saudi Arabia – Work to protect the ecosystem around the offshore Manifa oil field has been successful, according to operator Saudi Aramco.
The company staged a recent update session at the Center for Environment and Water at King Fahd University of Petroleum and Minerals.
Manifa, which started production in 2013, has the capacity to deliver 900,000 b/d of Arabian heavy crude oil. However, Manifa Bay is also one of the leading fish and shrimp nurseries on the Gulf Coast.
Aramco, working with the university, devised an innovative development plan for the largely shallow-water field involving man-made islands housing production facilities.
Computerized modeling of the 27 drilling islands, connected by a 42-km (26-mi) causeway and 14 bridges to allow natural water circulation at Manifa Bay, shows the arrangement has enhanced the natural flow of water, Aramco claims, maintaining the bay as a healthy environment for shrimp and fish to breed.
During design, construction, and dredging on the islands, the project adhered to strict environmental policies and standards concerning marine measures. These included placement and configuration of causeway islands so as to avoid impacting coral reefs, while at the same time fulfilling requirements for drilling and oil production.
According to Mohammed H. Al-Ghamdi, manager of the Manifa Producing Department, dissolved oxygen rates in the surrounding seawater are higher than before construction started, which explains the benefits for fish and shrimp larvae.
The coral reefs have grown in size and seem to be spreading onto the rocks of the Manifa causeway itself. In addition, seagrass meadows have increased, covering a 70% greater area than before construction.
Consultant Khaled A. Abdulkader, also speaking at the event, said Aramco made many modifications to the Manifa project's design, including removing the northwestern portion of the causeway and building bridges in other parts of the causeway to increase tidal circulation; introducing zero discharge of drilling wastes, through cutting reinjection and "skip and ship" to safer onshore locations; and the plantation of mangrove forests, construction of shrimp nurseries and of artificial reefs to revitalize marine life after construction was complete.
The initial plans for a causeway would have slowed the "flush rate" of Manifa Bay to 71 days from the 17-day natural rate, but by opening up the bay with the causeway and bridge design, the flush rate was in fact improved to 15 days.
Today, monitoring data shows the actual flush rate is 11 days, much faster than computer models had projected.
01/05/2017