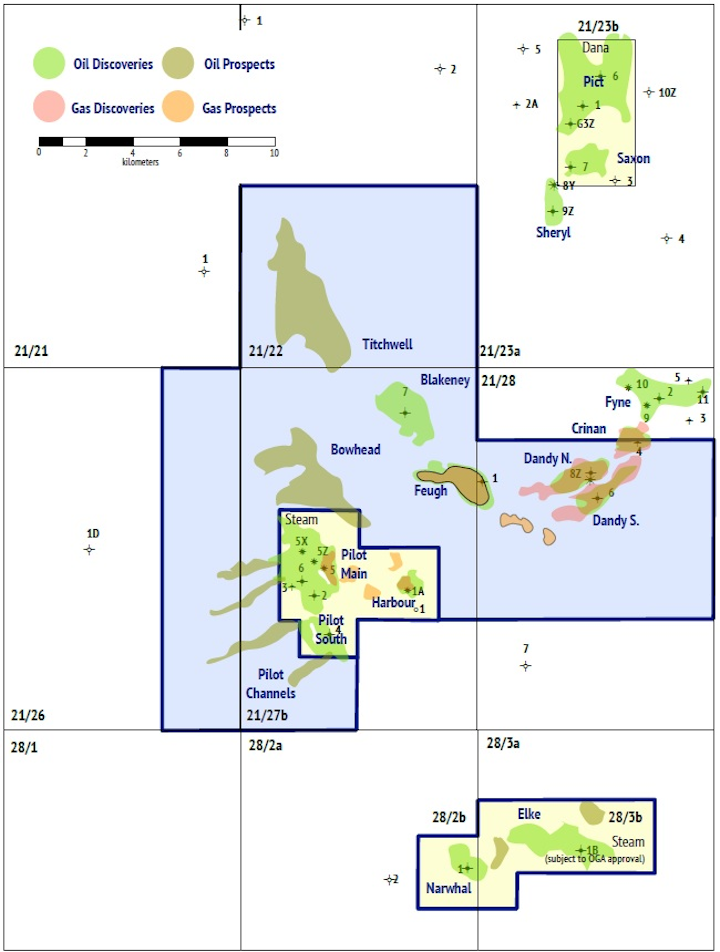 Offshore staff
LONDON – Britain's Oil & Gas Authority (OGA) has offered 25 licenses covering 111 blocks to 17 companies in the 29th Offshore Licensing Round.
This was the UK's first licensing round in two decades to focus solely on frontier, under-explored areas of the Rockall basin, Mid-North Sea High, and part of the East Shetland Platform.
It attracted applications from 24 companies for 113 blocks when it closed last October.
According to the OGA, all the areas generated interest. The resultant bids have led to three firm well commitments in the near to medium term; various work programs involving the application of new technology; and three new entrants to theUK continental shelf.
Two of the areas, Rockall and the Mid-North Sea High, were the focus of the 2015UK government-funded seismic acquisition campaign that led to development of an extensive new geophysical dataset.
Subsequently, the OGA provided an openly available, subsurface data package to allow bidders to identify and target a range of opportunities. Some cited this as critical to stimulating their applications.
Andy Samuel, OGA chief executive, said: "The £20-million [$25-million] investment in new seismic for the Rockall and Mid-North Sea High areas, subsequent release of 40,000 km [24,855 mi] of new and reprocessed data, combined with the work of the MER UK Exploration Task Force in developing the Innovate Licence, and a stable and competitive fiscal regime has resulted in a number of quality applications in this frontier licensing round.
"We are particularly pleased to see firm well commitments, the targeting of new and under-explored plays, and first-time entrants to the basin, alongside a number of established companies, which will help stimulate further activity and value creation.
"While exploration activity has undoubtedly suffered as a result of the difficult market conditions, we are now seeing highly encouraging success rates and finding costs on the UKCS. This is testament to the value of a robust and focused exploration strategy with commitment from industry, government, and the OGA."
Samuel added that the upcoming 30th Offshore Licensing Round, likely to be announced later this spring, will focus on mature areas and should be the UK's most significant offshore round in recent decades, with a wide range of prospects and undeveloped discoveries on offer.
It will remain open for 120 days. In addition, the OGA's 2016 Supplementary Round closed for applications on March 7, attracting 15 applications for a total of 11 blocks. Awards will be announced later this year.
The 2016/2017 government-funded seismic acquisition program across offshore areas ofSouth West Britain and the East Shetland Platform will inform future frontier licensing rounds.
More than 13,500 km (8,388 mi) of new seismic data plus around 20,000 km (12,427 mi) of reprocessed legacy seismic data is due to be released to the industry in 3Q/4Q 2017.
Among the early responses to today's awards,The Steam Oil Production Co. secured four part-blocks surrounding the Pilot field in the North Sea, and plans to work with the OGA and industry partners to progress a steam flood demonstration project on the field.
The intention of this first-phase program is to demonstrate that steam flooding can be successfully implemented offshore, and to learn how best to apply the technique offshore before committing to a full-scale development scheme for all the heavy-oil fields on the Western Platform.
Steam flooding, the company says, can achieve very high recovery factors in shallow, high-quality sandstone reservoirs containing heavy oil.
The newly offered area contains the Blakeney, Feugh, Dandy, and Crinan discoveries, as well as feeder channels that are extensions of the Pilot field, the low-risk Bowhead prospect and the moderate-risk Titchwell prospect.
Wintershall discovered Blakeney in 2010 via the 21/27b-7 well. It is thought to contain about 90 MMbbl of moderately heavy oil in place, at around 14.5º API.
Mobil discovered Feugh in 1972 with the 21/28-1 well. Feugh has a gas cap and a bright response on seismic - previous operators considered it to be a small gas pool, but petrophysical analysis suggests Feugh may have a 25-ft (7.6-m) oil leg beneath a thin gas cap.
If this scenario is confirmed, the oil in place would be around 30 MMbbl. No oil sample was taken when Feugh was drilled but the oil is probably heavy and of similar quality to that in Blakeney and Pilot.
Dandy and Crinan are downdip of Feugh and contain both gas and an oil which is lighter and less viscous (around 20º API) than that encountered in the rest of Steam Oil's acreage.
Mobil discovered Crinan, partly in open acreage, in 1987 and the 21/28a-6 well in 1990 discovered oil and gas in what is now referred to as the Dandy South field.
Monument then drilled wells 21/28a-8 and 21/28a-8Z in 1998 to appraise the Dandy discovery, determining that the area appraised by these wells comprised a separate compartment known as Dandy North.
Together Steam Oil estimates around 27 MMbbl of oil in place and 20 bcf of gas in place in these three small discoveries.
As for the exploration prospects, Bowhead is an analogue to Pilot with a similar seismic response. Titchwell is less clearly defined on seismic but would be de-risked by a successful Bowhead well.
These and the low risk appraisal prospects in the Pilot feeder channels could offer more than 300 MMbbl of heavy oil resources, Steam Oil adds.
03/23/2017