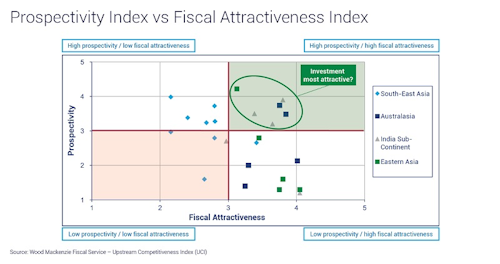 Offshore staff
LONDON – Exploration investment across the Asia/Pacific region fell by 66% from 2014 to around $6 billion last year, according to Wood Mackenzie.
The reduced activity is restricting the options for new field developments, the consultant claimed.
Governments in the region have started to respond by revising their fiscal systems, as noted in Wood Mackenzie's Upstream Competitiveness Index.
"While the main driver in any upstream investment decision is geological prospectivity, balancing that with the right fiscal terms is key to extracting maximum volumes and value," said Nikita Golubchenko, a petroleum economist with the consultant.
"Looking at fiscal terms andexploration potential in Asia/Pacific, a number of countries in Australasia and the Indian subcontinent fall in the 'investment attractive' zone."
Most Australasian nations operate concession regimes biased toward profit-based terms and are said to be more responsive to possible project cost overruns, lessening the risk for investors.
However, this fiscal structure can lead to governments not receiving the perceived budget revenues from flagship projects.
Australia is considering changes to its petroleum resource revenue tax structure to ensure fair dues from projects. The ring-fence limited to offshore projects could reduce the starting tax base for companies to transfer onshore losses to offshore projects.
India replaced its traditional production-sharing contract scheme with a pure revenue sharing contract system in 2016. As part of the process, the government introduced biddable fiscal terms that let investors determine the acceptable level of government share.
Results of recent licensing rounds, however, revealed that established domestic companies were interested in the blocks on offer.
Wood Mackenzie pointed out that the main preoccupation of investors is a basin's prospectivity and the potential for administrative burdens. India's recent reforms include simplifying the approval processes and permission for NOCs to admit private players.
But another barrier can be the absence of cleardecommissioning regulation as a feature of fiscal systems, restricting the development of marginal and mature fields. Gas pricing policies too can deter investment.
This year various countries in the region such as Bangladesh, Myanmar, and Sri Lanka are said to be revising their terms ahead of upcoming licensing rounds, and Wood Mackenzie expects biddable parameters to be incorporated.
"Driving new investment in mature assets, enhanced recovery, gas infrastructure and deepwater exploration should be the focus of future fiscal change," Golubchenko said.
"National resource policy and NOCs' prerogatives in picking the best blocks may exclude international investors, but a more effective collaboration between international oil companies and NOCs is needed to revive Asia/Pacific's upstream industry," he concluded.
02/28/2019