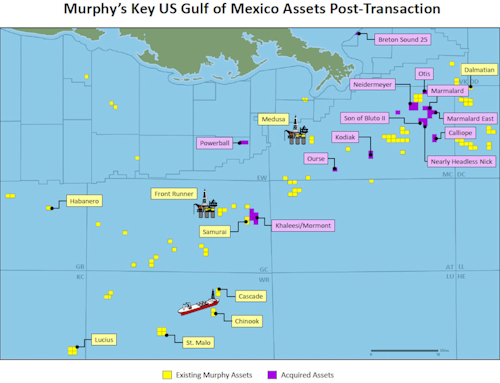 Offshore staff
EL DORADO, Arkansas – Murphy Oil Corp. subsidiary Murphy Exploration & Production Co. – USA has entered into a definitive agreement to acquire deepwater Gulf of Mexico assets from LLOG Exploration Offshore, L.L.C. and LLOG Bluewater Holdings, L.L.C.
The acquisition includes 26 blocks containing seven producing fields and four development projects in the Mississippi Canyon and Green Canyon areas. It adds about 32,000-35,000 net boe/d on an annualized basis for full year 2019 to Murphy's Gulf of Mexico production (about 60% oil).
Murphy will pay a cash consideration of $1.375 billion. Additional contingent consideration payments are based on up to $200 million if revenue from certain properties exceeds certain contractual thresholds between 2019 and 2022; and $50 million following first oil from certain development projects.
The acquisition will be funded by a combination of cash on hand and availability under the company's $1.6 billion revolving credit facility. Total outstanding borrowings under the revolving credit facility, including the current balance of $325 million, are expected to be fully repaid immediately following the closing of the$2.127-billion divestiture of Murphy's Malaysian assets.
The acquired assets will be fully owned by Murphy and not part ofMP Gulf of Mexico, LLC, the entity which currently owns all the company's producing Gulf of Mexico assets. Total Murphy Gulf of Mexico full year annualized 2019 production is anticipated to be approximately 85,000 net boe/d, excluding non-controlling interest.
The acquisition expands the company's operated production throughout the Gulf of Mexico to 66% of daily production, an increase from the current 49%, excluding non-controlling interest. Lease operating expense for acquired assets is about $10 to $12/boe.
In addition, it adds approximately 66 MMboe of Proven (1P) reserves and 122 MMboe of Proven and Probable (2P) reserves, of which 72% is oil.
Roger W. Jenkins, Murphy Oil's president and CEO, said: "We expect these newly acquired assets to generate meaningful cash flow over the next several years that will provide us with additional flexibility for future capital allocation."
He said that recent strategic changes, including increasing its deepwater, oil-weighted, tax advantaged, Gulf of Mexico assets, have revamped the company's portfolio. In addition, Jenkins said the company "is now positioned to grow oil production with an overall compound annual growth rate of seven to nine percent, all while maintaining our compelling dividend, repurchasing our stock, and decreasing our debt levels."
The transaction will have an effective date of Jan. 1, 2019 and is expected to close in 2Q, subject to normal closing adjustments.
Imran Khan, senior research manager, US Gulf of Mexico Upstream Oil and Gas at Wood Mackenzie, said: "The transaction is part of Murphy's aggressive plan to expand its footprint in the Gulf of Mexico. The company has a large war chest after disposing of over $2 billion in Malaysian assets earlier this year. Murphy also acquired a majority ofPetrobras' Gulf of Mexico portfolio last year, on top of starting a robust exploration and appraisal campaign. With this transaction, Murphy becomes the eighth-highest producer in the Gulf of Mexico. Only a year ago, they were number 20."
He added: "For LLOG, what is old is new again. It monetizes most of theLLOG Bluewater joint venture and allows the company to get back to what it does best: explore. Part of the proceeds will go to paying down debt, but the cash infusion will allow the company to focus on exploring and bolstering the pipeline of new projects.
"We estimate the remaining post-tax value of acquired assets to be around $2.3 billion (NPV10), reflecting that Murphy received a 30% discount. The price paid per flowing barrel for this transaction is around $36,000 which is in the low range of the recent transactions.
"TheGulf of Mexico remains a buyer's market with the valuation of recent deals trading at 20-30% lower than our estimates.
"We forecast a big year forM&A in the Gulf of Mexico, and the momentum is starting to pick up. This is the second billion-dollar transaction within the last two weeks. We expect more to come as buyers are attracted to short payback periods, while sellers shed fringe assets, and some private equity players look to harvest their old investments."
04/23/2019