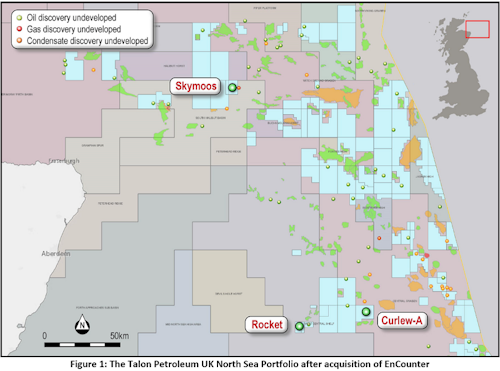 Offshore staff
WEST PERTH, Australia – Talon Petroleum has entered an agreement to acquire UK North Sea-focused independent EnCounter Oil, which was formed in 2012 by former managers of EnCore Oil.
EnCore was involved in 25 wells and was responsible for discoveries at Breagh, Cladhan, Catcher, Varadero and Burgman and others in the central UK sector.
Premier Oil bought the company in 2011, going on to develop the Catcher Area fields. Since 2012, EnCounter has built a small portfolio of UK central North Sea assets, and in 2016 farmed out and drilled the Bagpuss heavy oil discovery.
It currently has outright ownership of licenses 2363 and 2392, containing the Skymoos and Rocket prospects.
The Rocket prospect lies entirely within the Innovate Phase A License P2392, awarded last October under theUK's 30th Seaward Licensing Round.
The concession comprises two blocks bordering the greater Catcher field development area in the oil-prone western margin of the Central Graben.
Rocket is a stratigraphic Palaeocene age Cromarty reservoir prospect thought to hold 27 MMbbl, with additional potential in overlying Tay sands, exhibiting a distinct amplitude response on seismic data.
License P2363, also awarded in October, is in the Outer Moray Firth, west of the Scott and Telford Fields, and north of the recent Equinor Burns sandstoneVerbier oil discovery.
The license, covering blocks 14/29a and 14/30a, contains Skymoos, a structural/stratigraphic closure within an Upper Jurassic Burns Sandstone reservoir, with further prospectivity in the underlying Claymore Sandstones.
Skymoos is on trend with various developed oil and gas discoveries in an area of strong hydrocarbon charge. The targeted play type was the same that led to the giant Buzzard oil discovery, but is untested in the block, with no 3D seismic coverage.
Talon estimates a potential prospective resource of 107 MMbbl.
01/31/2019