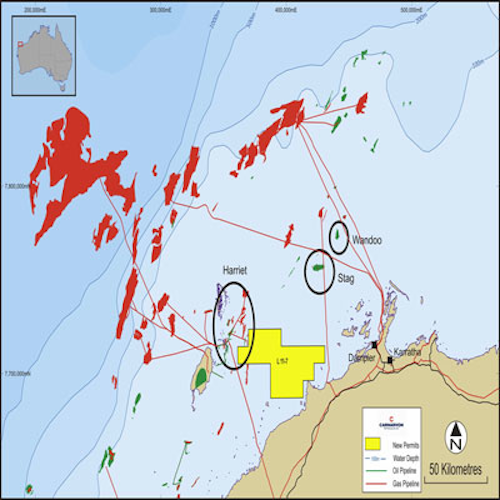 Offshore staff
PERTH, Australia – Carnarvon Petroleum has been awarded a 100% interest in a block on the eastern flank of the oil-prone Barrow Sub basin offshore northwest Australia.
Petroleum Exploration Permit EP-491 (bid block L11-7) covers an area of around 1,450 sq km (560 sq mi).
There are various oil and gas fields north and west of the block, including in theHarriet area, with reservoirs in the productive Flag sandstone. Cumulative production from the Harriet fields to date is more than 100 MMbbl of oil and condensate and 175 bcf of natural gas.
Infrastructure nearby includes oil and gas processing facilities on Varanus Island operated by Apache Energy.
Work commitments for the main three-year period comprises geological studies and reprocessing of the modern 3D seismic that covers much of the block. Carnarvon will use the data to identify analogous traps to those occurring to the west.
The block is mainly in shallow water allowing access by a jackup. This, combined with shallow drilling targets, should keep down exploration drilling costs, Carnarvon claims.
To the north there are other fields in a different reservoir setting. Wandoo and Stag hold recoverable oil estimated respectively at 100 and 50 MMbbl.
05/30/2014