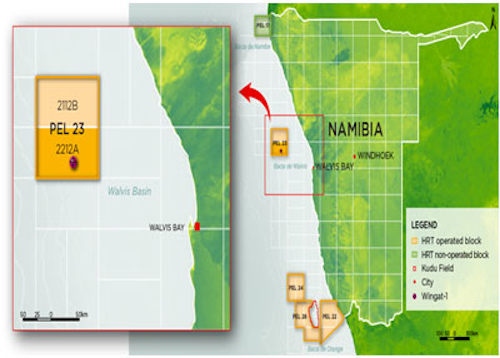 Offshore staff
JOHANNESBURG, South Africa – Labat Africa is set to take a majority interest in five petroleum exploration blocks offshore Namibia.
This follows a letter of intent with Amicitia Holdings to acquire all issued shares in Palatina Petroleum.
Labat CEO Brian Van Rooyen said: "This is an opportunity that was introduced to us by GEM – one of our shareholders. GEM will be the main funder for the development of the leases acquired by Labat. GEM has a successful track record of investing in the energy industry and they are confident that Namibia has vast new potential as an oil and gas source."
In addition, the company is considering further exploration investments in neighboring countries.
Earlier this week, Brazil's HRT updated results from its Wingat-1 well on license PEL-23. This was drilled by the semisubmersibleTransocean Marianasin 1,005 m (3,297 ft) of water, 200 km (124 mi) northwest of Walvis Bay on Namibia's Skeleton Coast in the offshore Walvis basin. The well, from which four samples of light oil were recovered, established two different source rocks, and proved that these are in the oil generation window. Its original target was a carbonate reef platform charged by pre-Aptian source rocks.
HRT expects to start drilling the Murombe prospect next week, 15 km (9.3 mi) west of Wingat-1, testing a Cretaceous basin floor fan.
Toronto-based Eco Atlantic has nearby acreage in the Walvis basin.
COO Colin Kinley said: "The confirmation of the source rocks, the sampling of high-grade oil, the presence of the resource in the basin and more specifically in the immediate vicinity of our licenses, confirms our research to date and helps define our targets moving forward. The carbonates are an excellent target and we concur with HRT's choice to drill the platform initially.
"Our targets are a combination of opportunities, however, our team remains focused on the Turbidite sand filled canyons flows, the stratigraphic play on Guy and the large wedges that are evident on our blocks and similar to the Murombe prospect…"
5/22/2013