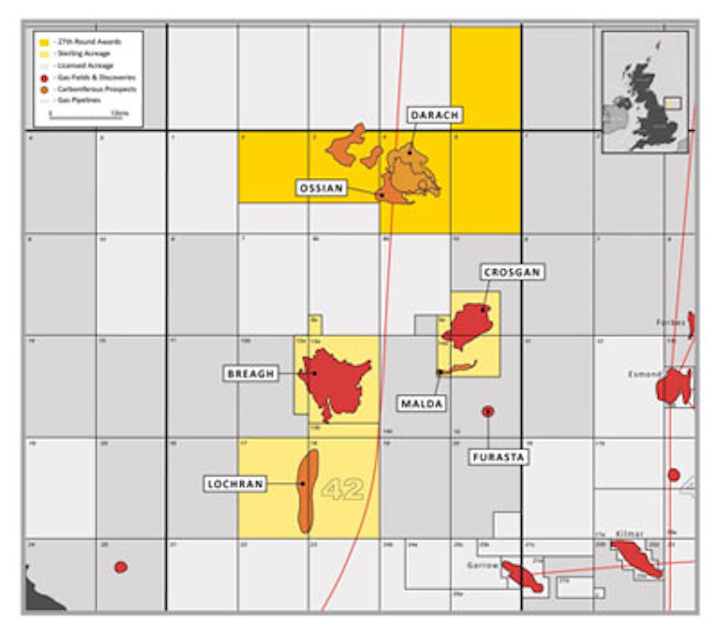 Offshore staff
CALGARY, Canada – More companies have announced details of their new UK offshore licenses, awarded earlier this week under the 27th Offshore Licensing Round (second tranche).
Sterling Resources will operate a license covering blocks 42/2 (split), 42/3 (split), 42/4, 42/5, and 36/30. All are 25 km (16 mi) north of theBreagh gas field in the southern North Sea in which Sterling is a partner to RWE Dea.
Work commitments for the new license include acquiring and reprocessing 2D seismic data and drilling a well within the allotted four-year period.
"We have continued investigating further Carboniferous prospects in the area near to our Breagh gas field based on Sterling's database of 2D seismic data over all of these newly licensed blocks," said exploration VP David Findlater, "and in particular a re-interpreted 3D seismic survey over two of the blocks…that was acquired by Sterling in 2010.
"In addition…we have identified an exciting Permian reef play that covers several of the blocks, which we believe has a significant potential resources possibility."
Aberdeen-based Parkmead was provisionally awarded five southern North Sea blocks through two new licenses, all of which it will operate.
Blocks 42/20, 42/25b, 43/16, and 43/21c are north of the Ravenspurn fields and also close to the Kilmar and Garrow gas fields. They contain one known Carboniferous gas prospect, Farne, along with a further lead and a gas discovery.
The work program calls for 2D and 3D seismic data acquisition and detailed seismic attribute analysis, leading to a drill-or-drop decision. Partners are Ithaca Energy and Bridge Energy.
Block 43/10 is northwest of theCygnus gas field development. It contains plays at both Permian and Carboniferous level. Among the prospects and leads identified are the Carboniferous Axford strcuture.
Here the work program includes 3D seismic inversion and seismic attribute analysis, followed by a drill-or-drop decision. Parkmead's co-venturer is Bridge Energy.
12/05/2013