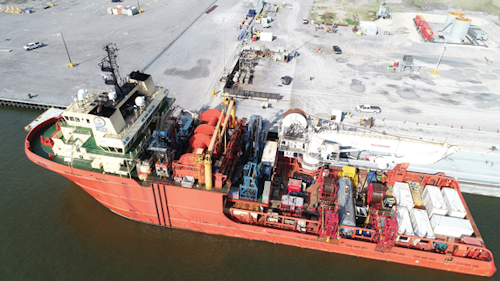 Premier positioning enables efficiencies for delivering outstanding service
C-Innovation (C-I),an affiliate of Edison Chouest Offshore (ECO) and its family of companies, is an integrated marine services organization that specializes in advanced subsea solutions, with core offerings centered around subsea construction and remotely operated vehicle (ROV) services.
The company is headquartered in Mandeville, Louisiana, with the C-I Project team based in Houston. It is a global organization that extends its reach and the breadth of its offering through an affiliation with the diverse family of companies within the ECO group. According to David Sheetz, manager of the company's Subsea Division, "C-I provides fully integrated subsea solutions for complex projects, delivering novel solutions developed by a team that is knowledgeable in every aspect of subsea field engineering and design."
The company's bread and butter is developing innovative engineering solutions and providing project management expertise for subsea field developments. As a turnkey subsea projects group, C-I has built up its technical capabilities to take on the most challenging subsea projects, and it is leveraging access to ECO's fleet of specialized high-end vessels to deliver flexibility in project execution.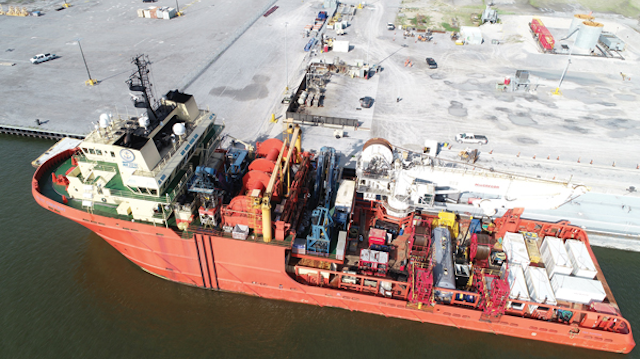 The Kirt Chouest offshore supply vessel, built by North American Shipbuilding in Larose, Louisiana, joined the Edison Chouest Offshore fleet in 2008. (Photo courtesy of Edison Chouest Offshore)
"C-Innovation's greatest asset is our people," Sheetz explained, "and with access to the ECO fleet of vessels, port facilities, ROVs and other assets, the C-I project group can leverage extensive internal resources to deliver cost-effective solutions."
Being able to combine its expertise with these assets gives C-I an edge over other subsea solutions providers, Sheetz said, but its recent decision to open a new dock facility in Port Fourchon, Louisiana, expands the capabilities of the subsea services group even more.
Delivering efficiencies is critical in a market where the oil price is down, and operating costs are high, Sheetz explained. "The dynamic within the industry has changed; so finding ways to deliver services more quickly and efficiently is not just desirable, it's indispensable if we want to be able to compete."
Setting up shop
Leasing space in Port Fourchon presented a way to differentiate itself, and the company gave considerable thought to what it wanted before picking out its spot at the port.
One of the considerations for the facility was that it would need to accommodate the sizable vessels in the ECO fleet, which includes a newbuild, Hull #298, being completed at the ECO Tampa Shipyard. The yet-to-be-named vessel is based on a 95-m (312-ft) design. Set to launch in the summer of 2019, the newbuild will be outfitted with a 150-metric ton crane and two ROVs. According to Sheetz, plans are in place for a second newbuild to be added to the fleet in 2020, a 110-m (360-ft) construction vessel with two work class ROVs and a 300-metric-ton crane, which he says will be the largest on a Jones Act vessel in the GoM.
"We knew we needed to have our own slip close to the open waters of the Gulf so we can load out these bigger boats and get them back to work quickly," Sheetz said. "Our location is ideal because we are closest to vessels coming out of the Gulf."
With more than 168 m (550 ft) of open quayside and nearly 5 acres of gated storage, Bayou Lafourche is the main entrance into the ECO facility, which is supplied with a Manitowoc 777 crane and forklifts for rapid mobilizations of the company's subsea construction and inspection, maintenance and repair fleet. "We understand that time is money," he said, "and that was top of mind when we set up our dock area to deliver as many efficiencies as possible."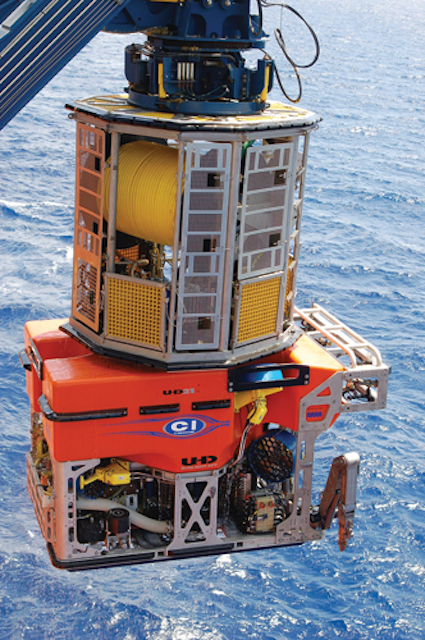 C-I provides fully integrated subsea services from Port Fourchon, with core offerings centered around subsea construction and ROV services. (Photo courtesy Edison Chouest Offshore)
One of the distinguishing characteristics of the facility is the amount of storage available. "Having covered storage on site means we don't have truck drivers all over Fourchon. The extent of the storage area enables us to stage materials and equipment for multiple jobs in separate areas. We have gone into the facility and designated bays A, B, and C as staging areas and have set them up for maximum efficiency."
The extent of the spares kept in the Port Fourchon facility is impressive. In addition to standard supplies and materials, third-party equipment like coiled tubing can be stored on site. "I don't know of another location with enough storage space to do that," Sheetz said.
There is considerable savings to be captured on both sides. "We have very close relationships with service providers who have agreements in place to store materials on site so it's available when needed." What that means in concrete terms is less time and energy spent moving things around, Sheetz explained, providing coiled tubing reels as an example. "It costs about $30,000 to move big reels offsite to another facility and back, but we don't have to do that. The only time we send reels back is when a new piece of coiled tubing needs to be strung on the reel, and that can be scheduled so it doesn't interfere with our other operations."
When it comes time to load out vessels, prestaging allows a reduction in time that enables boats to get in and out quickly. "We have reduced large project mobilizations from a typical five to six days to two to three days," Sheetz said. "That is two to three days of real savings to the client." It is all about gaining efficiencies, he said. "When mobilization is scheduled to begin, it can happen quickly because we don't have trucks sitting in the area waiting to offload. Instead of managing the logistics of vehicle traffic, we can put a crane to work immediately to begin loading out a vessel."
Other features designed into this facility not only improve basic functionality, but also improve conditions for onsite workers. The building is outfitted with offices for clients and conference rooms with full streaming connectivity, and there is designated parking for offshore crews as well as onsite housing for up to 20 workers in several bunkhouses that feature full laundry services, kitchens, and lounge areas.
"In a lot of ways, staying on our site is more comfortable than a hotel," he said. "Another plus for crew members that use these facilities is that they are closer to the work site so they don't have to travel back and forth, which translates into more downtime."
The dock facility, which will be manned 24 hours a day, will be the base for C-I's Fourchon operations. The value of this arrangement is not lost on the industry. According to Sheetz, C-I has already secured two major awards for long-term well intervention programs from major operators that previously contracted services from other companies.
"This new facility supports our mission of serving as the single source for subsea solutions," Sheetz said. "By having our own dedicated dock facility, we can immediately respond to customers and instantly mobilize resources. The ability to store critical components locally in Fourchon instead of mobilizing from our main base in Mandeville will allow us to reduce operating expenditure."
The goal from the outset was to lay out a facility that is easy to access, can quickly outfit work vessels, and that provides C-I's industry partners with cost-saving services. "By achieving that objective, we have improved efficiencies and decreased costs for our customers," Sheetz said. •