Nyuni well result provides first hint of East African oil fairway
L iquid oil extracted from cuttings recovered from Nyuni-1, Tanzania's first offshore wildcat in 12 years, gives the strongest indication to date of a working oil system offshore East Africa.
Apr 1st, 2005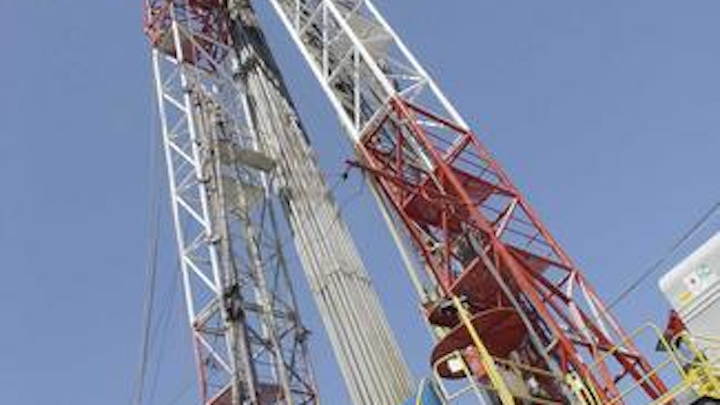 Liquid oil extracted from cuttings recovered from Nyuni-1, Tanzania's first offshore wildcat in 12 years, gives the strongest indication to date of a working oil system offshore East Africa. Operator Aminex completed the well last May after an eight-month campaign, but could not flow-test the well for technical reasons.
Aminex, based in London, is currently taking stock, but aims to resume exploration next year. Following the outcome of Nyuni-1, other near-shore and shallow-water concession holders are formulating their own drilling plans. Farther east, beyond the shelf break, Shell and fellow majors are scrutinizing Tanzania's unexplored deepwater blocks in the hope of unearthing a new "West Africa." Geological analogies suggest they may have a point because of a similar confluence of deltaic systems.
Drilling history
Prior to entering Tanzania in 2002, Aminex was an onshore specialist with production interests in Texas and Russia's Komi Republic. But as Chief Executive Brian Hall explains, the business climate in Russia was starting to deteriorate, and the company needed to secure its future elsewhere.
"We wanted to be in an area with a proven working hydrocarbon system," Hall says "where we could also be ahead of the game."
Aminex screened over 80 international E&P opportunities before narrowing the field down to Tanzania and North Korea. (It ended up signing a study agreement in North Korea with the Pyongyang energy ministry last year.) Tanzoil, a Perth-based start-up company, which had acquired three large exploration licenses in 1999 following a technical evaluation agreement with the government (this work had been contracted out to Robertson Research), provided the entree to Tanzania.
At that point, interest in the area was lukewarm despite the launch of the country's first natural gas development, Songo Songo. Twelve wells had been drilled on and offshore Tanzania since BP started the ball rolling on Mafia Island in 1956. Most of the exploration occurred in the 1970s and '80s, with two commercial gas discoveries, Songo Songo and Mnazi Bay. All acreage accessible to the drillbit was tied long-term first to BP and Shell, and later to Agip and Amoco. Like other majors, their boards were preoccupied with big oil farther east, and right through to the 1990s the industry's perception was that this was a purely gas-prone province.
Aminex's directors did not share this view when they agreed an unconditional takeover of Tanzoil and its assets in February 2002. One of the key attractions for Aminex was guaranteed access to the Songo Songo export system, just north of Tanzoil's offshore license, in the event of a nearby gas discovery. Songo Songo's pipeline, which came onstream last July, extends for 230 km to a power plant and a cement works just outside the capital, Dar-es-Salaam.
On taking the reins, Aminex relinquished one of Tanzoil's onshore licenses and created a wholly-owned Tanzanian subsidiary, Ndovu Resources. Its priority was to press ahead with a two-well drilling commitment on Nyuni. The production-sharing agreement for this license was to expire in May 2003. Average water depth within the license area is 40-50 m. Beyond the shelf break, the depth plunges to 300 m.
Toward the end of 2002 Aminex brought onboard Romanian state oil company Petrom under a farm-in arrangement. By agreeing to pay 50% of drilling and completion costs, Petrom would secure 30% of the license. The company then offered its drilling subsidiary Petromar for the rig. The initial plan was to transport the latter'sAtlasjackup from Constanza on the Black Sea coast through the Suez Canal and down to Tanzania.
A subsequent review, however, suggested the rig would have to sail around the Cape of Good Hope, making the transportation cost prohibitive. Bringing in another jackup or shallow-draft drilling barge from the Middle East or Singapore would not be materially cheaper, Hall says. Furthermore, bathymetry studies showed that the prevalence of shallow-water calcified reefs close to the drilling targets could be awkward for a jackup under tow to negotiate. In light of these findings, the partners re-designed the drilling program and selected new well sites on a couple of small islands where a land rig could be shipped in and assembled at a much lower cost.
One of these sites was Nyuni Island, 30 km east of the mainland, where Aminex and Tanzania Petroleum Development Corp., a partner in the production-sharing agreement, had discovered naturally occurring surface oil seeps and "matching" tar balls (as confirmed by geochemical analysis). Similar seeps had been noted elsewhere on the mainland within the license area.
The partners signed a two-well contract with another Romanian contractor, Dafora, in May 2003 for the F200 land rig. After some delays, the rig packages finally passed through Tanzanian customs that July, with shipment to Nyuni Island completed the following month. The partners planned to drill back-to-back wells and from the nearby Okuza Island (the former vertical, the latter deviating slightly into the offshore).
According to Mike Rego, Aminex's exploration manager, Nyuni Island is a mere 400 m wide x 600 m long, and surrounded by 3-5 km long reefs fully emergent at low tide, while Okuza is only 100 m at its widest point.
"So to all intents and purposes, these would be offshore operations," Rego says.
Based on the limited seismic available - a 2D data set Prakla-Seismos acquired in the early 1980s - Aminex had interpreted the Nyuni structure as a four-way, dip-closed anticline. Two prospective horizons appeared to be analogous to the nearby Songo Songo field.
The principal target was the Lower Cretaceous Neocomian sandstone (also the setting for Songo Songo's main reservoir), at a prognosed depth of 2,350 m subsea. Secondary, shallower targets were Eocene sandstones and limestones. The total planned depth for Nyuni-1 was around 3,000 m subsea, just within the Jurassic formation.
In September 2003, Aminex brought in Bounty Oil & Gas, another Perth-based company, as a 10% partner in the license and drilling program. Nyuni-1 was finally spudded on Sept. 26. As drilling progressed, no signs of trapped hydrocarbons or reservoir-quality rock were evident in the Eocene, but the partners encountered a thicker than anticipated Upper Cretaceous Turonian shale section. This unexpected sequence had the effect of retarding progress from December onward, as a sidetrack had to be drilled to re-establish the correct well trajectory.
En route to the final bottom-hole depth of 3,895 m subsea, gas-bearing porous sands were logged at numerous depths within the Neocomian formation. Wireline and repeat formation test logging was also run, suggesting the presence of further net intervals, but with a lower than expected hydrocarbon saturation. Schlumberger shipped out a modular formation dynamic tester (MDT) tool to recover formation fluid samples. Although some aqueous samples were collected, it was not possible to achieve the test objectives, Rego says.
As no fluid samples could be obtained below 3,406 m, the partners decided to suspend the well indefinitely, with much of the downhole testing exercise incomplete. Following the cost overruns incurred by the mechanical problems, the partners decided to shelve the second well on Okuza, pending a review of the future exploration program.
The partners extracted relatively light liquid oil had from cuttings recovered at depths below 3,600 m subsea. Subsequent geochemical analysis in a laboratory suggested that the oil type matched the surface seeps and tar balls collected from the center of Nyuni Island. Aminex concluded that the various samples shared a common source with the Songo Songo field. The evidence, therefore, is of a widespread oil-prone and oil-mature source rock within the Jurassic formation.
"We now believe we have identified an oil-prone play fairway in the region, and along the coastal margin of Tanzania," Rego says.
Aminex chose an MDT as a compromise for cost reasons. The company would have preferred to run a full-scale drill stem test using a jackup, but this would also have involved maintaining a full-scale surface test support spread for several months if commercial gas had been discovered. On the other hand, not extending operations through to a second well saved the team from an encounter with last year's tsunami.
Logistics gap
Although Nyuni-1 had to be cut short, the well's final depth was an achievement, given the budgetary and local operating constraints, which the partners had underestimated. Oilfield logistics turned out to be virtually non-existent this side of the continent, with the nearest serviceable dry-dock being 1,000 mi away. Mombasa is supporting Woodside Petroleum's deepwater wells off Kenya, but the distance to Nyuni ruled out regular supply shipments.
Despite the relative proximity of the Middle East, the high service charges made it cheaper to fly in tools and materials directly from Aberdeen. Aminex subsidiary Amossco sourced all equipment, including tubulars and cement. Clearing customs at Dar-es-Salaam then slowed the process.
"For our next exploration campaign," says Hall, "we will do things differently. Probably we will use an offshore rig, and we may even attempt to organize shipments through Zanzibar, which has an international airport. We'll also look to engage a fast catamaran with a cruising speed of 30 knots to speed up the transfer of drilling crew and supplies."
The partners tried out various vessels for this role for Nyuni-1, with varying degrees of success. The nearest airfield was on the mainland at Kilwa Masoko, around 50 km away.
The drilling operation itself involved an unusually high level of improvisation, Hall adds, in part to avoid attracting censure from environmental groups. "We were very careful to follow the strict guidelines of our Tanzanian consultants and also of the World Bank, which in any case happens to be a direct shareholder of Aminex."
Nyuni Island is largely uninhabited, apart from occasional settlements of itinerant fishermen from as far afield as Zanzibar, the Comoros Islands, and from marine parks on the Tanzanian mainland. The island also serves as a plantation for 27,000 coconut palms. For the drilling location, the partners deliberately chose a site on the northeast side of the island with limited tree cover - only eight palms had to be cut down. To allow trucks to roll off the supply boats directly onto the beach (bringing in the drilling rig, cranes, and other supplies), the partners erected a temporary jetty at the beachhead, comprising chunks of concrete, arranged to keep the coarse, carbonate sand in place.
No major erosion of the beach was incurred, Hall adds, and most of this work was performed at high tide to limit possible damage. From the beachhead to the drilling site, the partners laid down matting on a clearing through the trees to support incoming vehicles, the tracks being knitted together from broken-up truck tires.
"The drilling pad itself was easy to set up," says Rego, "although we first had to clear plastic drinking water bottles left around by the fishermen. Rat infestation is another problem on Nyuni. You have to watch carefully where you put your feet."
The Dafora F200 rig, designed and manufactured in Romania, occupied a footprint of 80 sq m. It had been re-conditioned prior to use on Nyuni, and the equipment proved to be well maintained and effective - not responsible in any way for the problems incurred downhole during the drilling phase.
Most of the drilling crew were Romanians, supervised by managers from western Europe and South Africa.
While waiting for rig-up operations to be completed, some lived temporarily on a supply boat moored just offshore. Eventually, a fenced-off campsite was erected featuring two-man tents, capable of accommodating up to 70-75 personnel at peak during the well-test phase (the normal complement was 60-65). The license partners also installed a self-contained sewage system, as there were no sanitation or fresh water facilities on the island.
Next-phase exploration
Currently, the license partners are re-appraising the geological model for Nyuni before deciding when and where to resume exploratory drilling. First they want to acquire new 2D seismic on and around Nyuni Island, much of this area classed as transition zone.
"On the basis of our findings, we may then drill three more wells," Hall says, "one possibly being a re-entry of Nyuni-1."
In nearby licenses, Canada's Artuemas is looking to re-enter Mnazi Bay in the onshore transition zone to the south, and Antrim Resources may drill off Zanzibar. These and others may be interested in taking a vessel on a time-share basis.
Western Geco mounted the last concerted seismic acquisition campaign anywhere in Tanzanian waters in 1998-99 (a 2D deepwater survey).
"But shooting shallow water seismic is trickier in an area with so may pinnacle reef structures," Rego points out. "It is not easy for seismic boats to navigate in and out. You need a vessel with a very shallow draft, and there is a very real risk of getting stuck on one of those reefs."
For this reason, the 1983 seismic program over the Nyuni license could only employ short cable lengths. However, a recent bathymetry survey commissioned by the Nyuni partners also revealed some channels in between the reefs, which could safely accommodate a jackup.
If Nyuni-1 had flowed substantial gas, the land rig would have served for an extended test. Should oil be discovered when drilling resumes, Aminex would look to put in a wellhead and pipeline offloading to a moored, barge-type tanker.
"If we had a 100 MMbbl find," Rego adds, "that might justify building a dedicated support base onshore, as the Songo Songo partners have done."