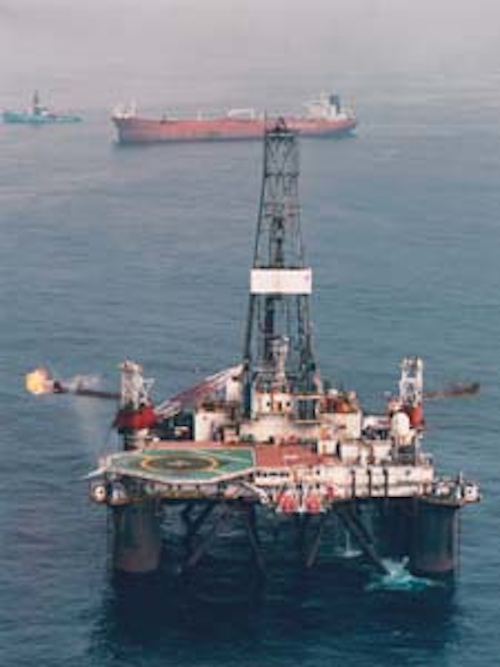 Operators, schedule 1,700 km of seismic, 25 wells over five-year
period for Atlantic theatre
Frank Frazer
Corresponding Editor - Scotland
The Ocean Guardian deepwater semisubmersible carrying out extended well tests for BP on the Foinaven discovery. (Photo courtesy of BP).
Even before the recent award of 26 new drilling blocks, record levels of activity were planned this summer in the rush to appraise and develop promising finds in Britain's deepwater Atlantic frontier.
Now, with several other operating groups moving into acreage near the main discoveries by British Petroleum and Amerada Hess, it seems certain that the area west of the Orkney and Shetland Islands will remain an investment hot spot into the 21st century.
The latest spur to activity stemmed from a decision by the UK Department of Trade and Industry to fast-track awards of Atlantic blocks which had been included in the 16th licensing round. This was partly in response to the keen bidding for areas which companies nominated as the most sought-after exploration tracts, including one unidentified block which attracted eight applications.
The early awards, a few months ahead of the rest of the 16th round, allowed plans to be made for shooting the first seismic in the 1995 season. In all, successful applicants are committed to acquiring more than 1,700 square km of 3D seismic data during the summer months, followed by the drilling of at least 25 wells over the next five years.
The new work programs will be in addition to wells planned on acreage granted in previous rounds. Predictions suggest that this year's wildcats and appraisals, including wells drilled for extended tests on discoveries already made, will exceed the 1994 total of 15-20 completions.
Developable prospects
Foinaven: Development drilling has also started this year in preparation for the hookup of subsea wells to the floating production system due to be installed later at BP's Foinaven Field. Foinaven is the first Atlantic discovery to be declared commercial, with oil due in early 1996.

Although the discovery of Foinaven in 1992 sparked off the clamor for new licenses in the area, the potential for oil recovery has been known since 1972 when the large Clair Field was found. It was not immediately considered a commercial project because of the heavy nature of the crude and the shallow lie of the reservoir which is spread over several blocks in which BP, Amerada, and five other companies have shares.

Clair:Initial projections suggested recovery from Clair might be as low as 150 million bbl from more than 3 billion bbl of oil in place, but the calculations may be revised after an extended well test this summer. The test should yield better knowledge of how fluid movement is affected by complex fractures in the reservoir rock.

Russell Smith, leader of BP's subsurface team studying Clair, explained: "Fractures can be good for well productivity if you can distinguish the types of fractures, their orientation, and distribution. Some Clair fractures are conduits to flow, but other act as barriers."

Schiehallion:Results of another extended well test on the Schiehallion Field, found by BP in 1993, are expected to have more immediate application in determining investment priorities. While 10 subsequent appraisal wells on Clair failed to match the oil flow of 1,500 b/d achieved from the discovery well, the Schiehallion test was reported to have sustained about 20,000 b/d from the reservoir, which extends into a neighboring area licensed to a group headed by Amerada.

Final go ahead for Schiehallion - which has recoverable reserves estimated in a range from 250-500 million bbl, matching those at Foinaven lying to the west - is expected towards the end of 1995.

The decision will be taken after receiving detailed cost estimates from an alliance of contractors commissioned to design a purpose-built floating production system.

Advances in technology have been a key factor in reviving interest in the deep-water challenges presented by BP's recent discoveries. These advances include 3D seismic, improved reservoir drainage with horizontal and high-angle wells, and the ability to tackle subsea wells without diver intervention at depths greater than 1,000 ft .

Operators are having to contend with a seabed sloping steeply from the continental margin towards the ocean flow, high-energy swells, difficult wave conditions, and high velocity currents which change direction at different depths. But engineers believe they can design flexible risers which will cope with the stresses of delivering output from subsea wells to monohull or semisubmersible floaters built in steel or concrete.

The UK's 1993 fiscal changes, which abolished petroleum revenue taxation on future projects, helped to improve rewards from successful ventures in frontier areas. This is despite the accompanying loss of some tax breaks allowing immediate offset of exploration and appraisal drilling costs.

Perhaps the biggest change in economic outlook for frontier activity results from a general reduction in UK offshore costs through partnering and alliance arrangements negotiated with contractors. This, coupled with the willingness of government to facilitate fast-tracking of projects through reduced bureaucracy, has added to industry confidence that ambitious targets for pioneering projects can be Until the recent moves for new flow studies at Clair, most of the focus was on BP's efforts to achieve early production from Foinaven and Schiehallion, in which Shell is a non-operating partner.

Shell subsequently emerged from the 16th round bids as an operator with BP as its partner in a group of blocks to the north of Clair. The awards also resulted in operatorships for Amoco, ARCO, Chevron, Deminex, Esso, Kerr-McGee, Mobil, Texaco, and Total.

For two of the new blocks, lying south of Foinaven and west of an area where Amerada has identified two oil reservoirs, the DTI encouraged BP and Amerada, with their respective partners, to set a joint operation based on the work programs submitted by each group.

Solan, Strathmore: Amerada's nearby discoveries, named Solan and Strathmore, are located in water depths of 410 ft which is more typical of conditions in the North Sea than the depths of over 1,000 ft encountered at Foinaven and Schiehallion.

Solan, which produced an oil test flow of 8,346 b/d from a Jurassic formation with the help of a downhole pump during appraisal in 1991, seems the more likely candidate for early development. Strathmore lies in deeper Triassic rock with heavier crude.

Industry analysts have speculated that Solan might yield about 50 million bbl of oil, which could be recovered by a floating system. Although Amerada started an appraisal well in 1995, more study of the field will probably be required before plans are made.
With most recent wells being regarded as tight holes while unallocated acreage was on offer, the only other find reported ahead of the 16th round awards was a gas discovery north-east of Clair which Texaco confirmed in 1977 and subsequently named Victory.
There are also rumours that BP made a gas/condensate find in 1994 in a block northwest of Foinaven and Schiehallion, near to the area where the boundary with the Faeroe Islands is still subject to international negotiations. But there was no sign of the company returning to the location for further drilling as the 1995 season got under way.
Transportation
Lack of plans for pipeline infrastructure and distance from the main markets is likely to mean low priority being given to gas over the next few years while companies focus on proving up oil reserves which can be collected from floating production system by shuttle tanker.
Elf Enterprise's terminal on the Orkney island of Flotta, originally built to handle output from Piper and surrounding North Sea fields, is being modified to receive the Foinaven cargoes after beating competing bids from Sullom Voe in Shetland and Nigg in the Cromarty Firth for the storage and trans-shipment contract. Ironically, both Sullom Voe and Nigg are operated by BP Despite studies showing only minimum risk of any spillage reaching shore from the exposed offshore locations where the tankers will load throughout the year, environmentalists have called for a pipeline system to be included in long-term plans. But, BP says that the flow of oil expected from the two fields under development at present will not sustain the minimum of 300,000 b/d needed to support investment in a multi-user system.
Although there will be provision to tie export lines to the floating production facilities installed at both fields, there are still technical problems to be overcome in linking large-diameter lines to weathervaning systems at deepwater locations. As an alternative, a riser platform may have to be located in shallower water as a gathering point for smaller-diameter flow lines from the fields.
Norman Smith, managing director of Smith Rea Associates, which worked with Foster Wheeler on a joint industry study investigating infrastructure issues, said the relative economics between pipelines and offshore tanker loading were less clear-cut than might be thought. Experience in Norwegian waters had shown it was feasible to operate large fields with minimum disruption caused by severe weather conditions.
"Sounder arguments in favor of oil pipeline export may be those associated with the more complete depletion of reserves which it may achieve," Smith said.

The harbor at Sullum Voe in the Shetland Islands may be the primary recipient of much of the crude produced from FPSO deepwater field developments west of the Shetland and Orkney Islands. (Photo courtesy of Shetland Oil Industries Group).
Production potential
In 1994, Smith's company, in association with Curlow Consulting, published a study which tentatively estimated recoverable reserves in the Atlantic frontier area at 5 billion bbl of oil, with some gas which was unlikely to be considered for early development.
It also predicted that production from seven fields in the area could reach around 500,000 b/d by the year 2005, at which time it could represent about a third of total UK production.
In his latest assessment of the prospects, Smith suggests production over the next 10 years might range up to 1 million b/d, if companies are willing to invest $15-20 billion to achieve such levels.
He adds: "Much could still go wrong - not least a failure to maintain drilling success. But if the present mood of optimism proves justified, much of the UK continental shelf exploration and development activity over the next 15 years will be on the Atlantic margin."
Copyright 1995 Offshore. All Rights Reserved.