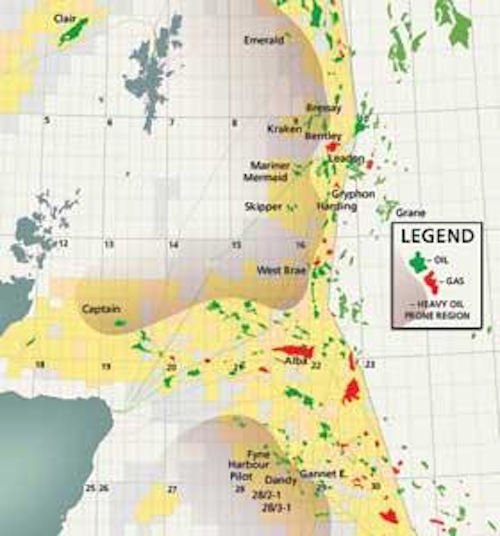 Drilling techniques could increase yield from complex fields
Jeremy Beckman, Editor, Europe
Heavy oil suddenly is hot property in the UK North Sea. Interest is keenest in Quadrant 9 blocks in the far north, where a hub could soon emerge serving four long-neglected fields.
According to Britain's Department for Business, Enterprise and Regulatory Reform (BERR), there are 19 heavy oil discoveries throughout the UK shelf, with in-place reserves totaling 9 Bbbl. Many were discovered in the 1970s and '80s, but none were developed until Kerr McGee's Gryphon field came onstream in 1993.
Currently there are six active heavy oil fields collectively generating 150,000 b/d, equivalent to 10% of the UK's crude production. Of these, the most prolific are Chevron's Captain and Alba in the central North Sea, ranked respectively third and eighth in the UK output league.
The new band of investors is led by StatoilHydro, operator of Mariner in block 9/11c and Bressay in two blocks adjoining Quadrant 9's northern border. Both potentially hold the largest undeveloped resources on the shelf, with combined in-place oil of over 2 Bbbl.
On the UKCS, heavy oil is defined as crude with gravity below 22º API and viscosity above 5 centipoise (cP). It is less mobile within the reservoir than lighter crudes and therefore harder to extract. But horizontal wells and smarter completions, with longer-lasting electric and hydraulic submersible pumps, are transforming the economics of these fields.
Kraken
Of the various companies weighing production timetables, Nautical aims to be first out of the blocks. Assuming a planned appraisal well on Kraken this fall meets expectations, development could start late next year.
Occidental discovered the field in block 9/2b in 1985 – unintentionally, according to Nautical's CEO Steve Jenkins. "This was a Viking graben fringe play, where lots of wells had been drilled through thin Jurassic sands targeting light Brent-quality crude. Occidental was hoping for the same, but instead found heavier crude in the Tertiary and Cretaceous intervals which flowed at 200 b/d."
After Occidental relinquished the block, the industry ignored Kraken until 1998, when CGG acquired speculative 3D seismic across 9/2b and neighboring blocks, which included Bentley, Bressay, Mariner, and other smaller accumulations. All were made available under the UK's 21st Offshore Licensing Round in October 2003.
Previously, says Jenkins, "heavy oil discoveries and exploration upside in this part of the North Sea had been neglected, due to the fact that there were easier pickings elsewhere with Brent-type crude, and also because of the historically variable discounts on heavy oil. But that situation is now narrowing.
"We came at this area with a different point of view than the other 21st Round applicants. Our team was very familiar with emulsified fuels, and we had more in-depth knowledge of the whole process — my own experience of heavy oil came from working on fields onshore Colombia and Kazakhstan. And with the background of our parent company, the Swiss energy trading specialist the Masefield Group, we were well-placed to demonstrate the financial capabilities required by the UK Department of Trade and Industry."
Nautical had been formed as the upstream arm of Masefield subsidiary IEG, the aim being to acquire and to develop heavy oil reserves in the North Sea as a supply source for specialist refineries in western Europe. Another Masefield subsidiary, Quadrise Fuels International, has access to a proprietary process from Akzo Nobel Surface Chemistry to convert heavy crude residues to fuel for power generation.
By the time Nautical was listed on the UK's Alternative Investment Market (AIM) in April 2005, its heavy oil assets comprised two 21st Round Promote licenses covering 9/2b and block 3/27a to the north, and ownership of processing equipment supplied by Halliburton for Texaco's extended well test on Mariner in 1997. Six months later, 9/2b was converted to a traditional license, all work commitments having been fulfilled.
Around the same time Nautical acquired Edinburgh-based Alba Resources, thereby gaining a 26.7% interest in Mariner in block 9/11a, operatorship of block 9/11c immediately to the south, and of 8/25a, west of the Skipper heavy oil accumulation. It also applied successfully for a Promote license for blocks 8/5 and 9/1, both contiguous to 9/2b.
Nautical bought and re-processed all existing 2D and 3D seismic data for this region. It also acquired speculative and proprietary data on the wells drilled on all the discoveries, including Bressay and Mariner, which were freely available. "We have since amassed the best database of any operator on the East Shetland platform," Jenkins claims, "and we have been able to identify plays that others have missed."
Last fall, Nautical drilled its first appraisal well on Kraken, co-financed by the 9/2b partners Celtic Oil (a subsidiary of South Korean company SK Energy) and Norwegian independent Canamens Energy North Sea. The semisubmersibleByford Dolphin drilled well 9/2b-2 some 2.7 km (1.68 mi) north of the 9/2-1 discovery, to a subsea depth of 4,378 ft (1,334 m). It encountered oil-bearing Palaeocene Heimdal sands at a higher elevation than Occidental's well, and oil down to a level 50 m (164 ft) deeper, at 4,008 ft (1,222 m) subsea. This was 71 ft (21.6 m) lower than the pre-drill estimate for the oil/water contact.
The resultant hydrocarbon column was 77 m (253 ft) long, suggesting a substantial accumulation. "The results were better than we expected," says Jenkins. Subsequent sample analysis revealed a higher gravity oil (18.4º API) than indicated by a sample from the discovery well, and lighter than other nearby structures, including Bressay. We believe 17-18º API is the field's probable range."
There were further oil shows in Cretaceous Conglomerates close to the base of the well. Nautical has since integrated the well data with the re-processed 3D seismic from CGG and new high density 2D seismic acquired over the northwest of the block last September.
"Kraken, like Mariner, is a stratigraphic trap that extends over quite a large area," Jenkins explains, "the kind of structure you tend to find on the edge of basins. The oil is significantly different from the reserves in Bentley and Bressay to the north, being deeper-lying, and not very viscous — only 100 cP, which is similar to Chevron's Captain field in the Outer Moray Firth.
"Bentley and Bressay are heavier and significantly more viscous. Kraken is a high-acid crude, but otherwise not too toxic, with 0.5% sulfur content, and a small amount of nickel and vanadium. There are two charges in the oil. We think one has come from the southeast and has biodegraded, with the second charge creating the mix of oils which I believe causes the low viscosity."
In September, Nautical plans a site survey, followed at an unspecified date by a second appraisal well, the scope of which has yet to be finalized. "Kraken will not need a huge volume of oil to justify a standalone development," says Jenkins, "but it would be nice if we could be the first to produce in the area. In-place reserves are significant, in the range of 376 MMbbl to 1.25 Bbbl. From work recently completed by an independent engineering group, we have assessed that 35 MMbbl will support a field development, which is easily achievable from the current in-place range.
"Our idea currently is to file a field development plan by end-2009. There is scope for a phased project involving an FPSO and subsea completions. But there is also scope for something fixed with drilling facilities exporting to an FPSO and a shuttle tanker. We have some encouragement from the seismic to predict which parts we should develop – the field's aerial extent is 140 sq km (54 sq mi), which would take quite a lot of wells to cover.
"A production rate of 20-30,000 b/d might then be feasible over a period of several years, although that would depend on how many wells we drill, and how quickly. Obviously we will have to put pumps downhole to get the oil out of the ground and coalescers or very big trains/tanks topsides to separate the water."
For a short time, Nautical also operated Skipper in block 9/21, south of Mariner, discovered by Unocal in 1990. This complex field, which contains viscous oil of 15-20º API, had been the subject of novel floating production studies by previous owners, targeting reserves of 20-40 MMbbl.
"We bought the block from Ingen Ideas," says Jenkins, "but after further analysis of the 3D seismic, it became so small, we decided it would not work on a standalone basis. Likewise, Bluebeard to the east of Mariner got smaller and smaller the more we looked at it." Both fields are currently on offer once more under the UK's 25th seaward licensing round.
Nautical has had no success to date with wildcat drilling, drawing blanks with wells on the Mermaid prospect due south of Mariner in block 9/11c and on Selkie in 8/25a. "The outcome on Mermaid was probably a migration problem, owing to its location just outside the graben on the East Shetland platform. However, we are still looking at the north of the block, where there is scope for an extension of the Mariner Heimdal sands."
Last September's high density 2D survey also covered part of block 3/27a, including a higher-risk prospect named Hydra. This is a Jurassic stratigraphic pinch-out play with associated gas chimneys, again on the East Shetlands platform. In mid-October, the company hopes to use a slot on a rig-share to drill a well, pending a farm-out agreement to mitigate the cost.
Mariner
Last December, Chevron transferred to StatoilHydro its operating interests in three heavy oilfield licenses which included the complex Bressay, Mariner, and Mariner East discoveries. Despite more than a decade's production experience with the heavy oil Captain field, Chevron could not deliver a commercial development plan for Mariner. Bressay was due to undergo an extended well test last year, but that was canceled as a result of StatoilHydro's cash offer. The program should get under way this summer, however, under the new operator.
Unocal discovered Mariner in block 9/11a in 1981, drilling four wells which all delivered heavy oil. Texaco later took over, commissioning a multi-well appraisal program in 1996-7, culminating in an extended well test. This was conducted by the Victoria Oil Field Development Alliance of Halliburton, Centrilift, Expro, and Merpro using the semisubmersible rigPetrolia. The well produced 662,000 bbl of 14.5º API oil over a 63-day period, in the process setting a world record length for a horizontal gravel-packed section.
StatoilHydro brings experience of heavy oil production from the Grane field in the Norwegian sector (19º API, 150 cP), which produces from the same Heimdal sands that house one of Mariner's reservoirs. Through clever well placement, the company aims to recover over 60% of Grane's reserves. It is also a partner in the Peregrino project offshore Brazil (14º API, 165 cP).
According to Jenkins, Chevron estimated in-place reserves in Mariner's Heimdal sandstone member at 800 MMbbl, with 400 MMbbl in place in the deeper-lying Maureen reservoir. The latter is a structural and stratigraphic trap, with 82 MMbbl thought to be recoverable. The potential yield from the Heimdal sands is harder to determine, but 3D seismic and ocean bottom cable seismic surveys this August should improve the picture.
Results will be integrated into a field development plan which could be submitted to DBERR next year. StatoilHydro stated, on acquiring the assets, that its work program assumed development sanction in 2010. But further appraisal drilling looks unlikely, according to Jenkins. "The Heimdal section has oil in 16 wells, and has been tested three times already."
Development might be too big for a floating production system, Jenkins adds, so a fixed solution looks more likely. StatoilHydro also is preparing to drill the Brock prospect to the south of Mariner in block 9/11E as a potential tieback. This structure was identified by the block's previous operator Silverstone Energy, now a partner in the well. In addition, Total is planning a well this year on its Sailor prospect in block 8/15, making this one of the most active drilling areas in the North Sea in 2008.
Bentley
Aberdeen-based Xcite Energy has a 100% interest in block 9/3b, containing the Bentley field. Amoco made the discovery in 1977 while drilling through the reservoir for deeper, lighter oil, but failed to test the oil to surface. Conoco then took on the license, drilling three appraisal wells on the structure during 1983-86, none of which, again, flowed oil to the surface.
After acquiring further seismic over Bentley in 1991, Conoco returned the block to the UK government in 1993. "They could not explain why the wells had failed," says Xcite director Rupert Cole. "However, the techniques employed in those times would probably never have resulted in successful wells. And with the crude price slumping to $10/bbl, there was no incentive to pursue further tests."
Aside from CGG's speculative 3D survey in 1998, there was no activity on the field until 2003, when the Department of Trade and Industry introduced a "Promote" license scheme as part of the UK's 21st seaward licensing round. Xcite's E&P director Stephen Kew, along with others in the Xcite team today, had worked for Conoco UK while Bentley was still a live project. Their prior knowledge was instrumental in Xcite securing the block, against intense competition, via a Promote license in 2003.
"Based on the data we had at the time of our application," Cole says, "we were looking at in-place volumes of around 500 MMbbl. We saw 10% recovery as the minimum threshold to make this an attractive investment."
RPS Energy Canada last year performed a more in-depth analysis of Bentley's resources based on information from the four wells and the 2D dataset. This estimated oil in place in the range of 508-691 MMbbl, with P50 contingent reserves of 68 MMbbl, and a further 40 MMbbl of prospective resources in two nearby exploration targets possibly connected to the Bentley structure.
According to interpretation of the 2D seismic, Bentley has a saddle feature with two structural highs. The field lies west of the Viking graben, an area prospective for heavy oil in the late Palaeocene (Tertiary) Dornoch formation. The primary source rock is Upper Jurassic Kimmeridge clays, with hydrocarbon migration occurring during the Eocene and Oligocene eras via a fault system along the margins of the Viking graben.
Although Bressay to the north is the nearest discovery, its geology is much more complex, characterized by deeper, more stratified channel sands. The nearest geologically analogous producing heavy oil field is thought to be Captain, 250 km (155 mi) to the southwest. Although of a lower Cretaceous age, Captain is also an unconsolidated, high porosity, high permeability sandstone reservoir, which Texaco developed successfully in the mid-1990s with downhole pumps and long horizontal wells. Over the years the recovery target has risen from an initial 22% to more than 35% at present, with a longer-term target of 50%.
Like other, neglected heavy oil fields in the northern sector, the nature of Bentley's crude was unknown when Xcite took charge in late 2003, as no samples had been recovered from the wells. Both the original well tests were also dogged by technical problems. In Amoco's case, the probable cause was formation damage caused by overweight drilling mud. Also, the casing was inadequately cemented, making it hard to isolate the oil-bearing section.
Conoco's 9/3-2A test in 1983 failed to flow oil to the surface for several probable reasons, according to Xcite. The well was completed with a fine sand screen designed to protect the electric submersible pump employed for the test. But the high-pressure drawdown applied by the pump may have caused the sand face to slump, leading to clogging of the screens with oil-coated sand grains, forming a skin to stop oil migration. "Pumps in the 1970s and '80s were not sand-tolerant," Cole adds.
Other contributory factors may have been a build-up of asphaltenes – high molecular weight compounds found typically with heavy oil. Cooling of the wellbore with mud and completion fluids may have led to asphaltene precipitation in the nearby pore space. Also, calcium naphthanate soaps may have formed following a chemical reaction between the naphthanic acids in Bentley's oil and the alkaline properties of the mud used to drill the reservoir section in the 9/3-2A well. This would have created a thick, soap-like skin around the wellbore, restricting permeability and the movement of oil.
To assess the likely behavior of the reservoir under production, Xcite commissioned a trial simulation study from RPS, which had performed similar work for other North Sea heavy oil fields. Xcite also commissioned GeoMark in Houston to predict the probable fluid properties, using a proprietary methodology that combines geochemical data with pressure and temperature data.
Early this year, Xcite drilled and successfully tested its 9/3b-5 well, conducted by AGR Peak Well Management from theByford Dolphin. The aims included:
Obtaining a crude sample to establish API gravity, viscosity, and the oil's acid and metals contents
Flowing crude to the surface via a drillstem test (DST) at rates suitable for the well conditions, the completion, and the sand-tolerant electric submersible pump's capacity
Drawing a water sample from the aquifer for chemical analysis and for wireline log calibration.
Test partner Schlumberger supplied the DST equipment, including the slow-start pump. "We had to be very careful not to recreate the same problems in the well as before," Cole explains.
The well was drilled to a total depth of 4,105 ft (1,251 m) and, as expected, intersected Palaeocene Upper Dornoch sands at 3,712 ft (1,131 m) with an 87 ft (26.5 m) gross hydrocarbon column.
"Our plan had been to flow test for 24-36 hours," he adds, "but with two weather fronts approaching, we knew we only had 20 hours maximum before operations would have become dangerous. So we started slowly, gradually increasing the speed of the pump. After 17 hours, we had achieved the full projected rate of 150 b/d equivalent from the 50-ft (15.2-m) perforated section of the oil column."
The characteristics of the reservoir were in line with expectations, i.e. high porosity and permeability unconsolidated sandstone; a reservoir temperature of around 103º F (40º C); a depth to the top of the reservoir of 3,712 ft; and no gas cap. Schlumberger's review of the well data and recovered hydrocarbon/fluid samples also suggested a high permeability formation of greater than 5 darcies, later confirmed as up to 10 darcies.
According to Cole, the well's "high skin" value of 29 was typical of an appraisal well with formation damage — due mainly to the need to re-circulate the mud to keep the well fluids warm — and a thick cemented zone caused by wellbore washout.
"If we hadn't had the skin at that level, we would have achieved production of 500-600 b/d, but that would have exceeded the pump's capacity. We would also have liked to flow the well for longer, then maybe the skin would have gone down. But we achieved our main aim, which was to flow oil to the surface."
A lower skin value would probably be feasible for Bentley's production wells where washout would not be an issue. This could be achieved by drilling gravel-packed, 3,000-ft (914-m) horizontal wells 15 ft (4.6 m) from the top of the formation, with a potential flow rate of 4,000 b/d of oil per well assisted by artificial lift, i.e. submersible pumps.
Following this positive outcome, Xcite is moving straight to an early production system (EPS) on Bentley's northern lobe. "This is being designed right now," says Cole. "We aim to complete FEED work for the EPS by the end of this year, and we also plan further reservoir modeling with PGL in an attempt to firm up the field's resources by the fall. Hopefully we can then get the EPS development plan to the government by year-end. Going straight to an EPS also gives us more flexibility, as it allows us to optimize the full-field development solution and to determine the best way of drilling and completing the wells in order to minimize our drilling costs."
The EPS, probably delivering first oil in 2009, will involve drilling up to three horizontal production wells. Xcite is currently negotiating a contract for a rig. The company anticipates two drill centers for the full-field development in the northern and southern sectors of the field. These would be drilled from wellhead platforms where oil and water will undergo first-stage separation before heading through pipelines to a ship-shaped FPSO equidistant from the platforms and equipped for oil processing, water handling, and separation. The treated crude would then be transferred to a shuttle tanker via a loading buoy.
PGL Senergy is developing a new 3D reservoir model incorporating reprocessed 3D seismic and well data from the recent test. Interpretation to date suggests greater structural relief at the top of the Dornoch formation. If correct, this would increase substantially the structure's extent.
"We don't know yet what sort of volumes we will pick up on the edges of the Bentley structure," says Cole, "but if we can get our drill centers in the right place, we would include a potential accumulation known as prospect A, since we are confident that it is part of the main structure. Also, it appears to have a slight gas cap over it, which is potentially good news. However, this needs to be drilled first to verify our prognosis."
Seismic studies have also identified a possible Jurassic accumulation underlying the Bentley field — although significant oil shows were encountered at this level in wells 9/3-1, 9/3-2A, and 9/3-3. "Half-graben features in evidence on the seismic may provide a trapping geometry, but this needs to be studied further. The structure may not be that big, but if the lighter oil can be recovered economically, this might be useful as a diluent for the development," says Cole.
Bentley's full-field development will be largely water-driven. "We will also have to replace that water. With all these heavy oil fields, you get more and more water through the life cycle. The trick is to ensure a constant oil flow through drilling new wells to maintain peak oil as long as possible. We are looking for full-field production spanning seven to 10 years."
Analyst Mirabaud Securities has estimated total field life costs at $1.1 billion for opex, including lease of the FPSO at a rate of $225,000/day, and $640 million for capex, over half of which is attributed to the wells. Xcite's management has prior experience with floating production in the North Sea: Smith, Kew, and Remshaw were responsible for Conoco's McCulloch development in 1994, which featured the UK's first fully tariffed FPSO.
Recently, Xcite agreed to exchange the results of its 9/3b-5 well with data from a new appraisal well StatoilHydro is planning this fall on Bressay. "The well we drilled is probably what they need for Bressay," says Cole, "but they also require a longer flow test."
Theoretically, Bressay could be jointly developed with Bentley as a tieback, with the cost of the FPSO shared between the partners. "We have had very open discussions with StatoilHydro," says Cole, "but they are at least two years behind us in project planning. In our view, we have to get Bentley into production as soon as possible, thus providing opportunities for others in this area."