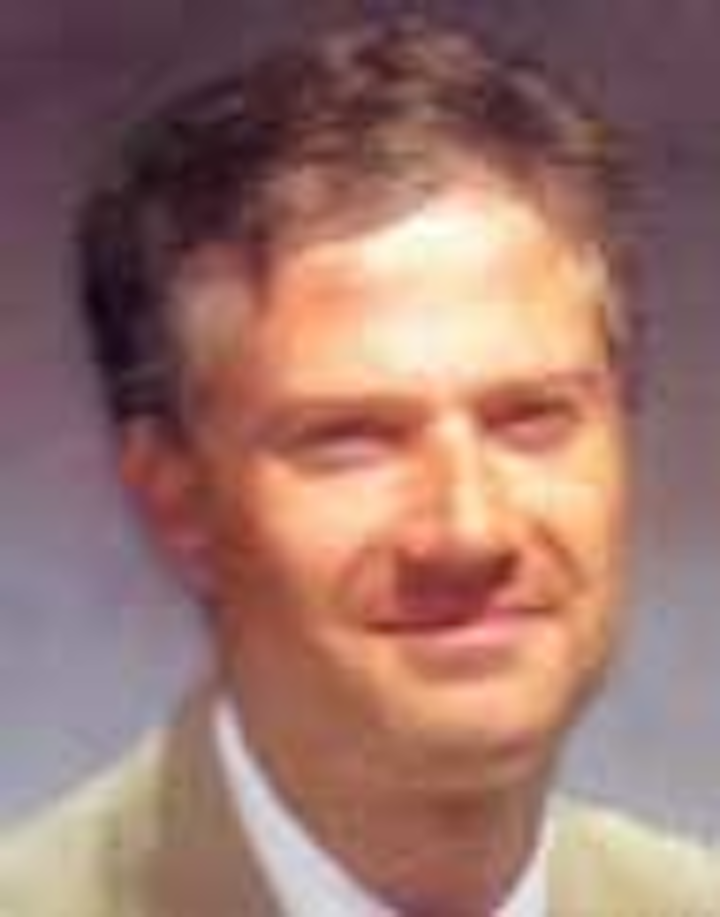 | | | |
| --- | --- | --- |
| | | Jeremy Beckman • London |
Pemex has contracted McDermott International for a new production platform for the Litoral Tabasco Tsimin-Xux fields in the Gulf of Mexico. The $230-million PB-Litoral-A contract scope includes construction and installation of a 1,800-metric ton (1,984-ton) jacket and 4,500-metric ton (4,960-ton) topsides, associated piles, tripods, and bridges. McDermott'sIntermac barge will install the topsides by the floatover method. In addition, the company will perform tie-ins and brownfield work on the CA-Litoral-A HP compression platform.
•••
Karoon Gas Australia has discovered oil in the Santos basin offshore Brazil's Santa Catarina coast. The Kangaroo-1 well, drilled in blocks S-M-1101 and S-M-1165, encountered a 25-m (82-ft) gross light oil column in Eocene reservoirs. Pressure data analysis has established an oil/water contact. Karoon aims to drill an appraisal well to target potentially higher volumes at the structure's crest. The blocks are in 400 m (1,312 ft) of water, south of Rio de Janeiro, and 112 km (69.6 mi) offshore.
•••
Brazilian agency ANP has approved the development plan for the Atlanta postsalt oil field in the Santos basin, operated by QGEP Participaoes. The location is 185 km (115 mi) offshore. The third partner is Barra Energia do Brasil.
West Africa
Chevron has become operator of three deepwater concessions offshore Morocco, 60-120 mi (100-1200 km) north and west of Agadir. The company will acquire seismic and perform evaluation studies of the Rhir Deep, Cantin Deep, and Cap Walidia Deep areas. Chevron has a 75% interest, in partnership with state-owned ONHYM.
Cairn Energy has assumed operatorship of Morocco's offshore Foum Draa block and aims to drill a first exploratory well this fall, if it can secure a rig. The well will target a lower Cretaceous objective.
•••
Eni has completed its first appraisal well of the Sankofa East deepwater oil discovery in the Tano basin offshore Ghana. Sankofa East 2A was drilled in 900 m (2,952 ft) of water in the Offshore Cape Three Points block, 50 km (31 mi) offshore. It encountered gas and condensate, and oil in Cretaceous sands. Eni now estimates recoverable oil in the structure at 150 MMbbl, and is working on commercialization options with partners Vitol and GNPC.
•••
Eco (Atlantic) Oil & Gas has signed joint operating agreements for three licenses offshore Namibia with Azimuth and state-owned NAMCOR. The Cooper, Guy, and Sharon licenses are all in the Walvis basin. Eco views the region as a prospective oil play.
•••
Cabinda Gulf Oil Co. (CABGOC) is pushing ahead with the Mafumeira Sul development in Angola's offshore Cabinda province. The $5.6-billion project is the second-stage program on the Mafumeira field in block O, 15 mi (24 km) offshore and in 200 ft (60 m) of water. It involves fabrication and installation of five new platforms, including two wellhead facilities and a central processing/compression complex; drilling of 50 wells; and laying 75 mi (121 km) of subsea pipelines. First oil is slated for 2015, with output building to 110,000 b/d, plus 10,000 b/d of liquid petroleum gas. Associated natural gas will head to the Angola Liquefied Natural Gas plant in Soyo.
•••
BP has started production from its multi-field PSVM development in block 31 offshore Angola. Under the first phase, three wells on the Plutao field should deliver 70,000 b/d of oil. Output should double as more wells come online later this year at the Venus and Saturno fields and on Marte next year. A total of 40 oil production, gas and water injection wells will be connected via 15 subsea manifolds to the 1.6-MMbbl storage capacity FPSO. Water depths in this northeast corner of the block reach 2,000 m (6,562 ft). Another hub is planned in the southeast sector.
Mediterranean Sea
Cairn Energy has entered an exploration agreement with Malta's government. This covers various blocks offshore Malta in the Sicily Channel, extending over a total area of around 6,000 sq km (2,317 sq mi).
•••
Two major oil companies have entered the exploration fray offshore Republic of Cyprus, following successful bids under the country's second licensing round. Eni was awarded 80% operating interests in blocks 2, 3, and 9 in the Cypriot deep offshore area of the Levantine basin, in partnership with Kogas. Total signed production-sharing contracts for blocks 10 and 11 southwest of the island, in water depths ranging from 1,000-2,500 m (3,281-8,202 ft). The company plans to acquire 2D and 3D seismic, and says the blocks contain different play types.
•••
Noble Energy expects to start gas production from the deepwater Tamar field in the Israeli sector next month. This will be piped to the nearshore platform that was installed late last year, and production will be combined with output from the Mari-B platform owned by the Yam Tethys consortium, of which Noble is a member. Later this year the company may sanction a second phase development of Tamar and a first phase for the giant Leviathan discovery, currently undergoing appraisal drilling.
Middle East
Saudi Aramco's latest jackup should have started operations following delivery from constructor Keppel FELS in Singapore. The rig's jackup legs are more than 400 ft (122 m) long, allowing it to work on the deepest water fields offshore Saudi Arabia such as Arabiya, Hasbah, Karan, and Marjan. Other features include a 54-motor jacking system, allowing it to carry a greater load than traditional 36-motor rigs, and a water cooling system for faster heat removal.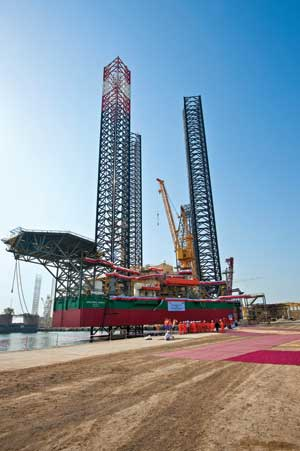 The jackupGreatdrill Chaaya at Lamprell's yard.
Another jackup, built at Lamprell's Hamriyah yard in the UAE, has departed for a drilling contract offshore India for ONGC. TheGreatdrill Chaaya, built for Greatship Global Energy Services, is a LeTourneau Super 116E design, with a modified spud can arrangement to suit the anticipated seabed conditions.
•••
Dana Gas has struck an accord with the emirates of Ajman and Sharjah over development of the Zora gas field, 33 km (20.5 mi) offshore the UAE. Production will come from a single platform linked to onshore processing facilities, and providing gas for power generation in the northern UAE.
East Africa
Rwanda's Ministry of Natural Resources has granted Vanoil Energy a two-month extension for a technical evaluation agreement. This will allow the Canadian company to negotiate a production-sharing contract for a 1,631-sq km (630-sq mi) tract of the East Kivu graben, beneath Lake Kivu.
•••
Anadarko has awarded the Fluor/JGC joint venture a front-end engineering design (FEED) contract for an onshore LNG facility in Cabo Delgado province, Mozambique. The location is 2,000 km (1,243 mi) northeast of the capital Maputo. The FEED concerns the plant's first phase for which four trains are planned, each with capacity for 5 MM metric tons/yr of LNG. Feedstock will come from the Anadarko-operated Area 1 deepwater gas discoveries in Mozambique's portion of the Rovuma basin.
India
ONGC has commissioned a process platform for the Heera redevelopment project in the Arabian Sea, 70 km (43 mi) southwest of Mumbai. The $271-million contract for engineering, construction, and installation went to a consortium of Technip, AFCONS Infrastructure, and TH Heavy Engineering. Topsides for the new HRD platform will be designed for floatover installation using Technip's Unideck method, and the completed facility will be bridge-linked to the existing HRC platform. All work should be finished in early 2015.
•••
A tribunal in India has ruled in Hardy Oil and Gas' favor concerning a request for an extension to a license in the northern Cauvery basin offshore Pondicherry. The CY-OS/2 exploration block includes the 2007 Ganesha-1 gas discovery well. After a long period in limbo, Hardy and its partners now have a further three years to perform appraisal activities.
Asia/Pacific
CNOOC has signed production-sharing contracts with Chevron for blocks 15/10 and 15/28 in the eastern South China Sea. Water depths range from 50-100 m (164-328 ft). Chevron will acquire 3D seismic over both blocks and cover all costs during the exploration phase.
This year CNOOC aims to drill around 140 exploration wells on its various interests, and bring onstream 10 new oil and gas fields offshore China. These include Liwan 3-1, the country's first large-scale deepwater gas development.
•••
The semisubmersibleOcean General has discovered oil and gas for Salamander Energy on the South Kecapi structure in Indonesia's North Kutei basin. Hydrocarbons were encountered in Pliocene sandstones, with higher well pressures than expected. This may indicate a highly active hydrocarbon-charging system, the company claimed.
•••
Sabah Shell Petroleum has contracted the Technip/Malaysia Marine and Heavy Engineering (MMHE) venture for a TLP for the Malikai deepwater project.
The 26,000-metric ton (28,660-ton) facility's topsides will be able to process 60,000 b/d of oil and 1.4 MMcf/d (39,644 cm/d) of gas.
Technip will handle engineering of the hull and moorings in Kuala Lumpur and MMHE will build the TLP at its yard in Johor, Malaysia. The tendons will be fabricated at a yard on the US Gulf Coast.
•••
Eni and PetroVietnam have agreed to work together to develop opportunities in Vietnam and elsewhere. Eni, which was awarded operatorship last year of three exploration blocks in the Gulf of Tonkin, will gain access to further Vietnamese blocks. PetroVietnam in turn can develop a presence in other countries where Eni has concessions, and avail itself of some of Eni's advanced technologies.
•••
INPEX Masala has awarded Wood Group Kenny a front-end engineering design contract for subsea production facilities for the Abadi LNG project. This will involve construction of a floating LNG plant producing 2.5 MM metric tons/yr (2.76 MM tons/yr) from the Abadi gas field in the Arafura Sea offshore Indonesia. PT JGC Indonesia and PT Saipem Indonesia are performing FEED for the FLNG facilities under a design competition.
Australasia
Apache and JX Nippon have completed farm-ins to the WA-435 and WA-337-P permits off Western Australia. According to partner Carnarvon Petroleum, which now holds a 20% interest, drilling could start late this year on the multi-tcf gas prospect Phoenix South in Triassic reservoirs, using theAtwood Eagle. Depending on the result, a well may follow on the Roc prospect. The locations are close to the Phoenix-1 gas discovery.
Chevron has notched its 20th gas discovery offshore Western Australia since mid-2009. The Kentish Knock South-1 well intersected 246 ft (75 m) of net gas pay in upper Mungaroo sands on the WA-365-P permit, 173 mi (280 km) north of Exmouth. Water depth was 3,832 ft (1,168 m).
•••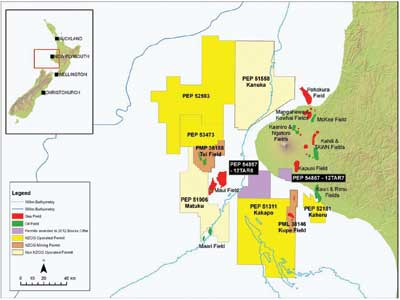 New Zealand Oil and Gas's newly-awarded offshore acreage.
New Zealand Oil and Gas (NZOG) has been awarded outright ownership of a new exploration block in New Zealand's offshore Taranaki region. Block 12TAR8 off the south coast is north of the company's Kakapo prospect, and appears to be within the same source kitchen as the producing Maui and Maari offshore oil and gas fields. NZOG plans to kick off exploration with a 400-km (248-mi) 2D seismic survey.
More Offshore Issue Articles
Offshore Articles Archives
View Oil and Gas Articles on PennEnergy.com