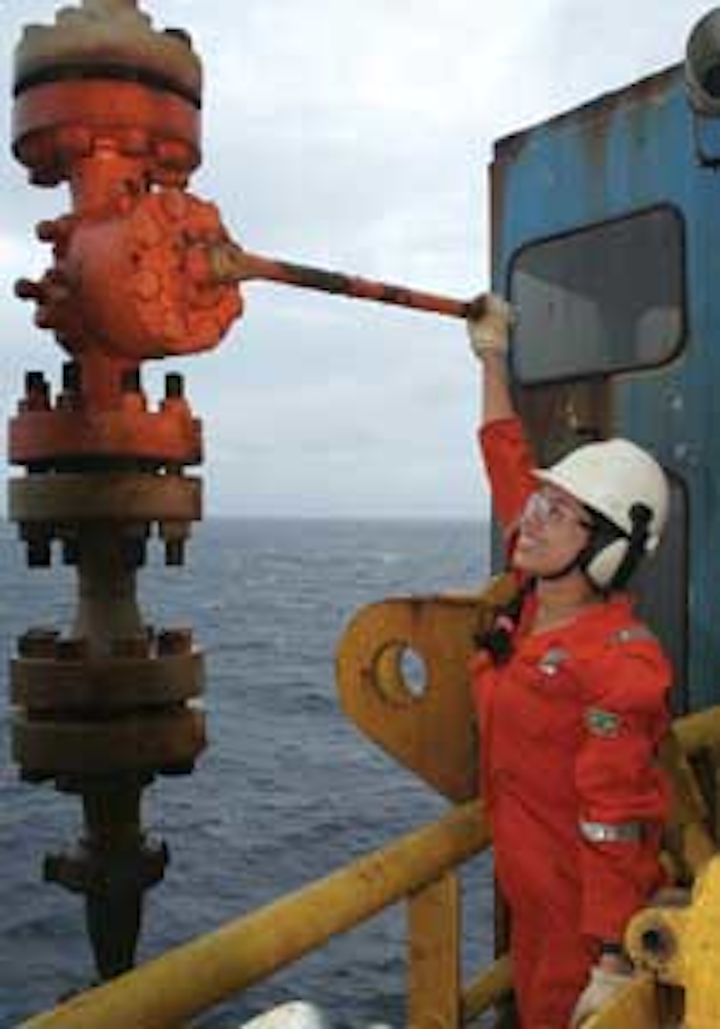 Requirements are fundamental to national energy policy
Doug Gray
Contributing Editor
The complexity of acquiring, classifying, implementing, and auditing the local labor, equipment, and services content of international companies operating in the offshore sector is nothing new. The creation of a sustainable environment for Brazil's long-term industry and protecting its workforce, however, are fundamental to its government's energy policy. As the industry gears up for unprecedented levels of expansion, the targets for local content and the realities of what the Brazilian market can deliver appear somewhat at odds.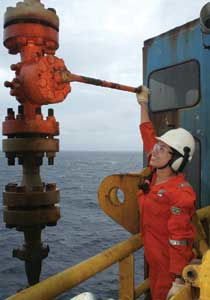 Petrobras well operator Beatriz Amorim de Azevedo at the P-18 unit in the Campos basin. (Photo courtesy Agencia Petrobras)
With two bid rounds in the space of 12 months, there is an end in sight for what has been something of a fallow period for an industry that currently employs an estimated 450,000 people. Global professional service firm PricewaterhouseCoopers suggests that number could rise to 2 million by 2020, representing a huge challenge for the country and one it must respond to if it is to avoid the shortfalls both in quantity and quality that would slow the development of Brazil's huge offshore reserves. Using local content rules to subsidize an inefficient industry would surely prove unhealthy, not just for that industry but for the economy as a whole.
The training of local staff, the quality of Brazilian equipment, and the bureaucratic hoops that must be jumped through to procure visas for expatriate staff have combined to create a difficult environment for oil companies seeking to share in the Libra field's presalt reserves. The contracts under the hammer at October's auction of the field's blocks demanded 37% local content, goods, and services in the exploration phase, rising to 55% in the development phase and 59% after 2022. Attaining those figures will be a big challenge.
Local content evolution
During the country's first acreage auctions in 1999, bidders were simply encouraged to offer a percentage of local investment. From 2003, Brazil's National Petroleum Agency (ANP) included a minimum percentage in the contracts in a bid to help develop the industry. Companies blamed a lack of availability as they struggled to hit the targets, however, and auditing was imprecise at best. In 2007, the agency introduced an independent system for classifying and scoring the local content of service companies and equipment. This has helped with the paperwork, but as Giovanna Dantas, head of technical manpower specialists NES Global Talent's operations in Brazil, has witnessed, the lag between investments and training still means that hitting targets is difficult. She believes, however, that a target workforce of 2 million should be reachable by 2020.
Giovanna Dantas. (Photo courtesy NES Global Talent)
"We are the global supplier for Chevron," says Dantas. "They wanted us here in Rio, so we set up four years ago, but it is complicated for Brazil right now. Halliburton just fired around 500 people and Baker Hughes has fired 350. With Petrobras reducing their investments, projects have been delayed, and the service companies have had to let people go.
"The workers earning $2,000 a day are not Brazilians," she continues. "For a long time it was only Petrobras operating in Brazil, so those guys didn't even have to speak English. Now, these roles need someone with 20 years' experience. There is no real problem with bringing in expats – there are a lot here. The problem really is the equipment. The costs are higher, but you can only get about 10% of the pieces of equipment required to build a drillship here in Brazil. And those are only the basic items."
Such concerns played a part in the surprising shortage of demand at the Libra presalt auction, where just 11 companies registered their interest, some 30 short of the forecast. Notable absences included Chevron, BG, BP, and Exxon.
"Chevron did not apply for Libra acreage, but Repsol Sinopec did, and I see them as the biggest market [for NES]," says Dantas. "The company is 30% Chinese-owned, and one of the promises we have is that they will double their size by 2015 because of the Pão d'Açucar operations.
"The Chinese culture is so different that they need our help to get the right people to work for them. All the local content will need to be Brazilians. We will need to hire a lot of people – subsea guys, geologists, drill engineers – so that is our focus for the next six months. I would say they will need to hire around 150 people."
Policy issues
The Brazilian government and the ANP are looking for ways to foster domestic training programs and to encourage international oil companies to invest back into Brazil. There is hope that labor laws will encourage expatriates to pass skills on to Brazilians, but the efficacy of those measures is questionable.
The ANP considers the estimated workforce of 2 million by 2020 to be excessive. "There are, however, training programs being conducted by Prominp" – the National Oil and Natural Gas Industry Mobilization Program – "and by the suppliers themselves," says Marcelo Mafra, head of local content at the ANP. "There is, in other words, a broad effort to overcome the gap in human resources, especially in the offshore sector. The real challenge will be filling those roles with local professionals."
The effectiveness of those measures is cause for concern, Dantas says. "The government should have a better program for the people coming to Brazil to teach Brazilians. We apply for the RN-61 technician visas for people, allowing them to stay one year and renew for a further year. But that person can only stay in Brazil for 183 days in any one-year period for tax reasons. Put yourself in the company's position – 'I have to pay this much, but I only have the guy for six months. The rest of the time he should be teaching Brazilians?' I wouldn't do that."
Unlike the country's own oil companies, international operators in Brazil are not obliged to offer the same level of transparency in their accounts. That leads to insufficient auditing of local content obligations, Dantas says.
"I don't know why the government doesn't make it a little easier for people to come here, but also create a real program of training (to help workers) reach a certain grade, and have checks that the knowledge sharing is being done."
Established in 2003, Prominp comprises more than 150 initiatives under a board that includes representatives from the government, the National Development Bank (BNDES), and operators, including Petrobras. Petrobras has pumped more than $200 million into the program, but the efficacy of such federal training schemes has yet to be fully demonstrated.
Expatriates versus local content
Brazil's intimidating labor laws are some of the world's most rigid. Enacted in the 1940s, the Consolidação das Leis do Trabalho (CLT) is a weighty volume intended to protect workers' rights. The lack of reviews since then to help the CLT apply to a more flexible, modern environment, gives pause to companies entering the Brazilian market.
"I would always look for a Brazilian to fill a role before an expat, but to be honest, a Brazilian can be more expensive," says Dantas. "When an expat goes offshore, they can stay 28 days. By law, Brazilians can only stay 14 days. So for every expat you would need two Brazilians. And then there is 72% on top of the day rate to pay in taxes and so on."
She continues: "Sometimes companies come to us to plan their move in Brazil and they just get afraid when they see this. The costs are high, and most of them are related to the labor force."
The visa application process will also need to be reviewed as the workforce expands, Dantas says. "Visas are now taking 60 days (to process) instead of 30, and a renewal is taking 70 days. Things are so complicated. There is no default process, and that makes things harder."
Workforce development is key
The most recent licensing contracts did not include specific fines or penalties for companies that fail to meet local content targets. But many believe the fines will be significantly higher than in previous rounds.
"The ANP estimates that from the seventh round onwards, the fines, if any are made, would be high enough to make them very difficult to absorb, encouraging (companies) towards local sources," says Mafra. In the past, some employers have found it more economical to pay penalties rather than attempt to hit local content targets – a trend that if not checked could spell trouble for the ANP in coming years.
Dantas is optimistic about NES' operations in Rio, provided training programs are fully developed and implemented soon. "The companies are just studying for the time being," she says. "But from 2015, things will start to pick up. We will always need a lot of expats. We're talking about seven years. How can you find Brazilian drilling superintendents in that time? We would have needed the program to train them four years ago. There are roles, like security, where Brazilians are responsible. But not when we're talking about drilling and so on."
The country's shipyards provide further evidence of the void left by a lack of infrastructure funding at the end of the last century. Former president Luiz Inácio Lula da Silva's decision to resuscitate the nation's shipyards in line with presalt discoveries provided a temporary lift to the economy. But training must be provided by the yards themselves to compensate for the shortage of skilled workers. Several of the yards lack the infrastructure for transporting modules; rigs that were to be entirely made in Brazil are being shipped to Asia for completion, and vice versa. With Chinese fabricators competing with Singapore and South Korea for market dominance, what should have been a sizeable slice of local content is now being farmed out overseas. It remains to be seen where international oil companies will be able to hit their local content targets without compromising on quality.