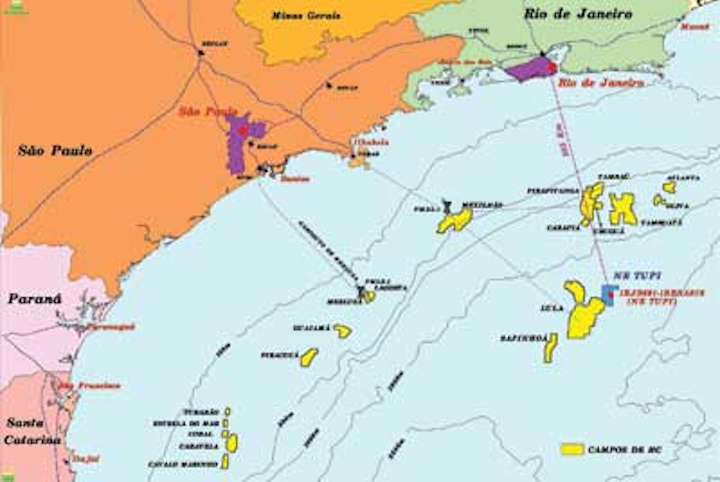 Jeremy Beckman • London
Wood Mackenzie predicts a 15% increase in conventional exploration spending worldwide this year to about $85 billion. According to Andrew Latham, VP Exploration Service, the industry is investing heavily because returns are so strong. Results from wells drilled during the first half of 2012 suggest this could be the best year ever, he added with a roughly 50-50 split between oil and gas.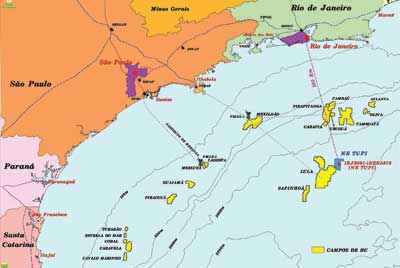 Global reserves added per well during 2002-2011.
"Deepwater is the key to this success," Latham said. "The total volume being found in deepwater is now more than the yield from onshore exploration or from shelf drilling. And deepwater is typically more oily. Fewer wells are drilled in deepwater, but those drilled add multiples to reserves, and that's the reason why deepwater remains so attractive." East Africa and the eastern Mediterranean Sea have provided most of the major new gas finds.
Latin America/South Atlantic
Zarubezhneft has contracted the drilling rigSonga Mercur for exploration offshore Cuba, starting in late November. The rig left Malaysia last month for Trinidad where it is due to remain on standby until the program begins.
•••
Chevron has agreed to take a 50% interest in blocks 42 and 45 offshore Surinam from Kosmos Energy. Both are 155 mi (250 km) from the capital Paramaribo, and extend over water depths of 650-8,500 ft (200-2,600 m). Kosmos will remain operator during the exploration phase, handing the reins to Chevron in the event of a commercial discovery.
•••
Petrobras has discovered heavy oil (15° API) in the post-salt Grana Padano prospect in the Espirito Santo basin. The well was drilled in the BM-ES-24 concession in 1,208 m (3,963 ft) of water, 58 km (36 mi) offshore Vitoria, and 64 km (40 mi) from the Golfinho field. In the presalt Santos basin, Petrobras found much lighter oil via a well on the southern part of the Sapinhoa field in the Sul de Guara region. The company planned a formation test to evaluate the productivity of the oil reservoirs.
In the Campos basin, Petrobras has agreed to transfer operatorship of the Xerelete concession to Total, leaving both parties with a 41.2% interest, the balance held by BP. The permit includes the 2001 heavy oil find Xerelete, 40 km (25 mi) west of the recent giant Pao de Azucar discovery. Drilling on a presalt prospect beneath Xerelete could start next year.
•••
Premier Oil is to farm into 60% of Rockhopper's license interests offshore the Falkland Islands. These include the proposed Sea Lion oil and gas development in the offshore North Falkland basin. The entry package totals just over $1 billion, including a carry of up to $722 million for Rockhopper's development costs. The parties have also agreed to pursue exploration of analogous plays offshore southern Africa.
Italy's Edison International is taking a 25% stake in Falkland Oil and Gas' northern area licenses and 12.5% of its southern area permits, and will pay its share of upcoming and historic drilling costs.
West Africa
Sierra Leone's government has issued provisional awards for various exploration blocks under the country's third offshore bid round. Blocks SL 8A-10 and SL 8B-10 went to a consortium of Chevron Sahara, Noble Energy, and London-based ODYE. They cover a total area of 5,604 sq mi (14,514 sq km) and contain leads in early to late Cretaceous oil-prone marine source rocks. African Petroleum and Kosmos Energy were provisionally awarded block SL-4A-10.
•••
Anadarko has discovered light oil in the deepwater Paon structure off Cote d'Ivoire. Paon-1X was drilled in block CI-103 in 7,195 ft (2,193 m) of water, encountering more than 100 ft (31 m) of 40° API Turonian oil pay. It confirmed the extension of the Upper Cretaceous fan system from offshore neighboring Ghana to the east.
•••
Marathon Oil is re-entering Gabon. The company has agreed to farm into a 25% interest in the Total-operated Diaba license G4-223 and related permit, which extends more than 9,075 sq km (3,504 sq mi) offshore southern Gabon. Water depths range from 100-3,500 m (328-11,483 ft). Late last year, Total processed data from a 6,000-sq km (2,316-sq mi) 3D seismic survey. The partners plan to start exploration drilling early next year on presalt targets.
•••
Esso Exploration Angola (Block 15) has started production from the Kizomba Satellites Phase 1 project, which entails drilling 18 subsea wells tied back to the existing Kizomba A and B FPSOs. The initial phase of this program should deliver 100,000 b/d of oil and recover a total of 250 MMbbl from the Mavacola and Clochas fields, 95 km (59 mi) offshore Angola in 4,500 ft (1,372 m) of water.
Mediterranean Sea
Italy's government has eased restrictions on offshore exploration and production, imposed in August 2010 as a result of the Macondo blowout in the Gulf of Mexico. Although a range of conditions remain in place for activities within 12 mi (19 km) of the Italian coastline, they no longer apply to applications for production concessions under review at the time the ban was introduced.
As a result, Medoilgas Italia believes the way is now open to request granting of a concession for the Ombrina Mare oil and gas field in the central Adriatic Sea off eastern Italy. The company had received technical approval for its development plan in June 2009, and was awaiting environmental approval when restrictions came into force.
Another operator affected by the lockout, Dublin-based Petroceltic, has been awarded two new six-year exploration licenses close to existing oil and gas fields in the central Adriatic. B.R 270 and B.R.271 are in water depths of 30-150 m (98-492 ft), with prospects identified in at least three working hydrocarbon plays.
•••
BP has brought onstream the $334-million Seth gas field development in Egypt's Ras El Bar concession, 60 km (37 mi) offshore in the East Nile Delta. The location is close to the producing Ha'Py and Denise fields. Development called for a six-slot, normally unmanned wellhead platform with gas exported via the Denise (Pliocene) pipeline to the El Gamil terminal near Port Said. Under a first phase, two wells in the western part of the Seth reservoir should produce about 240 bcf (6.8 bcm). Phase 2 involves two wells on the eastern part of the field which should both be onstream by end-2012, lifting total production above 250 MMcf/d (7 MMcm/d).
•••
ATP East Med found gas with its first exploratory well offshore Israel in the deepwater Levant basin. The Shimshon well, drilled in 3,622 ft (1,104 m) of water, encountered more than 62 ft (19 m) of pay in the Bet Guvrin sands.
Another deepwater rig, the semisubmersible NobleHomer Ferrington, was due to start drilling the Myra-1 well last month for GeoGlobal Resources. The location is 80 km (49.7 mi) offshore Israel in 1,500 m (4,921 ft) water depth. The well was expected to take 50 days to drill.
Caspian Sea
The Shah Deniz consortium has selected the Nabucco West route for exporting gas to southeast and central Europe from Stage 2 of the Shah Deniz field development offshore Azerbaijan. Operator BP said one of the clinching factors was the greater maturity of the Nabucco West proposal, which gave the partners confidence this pipeline project could be delivered on the same timescale as the Stage 2 development. This will involve installation of two new production platforms and 26 subsea wells on the Shah Deniz field, and 500 km (311 mi) of associated subsea pipelines.
Also in the Azeri sector, Total has submitted a "Notice of Discovery and Commerciality" for its Absheron gas/condensate discovery, drilled last September 100 km (62 mi) southeast of Naku. The company claims gas reserves could be in the range 5-10 tcf (142-283 bcm). Last month a side track was under way from the Absheron X-2 well toward the northern part of the elongated Abhseron structure. Further appraisal drilling could follow next year.
•••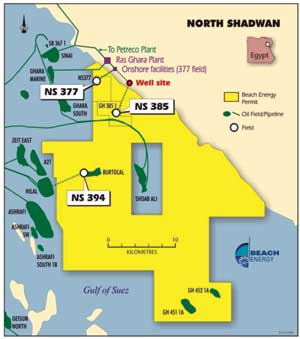 Bluewater Caspian EDC transshipment.
Blue Water Shipping has been delivering a newbuild jackup to the Astrakhan shipyard at Astrakhan on the northern coast. In order to enter the land-locked sea the LeTourneau S116 (E) rig, built by Lamprell in the UAE, had to be broken down into three main shipments that were transported on barges through Russia's Volga-Don river system. The client is Eurasia Drilling Co.
Middle East
Technip has an EPIC contract from Dubai Petroleum for the South West Fatah and Falah fields, both 90 km (56 mi) offshore Dubai in waters up to 53 m (174 ft) deep. The contract scope covers replacement of a 12-in. (30.5-cm) gas pipeline and six 18-in. (45.7-cm) water injection lines. Technip will use the S-lay vesselG1201 for both pipelay and diver support operations.
East Africa
Kenya has awarded production sharing contracts for four ultra-deepwater blocks in the Lamu basin. Eni was assigned 100% of L-21, L-23, and L-24 covering a total area of more than 35,000 sq km (13,513 sq mi). Total gained 100% in L-22, where water depths range from 2,000-3,500 m (6,562-11,483 ft). In both cases, the initial focus will be on seismic acquisition.
•••
Statoil and ExxonMobil have another potentially large gas discovery in ultra-deepwater off Tanzania. TheOcean Rig Poseidon drilled the well on the Lavani prospect in 2,400 m (7,874 ft) of water, encountering 95 m (312 ft) of good-quality reservoir sandstone. Statoil estimates in-place resources at 3 tcf (85 bcm).
In Mozambique's Offshore Area 1 to the south, in the Rovuma basin, Anadarko maintained its strike rate, finding more than 300 net ft (92 m) of net gas pay in the Atum prospect in two Oligocene fan systems. Early analysis suggested a connection to the Golfinho discovery drilled earlier in the year, 10 mi (16.5 km) to the northwest. The partners planned to follow up with appraisal drilling and drillstem testing on both structures. Anadarko believes this newly identified complex could hold recoverable reserves in the range of 10-30 tcf (283-850 bcm), with further exploration upside nearby.
Asia-Pacific/Australia
The jackupKantan 6 started drilling a third appraisal well last month on the North-Veninskaya formation in the Veninsky license block, 7 km (4.3 mi) offshore Sakhalin Island, eastern Russia, in 25 m (82 ft) water depth. Venineft, a joint venture between Rosneft and Sinopec, is operating the well on the block as part of the Sakhalin-3 project. Drilling and subsequent geological and geophysical surveys will continue through end-September.
•••
Primeline Energy has signed a production sharing contract with CNOOC for block 33/07 in the East China Sea. The block is 390 km (242 mi) offshore Shanghai and extends more than 8,877 sq km (3,427 sq mi) in a water depth of 90 m (295 ft). Primeline will acquire 3D seismic data and drill wells at its sole expense during the exploration period, while CNOOC can take an interest of up to 51% in the event of any commercial discoveries.
•••
Oil and gas has started flowing through the H4 wellhead platform from the Te Giac Trang field in block 16-1 offshore southern Vietnam. At peak, the facility will deliver 55,000 b/d to theArmada TGT 1 FPSO. Concurrently, the PetroVietnam-owned jackup PVD-II is working on a four-well infield program at the H1 wellhead platform.
In the Gulf of Tonkin off eastern Vietnam, Eni is teaming up with KrisEnergy and Neon Energy to explore blocks 105-110/04 and 120 covering 15,600 sq km (6,023 sq mi) in the Song Hong and Phu Kanh basins. Recent drilling in the region suggests prospectivity for gas. Eni will operate and plans to drill at least two exploratory wells.
•••
Petronas has signed an amended PSC and two new exploration contracts with Hess in the offshore North Malay basin for adjacent blocks PM302, PM325, and PM326B. The agreement opens the way to development of nine stranded gas fields with combined reserves of about 1.7 tcf (48 bcm) and construction of a new gas-gathering, processing, and transportation hub. The partners plan an early production system phase, targeting first gas in early 2013, followed by a full-field development that should deliver about 300 MMcf/d (8.5 MMcm/d) from 2Q 2015 onward. Total investment is estimated at $5.2 billion.
•••
ConocoPhillips and Santos are farming out a 37.5% interest to South Koreas' SK Group in the Caldita and Barossa gas discoveries offshore northern Australia. In return, SK will fund the first $260 million of costs for a three-well appraisal campaign slated to start next year. Additionally, it will fund up to $90 million of pre-front-end engineering and design (pre-FEED) and FEED studies lined up for 2014. Development options include floating LNG, a tie-in to ConocoPhillips' offshore Bayu Undan complex, or a tieback to an existing LNG plant at Darwin.