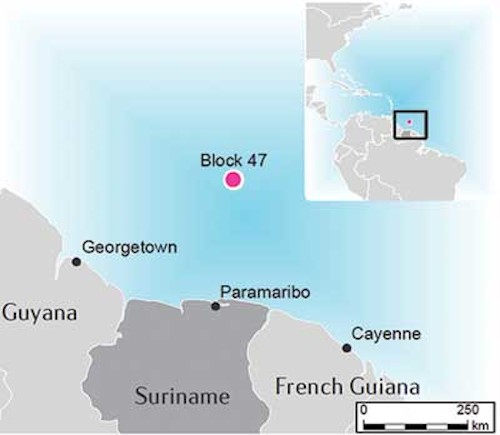 Kenai Offshore Adventures has acquired the jackupGSF Adriatic XI from Transocean, renaming it Endeavour – Spirit of Independence. Following modifications in Singapore, the rig's first assignment is expected to be a well at the Southern Cross project in the Cook Inlet off Alaska for Sydney-based Buccaneer Energy.
•••
Statoil has secured two new exploration permits on the Flemish Pass basin offshore Newfoundland and Labrador. Both are west of the company's Mizzen discovery. Statoil operates both concessions with a 50% interest, in partnership with Chevron and Repsol.
•••
Cairn Energy has wound up its 2011 exploration drilling campaign off Greenland, with none of the wells delivering discoveries. The last two were drilled by the semisubLeiv Eriksson and the drillship Ocean Corcovado on the Atammik block in the South Ungava area – both the AT7-1 and AT2-1 wells were plugged and abandoned. Cairn is currently focused on processing new 3D seismic over the Pitu block in Baffin Bay and parts of southern Greenland, and is in talks over farm-ins for potential future wells.
South America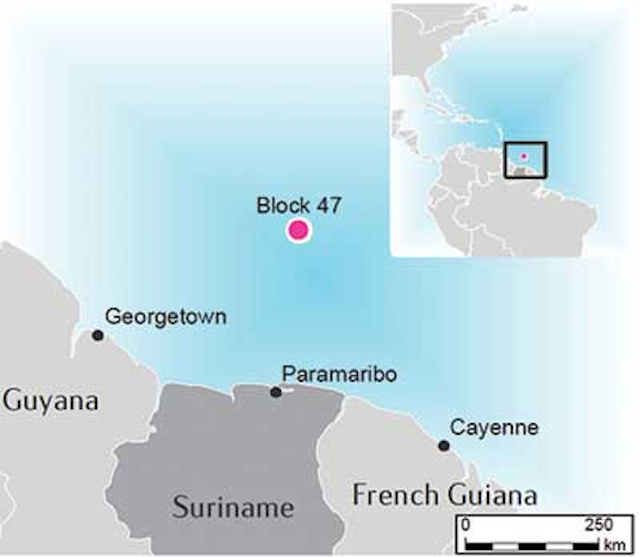 Statoil is Tullow's new partner in Suriname offshore block 47.
Statoil has farmed into 30% of Tullow's interest in deepwater block 47 in the Guyana basin, 270 km (168 mi) north of Suriname. A 2,000-sq km (772-sq mi) 3D seismic survey was due to get under way last month, results of which could trigger exploration drilling in 2014. Tullow will remain operator of the block, where water depths range from 1,300-3,000 m (4,265-9,842 ft).
•••
Diamond Offshore's semisubOcean Saratoga was due to transfer south to Guyanese waters after completing a workover in the Gulf of Mexico. CGX Energy has taken the rig to drill its Eagle-1 well on the Corentyne petroleum prospecting license (PPL). The targeted formations are the Eocene and Maastrichtian intervals. CGX is also a partner in the Repsol-led consortium in Guyana's Georgetown PPL, where the jackup Atwood Beacon is lined up for the Jaguar-1 well.
•••
Petrobras has three more discoveries to add to its inventory off Brazil. In the Marlin complex in the Campos basin, a well on the Tucura prospect flowed 20° API oil 2.3 km (1.4 mi) from theP-20 platform, and 98 km (61 mi) offshore Rio de Janeiro state. The oil quality appears similar to the adjacent Marlin and Voador fields.
In the Santos basin, a well drilled in 2,180 m (7,152 ft) of water found oil in the presalt Bigua structure in block BM-S-8, 270 km (168 mi) from Sao Paulo state mainland. And in the southern part of the basin, well 4-SPS-91 flowed light oil from the Patola prospect in the Tiro/Sidon area. Petrobras planned an extended well test.
As part of its program to monetize these finds, the company has agreed to charter two identical flexible pipelay vessels from the Technip/Odebrecht joint venture for up to 10 years, under a $1-billion contract. The vessels will mainly be deployed for installing umbilicals, flexible flowlines, and risers connecting subsea wells to FPSOs, some in the presalt area. DSME will build the vessels in South Korea.
West Africa
African Petroleum (AP) has acquired operatorship of two exploration permits offshore Senegal. The Rufisque Offshore Profond and Senegal Offshore Sud Profond license blocks cover a total area of 18,277 sq km (7,044 sq mi). AP plans to focus on deepwater Upper Cretaceous submarine fan plays which may be analogous to the Mercury discovery off Sierra Leone and Jubilee to the east off Ghana.
•••
ExxonMobil has agreed to take a 70% operated interest in the PSC for block LB-13 off Liberia. The transaction, however, depends on Canadian Overseas Petroleum (COP) closing acquisition of a 100% interest from the current license holder. If this is approved, ExxonMobil will pay COP's share of costs for the first mandatory well during the current second phase of the PSC. In 2010, 2,200 sq km (849 sq mi) of long-offset 3D seismic was commissioned over the block to evaluate oil prospectivity in the deepwater Cretaceous sands. Results suggest potential for numerous turbidite sand stratigraphic traps with strong seismic AVO anomalies and other direct hydrocarbon indicators.
•••
Vanco has discovered light oil and gas condensate in block CI-401 off Cote d'Ivoire. Independence-1 X – the second well on the block – encountered good-quality sandstones in the targeted objective in 1,689 m (5,541 ft) water depth, 93 km (58 mi) from Abidjan. According to partner Lukoil, the well was due to be temporarily abandoned at a TD of 4,132 m (13,556 ft).
Rialto Energy and state-owned Petroci have submitted a development plan for the shallow water Gazelle field in block CI-202. Rialto has been working on the project with Doris Engineering, and expects FEED studies to start following government approval. Transocean'sGSF Monitor should be available to start development drilling on Gazelle in late March.
•••
Afren Energy is pushing for a stand-alone development of the 52-MMbbl Okwok field offshore Nigeria. The most likely option is a dedicated production facility with processed output stored at and exported from the Ebok field FPSO, 13 km (8 mi) to the west. However, Afren first plans one further appraisal well on Okwok. It is also lining up an exploration well on the 60-MMbbl Ufon prospect in the OML 115 lease, thought to have potential in the same reservoirs known to be oil-bearing at Ebok and Okwok.
•••
Noble Energy has found more oil in block O off Equatorial Guinea. The well on the Carla prospect – drilled in 1,900 ft (579 m) of water – intersected 26 net ft (7.9 m) of oil pay in good-quality Upper Oligocene sands below the Alen field. Noble aims to develop Carla and the 2008 find Diega, either via the newly onstream infrastructure at the Aseng field, or through Alen which is currently under development.
•••
Wood Group has formed a joint venture in Angola with Amilcar Nascimento. Wood Group Kianda provides a range of engineering, design, and maintenance services for field developments in all water depths offshore Angola, and can draw on the services of Wood Group Mustang, Wood Group Kenny, and Wood Group PSN. It already has a first contract – maintenance of topsides facilities on an FPSO serving some of BP's fields on block 18.
Caspian Sea
Gazprom and KazmunaiGaz National Co. are considering joint development of the Tsentralnoye field, which straddles the Russian/Kazakh median line. Large volumes of oil, gas, and condensate were discovered on the field in 2008. Lukoil and Gazprom established TsentrCaspneftegaz to implement the project with a 50% stake, the remainder shared between Gazprom and NK KazMuniaGaz.
Mediterranean Sea
CGGVeritas has completed a 3D seismic survey over the western part of the Nabeul permit off Tunisia. According to operator Cooper Energy, the main goals were to mature the Alpha, Gamma, and La Marsa leads close to the offshore Birsa and Oudna oilfields. Cooper and partner Dyas will use the processed data, due to be available in the summer, to define a location for a well scheduled to be drilled by 2013.
•••
DSME is reportedly working with Norway's Hoegh on a floating LNG solution to export gas from the deepwater Tamar and Dalit fields offshore Israel. Operator Noble Energy recently lifted its reserves estimate for Tamar, 80 km (49.7 mi) west of Haifa, from 8.4 tcf to 9 tcf. The field is already under development via a platform and subsea pipeline, both due to be commissioned in late 2012.
Noble has also identified 12 other prospects off Israel in equivalent target sands with combined potential of over 20 tcf. And the company was planning to re-enter the suspended deepwater Leviathan 1 well to test a deep oil concept. Nearshore Israel, the recently sanctioned Noa development should deliver 100 MMcf/d in mid-2012.
Middle East
Foster Wheeler subsidiary Global Engineering and Construction Group and partner Watar Kentz have signed a three-year framework agreement with Qatargas. This covers engineering, procurement, and construction management for projects associated with the Qatargas LNG complex at Ras Laffan, and will include offshore work.
East Africa
Anadarko's Barquentine-3 appraisal well in Mozambique's deepwater Rovuma Offshore Area 1 encountered over 662 net ft (202 m) of gas pay in two Oligocene fan systems. The result has pushed the estimated resource range in the area to 15-30 tcf-plus. Exploration will continue over the concession; recently, Anadarko signed a four-year extension of Dolphin Drilling's contract for the drillshipBelford Dolphin, valued at $700 million. Anadarko will also take a newbuild Dolphin drillship, under construction by Hyundai, for four years following delivery in late 2013. The contract includes a $35-million investment in a second BOP for the rig.
Indian Sub-Continent
Cairn Lanka has discovered further gas with its second well in the frontier Mannar basin offshore Sri Lanka. The CLPL-Barracuda-1G/1 well was drilled 38 km (23.6 mi) west of the initial CLPL-Dorado-91H/1z find in block SL 2007-10-001. It encountered 24 m (78.7 ft) of hydrocarbon-bearing sandstone in three zones, in a water depth of 1,509 m (4,951 ft). The reservoirs are mainly gaseous, with some liquid hydrocarbons.
Australasia
Hyundai Heavy Industries last month transported a giant topside to Woodside Energy's North Rankin/Perseus fields off northwest Australia. The 23,600-ton North Rankin 2 topside was due to be mated to a pre-installed jacket – the completed platform will measure 80 m (262 ft) high and 50 m (164 ft) wide.
Woodside and its partners in the North West Shelf Project have also committed to the first phase of the Greater Western Flank scheme. This will develop the Goodwyn GH and Tidepole fields via subsea tieback to the Goodwyn A platform, and will maintain gas supplies to the onshore Karratha plant. The investment is estimated at $2.55 billion, with start-up expected early in 2016.
•••
Bass Strait Oil Co. and its partners have been awarded a new five-year term for the Vic/P41 exploration permit in the offshore Gippsland basin. The location is southeast of Orbost in Victoria, southeast Australia, in water depths ranging from 80-250 m (262-820 ft). The 540-sq km (208-sq mi) renewal area includes various prospects on trend with and analogous to the nearby Kipper and Basker- Manta-Gummy fields. The partners plan to acquire 3D seismic to determine a drilling target to test the Golden Beach play.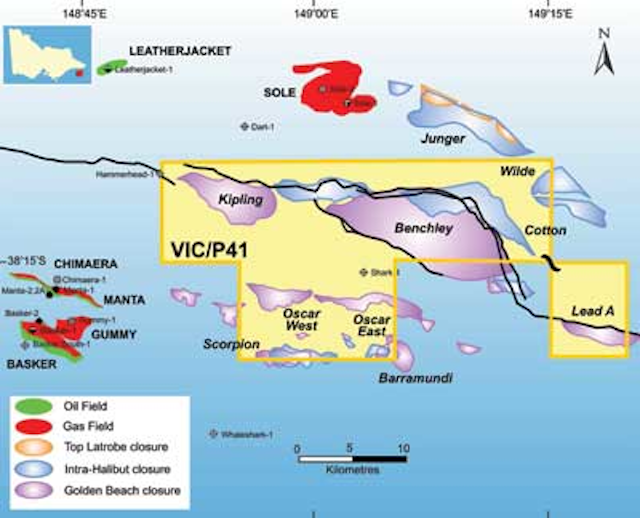 The Vic/P41 concession offshore Victoria has been extended by a further five years.
•••
Eni has taken a 32.5% stake in the Evans Shoal gas field in the Timor Sea, 300 km (186 mi) northwest of Darwin. The field is in the Shell-operated NT/P48 exploration permit in the north Bonaparte basin. Evans Shoal, which is undeveloped, holds presumed in-place gas of up to 7 tcf. An exploration/appraisal well is planned in the second half of this year.
Last year, Eni also farmed into the Heron and Blackwood gas fields in the NT/P68 permit, 70 km (43.5 mi) from Evans Shoal. CGGVeritas' M/VVeritas Viking II has been acquiring 3D seismic over the Blackwood East area, which could lead to an appraisal well on the Blackwood structure.
Asia-Pacific
Indonesia's government has awarded offshore exploration permits to three European companies. Statoil operates the 8,000-sq km (3,089-sq mi) Halmahera II block in an undrilled basin off eastern Indonesia. BP won two oil and gas PSCs, West Aru I and II, in the Arafura Sea, covering a total area of over 16,400 sq km (6,341 sq mi). Both are 500 km (310 mi) southwest of BP's North Arafura concession.
Eni was also awarded two concessions. The Arguni I PSC is off/onshore the Bintuni basin in West Papua province, a short distance from the Tangguh LNG complex, while the North Ganal PSC is in the Kutei basin off East Kalimantan. Eni and its partners must drill a total of three wells across the permits during the first three-year term.
•••
Lundin Petroleum has discovered oil in the PM308A block off Peninsular Malaysia. The jackupOffshore Courageous drilled the Janglau-1 well, with oil encountered in multiple-pay sand units in a 300-m (984-ft) Oligocene intra-rift sand/shale section. The rig later spud the Bertam-2 well in the PM307 PSC, designed to appraise a 1995 sandstone oil find.
More Offshore Issue Articles
Offshore Articles Archives
View Oil and Gas Articles on PennEnergy.com