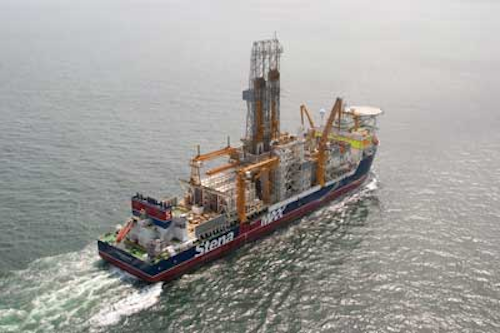 Buccaneer Energy has secured two exploration permits in the Cook InletOffshore Alaska. The company plans to drill two wells on both the Southern Cross and Northwest Cook Inlet units during 2012-13. The US Amy Corps of Engineers has authorized use of the jackup Endeavour – Spirit of Independence for the program in the region's navigable waters.
•••
The US Bureau of Safety and Environmental Enforcement has approved Shell's Oil Spill Response Plan for a drilling program in the Chukchi Sea. This includes guaranteed access to a capping stack and a rig capable of drilling a relief well. Shell hopes to drill up to six wells during the next two summer seasons within the Burger Prospect, 70 mi (113 km)Offshore in 140 ft (43 m) water depth.
South America
Repsol has spudded its first wellOffshore Guyana on the Georgetown Petroleum Prospecting License. The jackup Atwood Beacon is drilling Jaguar-1 to test the same Turonian geological interval that has proven prolific off West Africa and Brazil. The target depth of 6,500 m (21,325 ft) will be the deepest drilled to date in the Guyana Suriname basin, according to partner CGX Energy.
•••
In Brazil's Campos basin, Repsol Sinopec Brazil has discovered a potentially large oil and gas accumulation, 195 km (121 mi)Offshore Rio de Janeiro state. The Pao de Acucar well was drilled in 2,800 m (9,186 ft) of water in block BM-C-33, delivering good-quality light oil with strong flow rates. This was the third significant find on the concession following Seat and Gavea.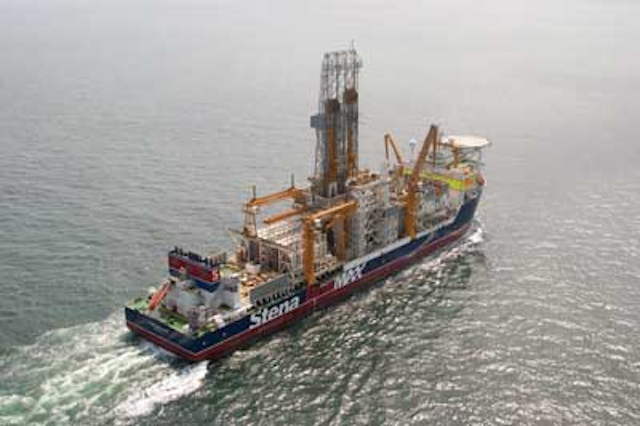 TheStena DrillMAX drilled the Pão de Açúcar discovery well.
Petrobras continues to find oil in the prolific presalt Santos basin. Its latest effort, on the Carioca Sela structure in block BM-S-9, 4.5 km (2.8 mi) from the Carioca field discovery well, flowed 27° API oil in reservoirs at a depth of 5,250 m (17,224 ft). Water depth was 2,419 m (7,050 ft).
In the shallow water southern region of the Santos basin, Petrobras has submitted a declaration of commerciality for its Tiro and Sidon oil and gas finds, which have been re-named Bauna and Piracaba. Both are in block BMS-40, 200 km (124 mi) off the coast of Sao Paulo state. Combined reserves are nearly 200 MMboe. An extended well test confirmed strong reservoir productivity from both fields.
West Africa
African Petroleum has opened a potentially prolific oil play off Liberia. Its Narina-1 well in block LB-09 encountered oil in a Turonian fan system and in a deeper Albian sand. The company believes the fan system may extend over 250 sq km (96 sq mi), equivalent in size to the Jubilee fieldOffshore Ghana. Water depth is 1,143 m (3,750 ft).
In neighboring countries, Anadarko has a second ultra-deepwater find off Sierra Leone. The drillshipTransocean Discoverer Spirit drilled the Jupiter-1 well in 2,199 m (7,214 ft) of water, over 25 km (15.5 mi) west of the Mercury-1 oil discovery. On completion of operations, Anadarko planned to relocate the rig to spud the Mercury-2 appraisal well.
Hyperdynamics' first effortOffshore Guinea yielded only non-commercial oil shows. Electric logs of the Abu-1 well indicated the presence of hydrocarbons in Upper Cretaceous Santonian to Turonian sandstones. The company will integrate the results with data from a new 3D seismic survey to determine its next well location.
•••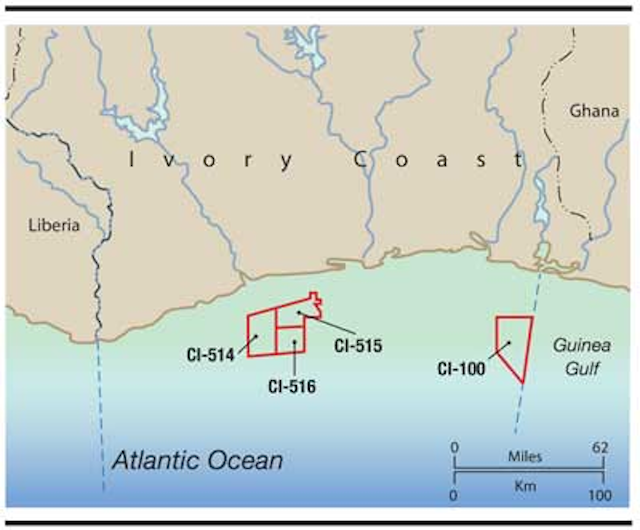 Total has been awarded stakes in three deepwater blocks off Cote d'Ivoire.
Total has signed production-sharing agreements with Petroci for three ultra-deepwater licenses off Cote d'Ivoire. It will operate the CI-514 license and may take the lead role on CI-515 and 516 in the event of a discovery on either concession. The concessions are 100 km (62 mi)Offshore and cover a total area of 3,200 sq km (1,235 sq mi) in water depths of 2,000-3,000 m (6,562-8,942 ft). The initial three-year work program calls for acquisition of 3D seismic and one well on each block.
To the east, Total has started production from Usan, its second Nigerian deepwater development after Akpo, which came onstream three years ago. The Usan field is 100 km (62 mi)Offshore southeast Nigeria in water depths of 750-850 m (2,460-2,789 ft). Development is based around a 180,000 b/d-capacity, spread-moored FPSO connected to 42 wells. This is one of the world's largest floaters, the company claims, with a length of 320 m (1,050 ft) and width of 61 m (200 ft).
•••
Consultants Netherland Sewell and Associates estimate potential oil resources in block 1711Offshore Namibia at 3.166 Bbbl. Energulf Resources operates block I in Namibe basin off northern Namibia, adjoining the maritime boundary with Angola. The company has identified at least five Palaeocene-Eocoen turbidite sand prospects and leads, and claims the block's synrift play is geologically analogous to the presalt play in the Santos basin off Brazil.
Caspian Sea
Lukoil has commissioned platforms from three contractors for its V.Filanovsky field in the Russian sector. Krasnye Barrikady shipyard is building the riser block, living quarter module; OAO "Obyedinyonnaya Sudostreitelnaya Korporatsiya" will deliver a 15,200-metric ton ice-resistant fixed drilling and production platform, which will accommodate 11 deviated wells with horizontal borehole completions; and OAO "Global-Engineering" will supply the 21,000-metric ton central processing platform, from where oil and gas will be transported to onshore facilities. Lukoil estimates recoverable reserves at the field at 153.1 million metric tons of oil and 32.2 bcm of gas, and expects to start production in 2015.
•••
Results from a water injection study suggest the technique could improve well performance on the Cheleken Contract Area fields off Turkmenistan. According to operator Dragon Oil, the program involved use of a dynamic simulation model for the Dzheitune (Lam) 75 area and was followed by an injectivity test. A pilot water injection plant should be implemented later this year.
East Africa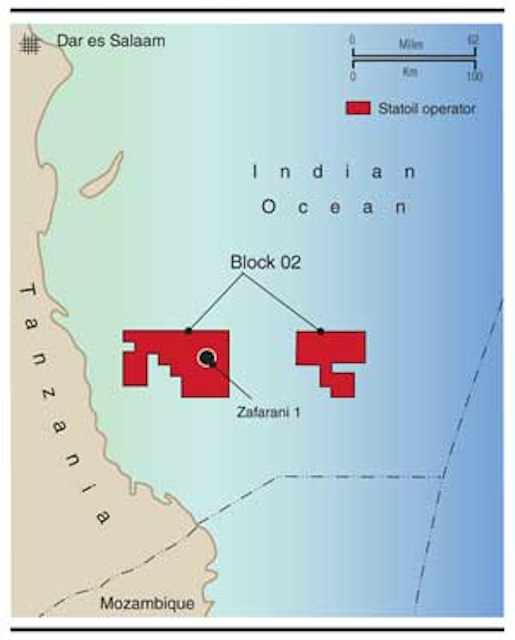 Location of the Zafarani gas discovery off Tanzania.
Statoil has become the second operator to discover gas in large quantities off Tanzania. The drillshipOcean Rig Poseidon drilled the well on the Zafarani prospect in block 2 in 2,582 m (8,471 ft) water depth. Early reports suggest a good-quality reservoir, with at least 5 tcf of gas in place. After completing operations, the drillship will spud another well for Statoil and partner ExxonMobil on the Lavani structure.
•••
Anadarko achieved another strong result from its latest appraisal well on the Lagosta gas discovery off Mozambique. Lagosta-3 encountered 577 total net ft (176 m) of gas pay in multiple zones. The well was due to be suspended to allow the drillship to start work on the Barquentine-4 appraisal well, also in the deepwater Rovuma basin. Anadarko has another drillship in the area, which was recently due to perform drillstem testing on Barquentine-2.
One of the company's partners, Cove Energy, has been the subject of a bidding war. Shell started the process with an offer that values Cove at $1.56 billion, but Thailand's PTTEP then put in a higher bid. India's ONGC was also thought to be interested.
Middle East
Lamprell's yard in Sharjah, UAE, is building two topsides and jackets for the Iraq crude export reconstruction projectOffshore Basra. Leighton Offshore commissioned the equipment, plus a metering skid, which should be delivered later this year.
•••
ADMA OPCO has awarded AMEC a project management consultancy services contract. This covers the EPC phase of the Nasr Phase-1 and Umm Lulu Phase-1
DevelopmentsOffshore Abu Dhabi.
•••
A new phase of development drilling has started on the Bukha field in block 8Offshore Oman. A total of three wells are planned, with the first – West Bukha-5 – due to be completed this spring. DNO is the new operator after the company and former operator RAK Petroleum merged various Middle East/North Africa interests.
•••
Technip has an EPC contract from Kuwait Gulf Oil Co. for the Gas and Condensate Export System project, spread overOffshore and onshore locations in Saudi Arabia and Kuwait. It involves construction of a 12-in. (30.5-cm) pipeline exporting lean gas, sour gas and condensate from the Al Khafji Joint Operations complex in Saudi Arabia to the Kuwait Oil Co. tie-in point. Around 47 km (29 mi) of the 110-km (68-mi) pipeline will be Offshore.
•••
National IranianOffshore Oil Co. is close to finishing a project to extract sweet gas from the Soroush and Norouz oil fields in the Persian Gulf. Production will head through a 200-km (124-mi) pipeline to Kharg Island, Iran, for use in power generation and as ethane for local petrochemical plants.
Asia/Pacific
CNOOC has approval for the Environmental Impact Assessment for the Beibu Gulf project in the South China Sea. This involves development of the WZ 6-12 and WZ 12-8 West oil field. Construction of the platform andOffshore pipeline are under way, and development drilling should start in the second half of this year, leading to first oil by year-end.
•••
Petronas Carigali has awarded PSCs for two deepwater exploration blocksOffshore Sabah. JX Nippon Oil & Gas operates the Deepwater block R concession, and INPEX operated Deepwater block S. Both are in water depths ranging from 100-1,600 m (328-5,249 ft), and are near the Kikeh, Kebabangan and Gumusut-Kalap fields. The work programs call for three wildcat wells on block R and two on block S, along with acquisition of 3D seismic.
•••
ConocoPhillips has agreed to sell its three subsidiaries in Vietnam to Perenco for $1.29 billion. The subsidiaries hold interests in blocks 15-1 and 15-2Offshore southern Vietnam, and a 16.3% stake in the Nam Con Son pipeline. ConocoPhillips has been working in the country for over 15 years, and was one of the first US majors to invest in the Vietnamese Offshore sector after the US and Vietnam resumed trading relations.
•••
RayongOffshore Exploration, a subsidiary of Australian company MEO, has agreed to farm into 50% of the Pearl Oil Offshore-operated block G2/48 in the Gulf of Thailand. The block is in shallow water, close to the producing Jasmine oil field and the Manora oil discovery which is undergoing development. MEO will reimburse Pearl for two-thirds of a cost of a commitment well which could start drilling this summer.
Australia
INTECSEA and WorleyParson are jointly working on the topsides and floating system FEED for Hess' Equus project on the NorthWest Shelf. INTECSEA in Houston is handling the floater/riser element and WorleyParsons in Perth the topsides engineering.
•••
The Northern Territory government has contracted ASCO Group subsidiary ShoreASCO to build a $110-million marine supply base in Darwin. Work is due to start in April and continue through end-2013, providing employment for 125 personnel during the peak construction period. The government commissioned the base to handle the oil and gas industry's growing requirement for services and supplies. This will be the first purpose-built base in northern Australia, with facilities to accommodate support vessels serving localOffshore projects and those farther out into the Arafura and Timor Seas.
•••
The drilling rigTransocean Legend was due to start drilling last month off Western Australia for the Karoon/ConocoPhillips joint venture. The campaign of five wells is aimed at defining the resources and characteristics in the area around the Poseidon and Kronos gas discoveries in the Browse basin.
MoreOffshore Issue Articles
Offshore Articles Archives
View Oil and Gas Articles on PennEnergy.com