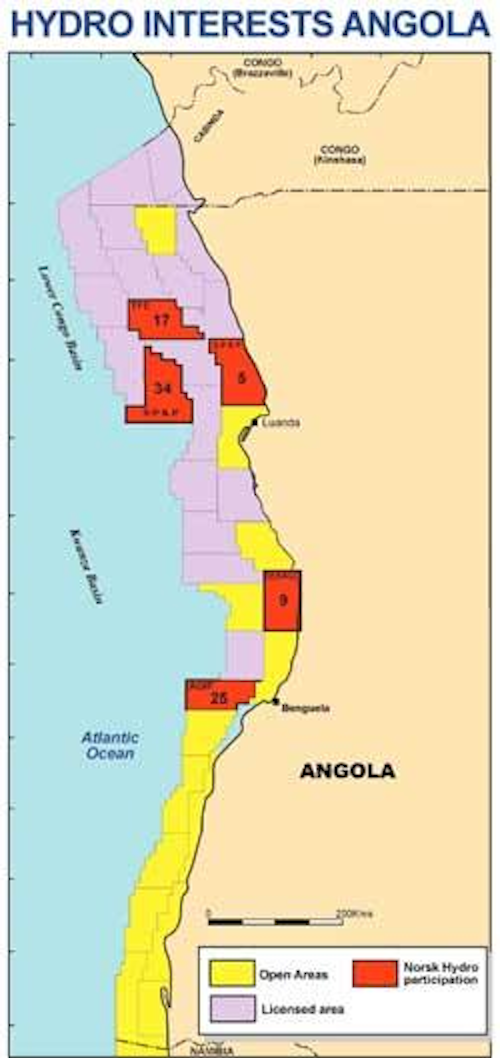 Norsk Hydro's recent signing of a production sharing agreement (PSA) for Block 34 offshore Angola consoli-dates its involvement in that country. Alongside its 30% stake in the PSA, the company also secured the role of technical assistance provider to Sonangol P&P.
The latter has a 20% interest in Block 34. The other participants are Phillips, with 20%; and Petrobras and Shell, with 15% each. "It's a strong partner group and we're very happy with it," says Knut Aanstad, vice president of Hydro's Angola Business Unit. "All the companies bring a strong technical contribution."
The key challenge in Block 34 is the water depth, which ranges from 1,500 to 2,500 meters. Hydro is well known as the development operator of the Ormen Lange gas field, in terms of water depth the deepest discovery yet made in the Norwegian sector. Shell and Petrobras also have acknowledged deepwater experience.
Angola is on the verge of becoming a core area for Hydro, the criterion for this being production of 50,000 b/d of equity crude. Following the start-up of Girassol late last year, in which the company has a 10% stake, its production in Angola hit almost 20,000 b/d when the field reached its plateau production this spring.
A further sign of the country's growing importance to Hydro is the transfer of Norsk Hydro business management to Luanda in recent months. The Angolan capital is now the base for the president of Norsk Hydro Angola and his management team. Team members include the asset manager, exploration and business development manager, human resources manager, and business support manager. Altogether the Norsk Hydro Angola organization has 40 employees, including 10 expatriates. In addition, Hydro has seconded 20 expatriate staff to Sonangol's Block 34 asset team. Back in Oslo, are Aanstad and the Angola Project Group, a team about 25 strong, which provides technical support to the company's operations in Angola.
Hydro's presence in Angola dates back to 1991. It is currently involved in five PSAs. In addition to Block 34 and Block 17, where Girassol and a string of other finds are located, it is a partner on Blocks 5, 9, and 25; all are in the exploratory stage with no finds yet made.
The first wildcat on Block 34, just to the south of Block 17, is due to spud in the second quarter. Drilling can begin after signing of the PSA as 3D seismic was acquired early, and much of the groundwork was done in advance. "The quality and nature of the seismic data give reason to be optimistic about the prospectivity of the block," says Aanstad.
Hydro has been working closely with Sonangol P&P since 1996, and took the initiative in proposing to undertake the role of technical assistant. Factors in its favor included its deepwater experience according to some rankings, it is the fourth leading deepwater operator in the world. It also takes a proactive role in technology development, and has a track record in cooperating with other national companies.
The Norwegian connection also helped. Norway is seen as having developed a world-class oil and gas industry, and the Norwegian authorities have cultivated close relations with their counterparts in Angola. Hydro is also involved in numerous social development schemes.
As technical assistant, Hydro's first objective is to help Sonangol P&P successfully explore and develop Block 34, in the process helping it towards its ambition of developing into a deepwater operator. This is a daunting task, says Aanstad. As for Hydro, the block may represent the next major development challenge after Ormen Lange.
One of the key elements in the technical assistance program will be the establishment of a joint-operating organization. A number of Hydro staff are already seconded to the Block 34 asset management organization, filling positions which include those of asset manager, development manager, drilling manager, and deputy exploration manger.
In parallel, Hydro runs a Management and Technology Transfer program, including on-the-job training, for professional Sonangol personnel, as well as various four-year university programs for young Angolans. "We're working with a five to 10-year time horizon, to assist Sonangol in developing an organization that can cope with the challenges presented by Block 34. The training programs are designed based on analysis of what kind of personnel requirements Sonangol will have," Aanstad says.
Candidates are given a one-year, pre-university training program before starting a four-year course in technical studies, mainly at the University of Aberdeen. At present 35 are studying at universities in the UK, and 30 students are going through the preparatory year. Of those, some will be granted a four-year scholarship at universities in Europe. Professional Sonangol employees are also sent for on-the-job training either at Hydro's Oslo headquarters, the Bergen operations center, or as part of the Block 34 asset team. Opportunities are also being sought to involve staff with Hydro's partners and contractors. At present 90 students and professionals are going through the various training programs.
Aanstad sees the provision of technical assistance as helping to create a platform for Hydro's further expansion and business development in Angola, primarily in oil and gas but potentially also in other areas such as agribusiness. "Block 34 represents a tremendous challenge to Norsk Hydro and we're determined to tackle it," he says. "We're actively looking at ways to get into other profitable business ventures. And in the long term, if we're to sustain our competitive position in Angola, we should also consider seeking to become an operator."
Meanwhile the company is actively contributing expertise to the further development of Block 17, where moves are now under way to bring the Dalia, Rosa, and Lirio fields to sanction later this year. Two senior subsea engineers are seconded to TotalFinaElf's operating organization.