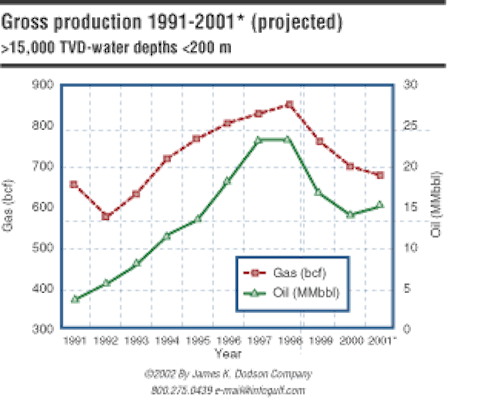 An untapped world below 15,000 ft total vertical depth (TVD) in the US Gulf of Mexico continental shelf is waiting for the right confluence of events to make it economic.
Those forces are gathering and will likely encourage policy changes by the Minerals Management Service (MMS). Such changes are needed to spur development of the deep shelf (drilling depths below 15,000 ft). Decli-ning shallow shelf production (above 15,000 ft) is evidence of a diminishing economic re-source.
Responding to the earlier MMS Deep Water Royalty Relief Act of 1995, major oil companies have already shifted investment away from the shelf into deeper waters. In addition, demand for natural gas is rising once again as the US economy recovers. Demand is further stimulated by the shift from coal to cleaner natural gas for power generation.
Falling production
Oil and gas production from the shallow shelf has dropped dramatically over the last six years. Decline in natural gas production is well advanced, dropping 29% to 3.36 tcf in 2001 from a peak of 4.7 tcf in 1996. A similar pattern is recorded for oil. In 1996, just over 310 MMbbl of oil were produced, while in 2001 production was near 243 MMbbl, a drop of 22%.
This is the effect of the "drilling treadmill" the independent oil companies have been on since they purchased shelf properties from major oper-ators. The majors sold off their properties to capitalize new deepwater exploration and dev-elopment programs.
Using new technology, the independents have extended the life of existing fields by developing smaller reservoirs and by-passed reserves. Until recently, this has kept many drillers busy. Reserve sizes tapped by the constant drilling have been dropping, however, and are nearing the economic limit. This trend has idled many rigs and accelerated the production decline of older producing fields.
Rise in deepwater drilling
Royalty relief for leases in water depths greater than 200 m has spurred a dramatic rise in overall production since 1997. Participation in deepwater acreage sales increased significantly once the Deep Water Royalty Relief program began in 1996. Now, more than half of GoM production is from deepwater leases.
For 2001, MMS statistics show that of the 590 MMbbl produced from the GoM, over half came from greater than 200-m water depth. The royalty relief program has been an unqualified success.
Drilling
The shallow shelf is well drilled above 15,000 ft TVD, with many mature fields and well-exploited trends. Even without royalty relief, the industry has been testing the deep shelf since 1995, though it is very lightly drilled. Deep exploration wells on the shelf number 201 from 1997 through year 2001, with only 171 total development wells.
Even with the extra expense of drilling into strong geopressure, the industry has tested a number of prospects. That exploration effort lapsed recently, and follow-up development drilling is almost non-existent.
Drilling for natural gas on the shelf continues to be concentrated in zones above 15,000 ft. The industry is drilling wells for deep gas, but over the past five years, only 16% of exploration wells were testing deep gas prospects.
Leasing
The industry is maintaining a substantial inventory of shelf leases. Seventeen million acres are held by operators, but 9 million acres, 52%, are in their primary term. A significant portion of this acreage is held-by-pro- duction (HBP). Of the leases, 3,620 are active, while 1,668, or 46%, are undrilled.
In the current deep shelf incentive program, only 3 million acres have been leased. This is only 17% of the acreage that could be tested for new deep reserves under royalty relief. It is held primarily by independents, with El Paso having the highest inventory. Of the top 10 acreage holders, only ChevronTexaco, BP, and Shell Offshore represent the majors. ExxonMobil comes in 12th.
There is a clear division of the industry by water depth interest. The majors have moved to take advantage of the deepwater royalty relief program, while the independents have concentrated on shallow shelf properties, leaving the independents with a large number of declining shallow shelf assets while the majors reap the advantages of the MMS incentives.
The MMS's deepwater royalty relief program was initiated on a lease-by-lease basis because there were no existing deepwater leases to consider. The GoM shelf is another matter because of pre-existing HBP leases and because of active primary-term leases in water depths less than 200 m.
The deep shelf incentive program is also working and producing results. In the deep shelf, 15 discoveries deeper than 15,000 ft TVD found new reserves, but development drilling is light.
What is needed to continue deep shelf exploration and development is the extension of royalty relief to existing primary term leases and HBP acreage. The "grandfathering" of pre-existing leases can be expected to create a new round of deep drilling for large reserves and restore the shelf to its prior productivity. It will also attract the capital resources of the majors back to the Shelf to support and extend the existing infrastructure. This would also aid the extension of deepwater infrastructure because platforms near the shelf break would be preserved.
Consequences
Without grandfathering existing HBP leases, the shelf will begin to lose infrastructure as old fields deplete. Platforms will be removed, and pipelines will be abandoned. Extending the deep shelf royalty relief to all existing leases would allow well-established subsea tieback technology to extend the life of existing platforms and production equipment, saving millions of investment dollars that could be directed to drilling and developing new deep reserves.
The industry's production cycle time can also be improved by expanding the number of leases eligible for deep-shelf royalty relief (DSRR). Without incentives, the shelf can be expected to continue its production decline until the current operators of HBP and primary-term leases release them, at which time the leases become available for royalty relief. As now structured, the relief program will result in years of delay before operators drop leases and open the acreage for the royalty relief.
Well costs
As presently structured, the DSRR program significantly offsets the $10-14 million cost of drilling a deep gas discovery well below 15,000 ft TVD. With a 16% royalty-free incentive on the first 20 bcf of gas, about $11.6 million in well cost is offset at a $3.50/Mcf gas price.
Summary
If the MMS needs a geological sign before moving forward with more incentives, it has already occurred. Newly found reserves below 15,000 ft are significantly larger than anything found recently on the shallow shelf. All indications are that new, large, untapped reserves are waiting to be drilled and developed.