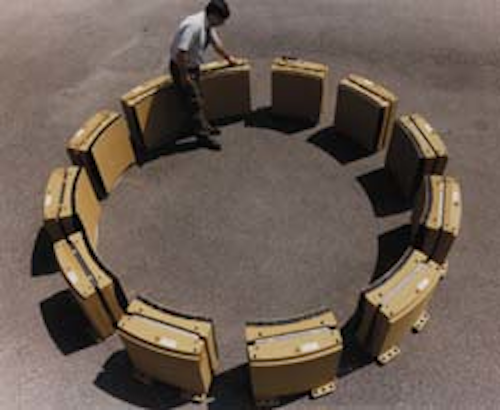 Bearing block arrangement for the Troll Oil platform.
Floating offshore structures require numerous flexible devices to ensure reliable connections subject to relative displacements, namely:
bearings between topsides and substructures;
high pressure piping systems (risers),
anchoring or buoying systems.
These connections have to withstand huge forces due to wave, wind and current interaction. In addition, the floating structure may have to be designed for reliable operation over extended periods up to 50 years.
Cernay-based Techlam's contribution is the laminated elastomeric component (LEC), a technology which has already been applied on Norsk Hydro's Troll Oil platform, the world's first catenary anchored stabilized concrete production floater.
LEC is a multi-layer metal/elastomer structure where the rubber is bonded to the metal. The advantages of laminating an elastomer pad include the dramatically increased ability of the unit to support heavier compression forces (perpendicular to the metal reinforcement), and increased compression stiffness while the shear stiffness (parallel to the metal reinforcement) is maintained at a low level.
Flat, cylindrical, spherical, annular or conical structures can be built according to the function, direction of forces and required freedom of movement.
LECs can be used in a multi-functional approach to ensure a flexible connection between two rigid assemblies; absorb heavy loads (up to several thousand tons); allow cyclical movements; dampen vibrations; and ensure fluid sealing.
Claimed advantages include a significant decrease in the overall weight of structures involved compared to conventional rigid assemblies; and enhanced reliability of systems through a reduction in stresses in adjacent structures. This in turn reduces fatigue and enhances safety against fracture, even in the case of accidental overload conditions. Lubrication is not required, and LECS are also maintenance-free.
Horizontal bearings
The Troll Oil substructure comprises a rectangular ring pontoon and four columns, all made of concrete. The deck is constructed from steel and comprises a support frame with three separate modules on top. The platform has a displacement of 190,000 tons and a total deck design weight of 32,000t.
To avoid detrimental fatigue stresses in the module support frame (MSF), it was necessary to build a moment-free connection between the MSF and the concrete substructure columns. The MSF therefore rests on four steel columns that support the platform's dead weight and dynamic vertical loading. These columns have sufficient slenderness to allow angular deflection.
To achieve horizontal stability of the MSF, each of these support points must be fitted with a horizontal bearing. This bearing includes an external ring that is welded to the substructure and 12 laminated blocks located between this ring and a circular cast footing which is part of the MSF.
All blocks have cylindrical elastomeric layers (whose vertical axis is the column axis) and spherical elastomeric layers that focus on the bearing center. Such an arrangement enables the bearing to rotate freely around its center and to move vertically using the rubber layers' shear deformation capability.
In a single molded component, therefore, it has been possible to achieve two functions. In addition, this bearing is also able to transmit horizontal forces of up to 63MN, each block of 600 x 600mm being capable of supporting 21MN. Whatever the value of this horizontal force, the connection rigidity remains constant.
The proposed solution was first tested at Techlam's workshop both for maximum loads and a lifespan up to 50 years.
On the Troll Oil platform it was necessary to pre-stress the horizontal bearing during transportation of the MSF by sea to the substructure site in order to protect it from the waves and possible shocks. It was also established that a higher precompression during operation of the bearing enhanced its durability.
For this reason a hydraulic piston/cylinder system was incorporated in each block. The additional movement provided by the system has been put to advantage in order to provide each block with a comfortable installation clearance.
To comply with the requirement for a replaceable system, each block has been fitted with a wedge. This wedge can be extracted from the block in order to release the latter from its compressive force and provide the necessary clearance for removal.
After welding the external pre-stress ring to the substructure, the oil is replaced by grout. This system is maintenance-free and safe because the grout only works under hydrostatic compression. It provides the long-term precompression necessary to avoid shocks due to alternate horizontal forces.
All tooling and equipment for hydraulic pre-stressing, wedge retraction, block lifting and grouting were also engineered and tested by Techlam, taking into account available space and facilities at the fabrication yard and on the platform.
As a result of this collaborative approach, the MSF fabrication yard was able to perform installation of the four horizontal bearings within three weeks (three weeks earlier than scheduled).
Techlam sees best potential for LECs in deepwater fields where platforms of all types are subjected to significant hydrodynamic loads. Other offshore applications are thrust and radial bearings for mooring systems; and torsion seals to absorb relative motion between fixed and moving parts of crude oil lines on articulated tanker loading platforms.
Copyright 1996 Offshore. All Rights Reserved.